Robin van Persie: The one that got away from Manchester City
The fact that United signed Van Persie – and City didn't – is a huge factor in the balance of Manchester power, writes Ian Herbert on the eve of another crucial derby meeting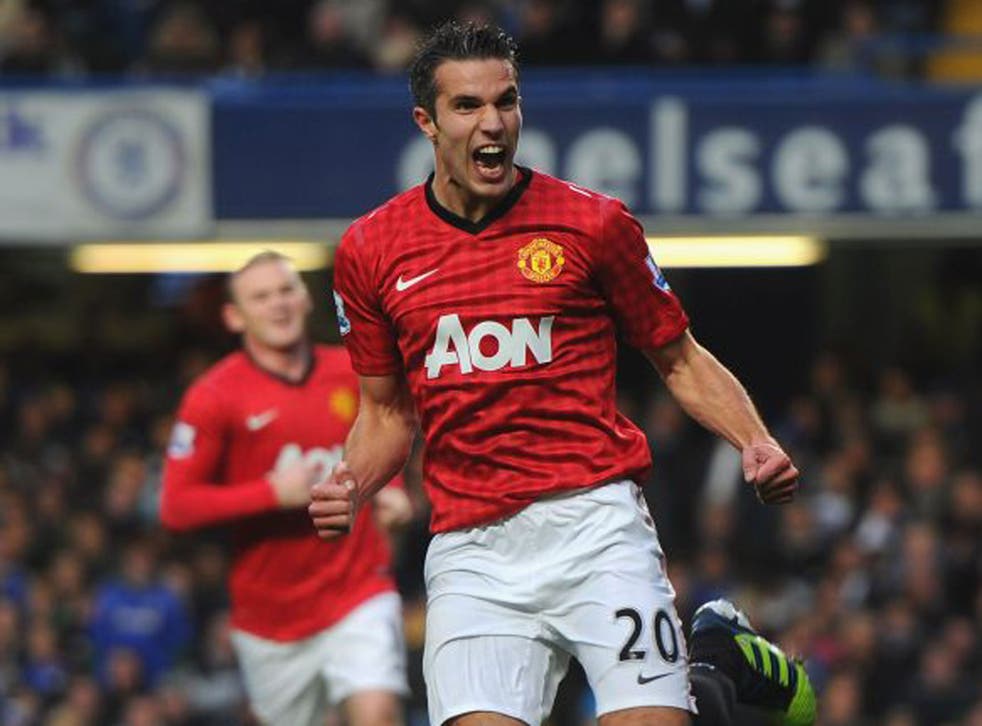 'Anything can happen in the transfer market," Roberto Mancini said yesterday. "You can want to buy one player but it is difficult because the player makes another decision. Now we can't change this…" And if you searched hard enough you could just about make out the faint residual desolation Mancini still feels about Robin van Persie's decision to reject Manchester City this summer and sign for Sir Alex Ferguson instead.
It damaged City twice over, of course, adding to United as much as it took away from the notional side Mancini had planned out in his mind to defend the Premier League title. When all the tactics, analysis and arguments are stripped out, the 29-year-old Dutchman simply contributes those individual moments of enterprise which can separate sides and prove the difference between triumph and disaster.
"Players like him, world-class players can be the difference," Ryan Giggs reflected on Wednesday night, an hour or so after a United side minus Van Persie had lacked the killer moment to defeat Cluj.
So many passing conversations in Manchester these past few months seem to have been consumed by Van Persie. Gary Neville, talking United at a Football Writers' Association (FWA) event in the city on Thursday, offered the same conclusion as Giggs. "He's the one who can change games," Neville said. To which Ferguson added yesterday that "he's unbelievable – his intelligence, his maturity," as yet another press conference turned to the subject.
City feels like the less joyful of the Manchester clubs heading into tomorrow's derby but that would almost certainly not be the case but for Van Persie. Free of the injuries which prevented all but the 2011-12 campaign being truly great for him at Arsenal, he has scored in seven of the 11 games this season in which United have fallen behind. The word "saviour" doesn't feel like hyperbole.
"Talisman" is actually the term Wayne Rooney used when discussing Van Persie in Braga last month. Rooney used to shoulder the talisman's role himself and since his own season has been start-stop, it doesn't bear thinking where United's campaign would now have placed them had Ferguson's several telephone calls to Arsène Wenger this summer not yielded the desired transfer.
Van Persie is the kind of individual who seizes and flourishes on the simple things. "It is not really work, it is my hobby, I love football, but everyone has been so nice to me and I have been having the time of my life here," he told MUTV last night.
This is an individual with an inherited appreciation of art – his father, the artist Bob van Persie, had collages of his son's former club Feyenoord on the walls of their home in Rotterdam – and the aesthetics of his link-up play with Rooney is one of the reasons why he is enjoying himself so much. Rooney is the closest equivalent to Dennis Bergkamp and Cesc Fabregas, whose artistry and speed of thought so absorbed him at Arsenal.
"Cesc is slow, you know," he told the Financial Times earlier this year. "And yet he was the fastest of us all. He always thinks two seconds ahead. At training once I was running three, four metres behind him. I caught up and thought, 'Now I'll get you'. But with the point of his boot he gives – peep! – a tiny little pass for a one-two. That gives him another metre and a half…"
The axis with Rooney provides something similar. As the Dutchman tells it, they are not so much No 9 and 10 as two 9½s. Rooney has not been prolific this season but his link-up with Van Persie has been sublime at times.
Van Persie was not interrogated by MUTV on his reasons for choosing United over City, though since Mancini was offering more money, it is safe to surmise that the certainty of where and how often he would start games this season came into it.
Those certainties have not existed for City's Sergio Aguero, often billeted out on the left by Mancini. "I like Aguero, I think he's a fantastic player, but he's not quite at his best right now," Neville told the FWA. "If he was, you could argue him above Van Persie. I thought Aguero would score 35 goals this season but he's been played on the left wing. His movement is at a different level; his speed, his toughness, his finishing...his goal won the title last year. [But] his changing of partners and moving him to the left wing hasn't helped him. For me he should be central and whoever is around him goes left or right."
Van Persie has no such uncertainties. Rooney has spoken of the "calmness" about his new team-mate, who also holds the ball up well and brings other players into the game. On MUTV he exuded the persona of a man simply immersed in his club and with a mind uncluttered by anything which might come between him and a major performance tomorrow.
"We can come back," he said, managing the gymnastic feat of turning United's propensity for failing behind in games into a positive. "We can score in any minute of the game, from any angle, from corners, from free-kicks, from open play, with headers. We can score at any time and have proved that during this season again. This whole club is about that – if you look at the whole history of this club, it's a lot about comebacks. If you can do it once it's nice; if you can do it a couple more times it's even nicer but if you can do it as often as us, it is a strength. It is a quality.
"So whatever happens on Sunday – or in any games – everyone knows and realises that we can always come back and always bounce back, even when we're 2-0 down."
The perfectly reasonable question of whether Van Persie knows what a Manchester derby actually entailed seemed almost unnecessary by the time he had answered it, last night. "I know how it is," he replied. "Obviously, in the past I had the north London derby against Spurs and other derbies in London, but this is two Manchester teams in one city – one is called United and the other is called City and that's it. They are the only teams. So it is the only derby and the biggest derby."
RVP in numbers
13 goals for United in 19 matches since joining in August
0.77 Goals per game average at Arsenal last season – compared to 0.68 at United this campaign
2 Goals by striker in 12 matches against Man City in all competitions
6 Matches it took for striker to score first Arsenal goal – against Man City (Oct '04)
145 Number of goals scored in English football by the Dutchman since moving to Arsenal from Feyenoord in 2004
Join our new commenting forum
Join thought-provoking conversations, follow other Independent readers and see their replies