Ronald Koeman: 'Louis van Gaal has his story. Mine is different'
Southampton's Dutch coach Ronald Koeman is the man of the moment as, unlike his compatriot at United, he's made a fine start with a reshaped side. He tells Sam Wallace how he's done it and gives a full account of how he fell out with LVG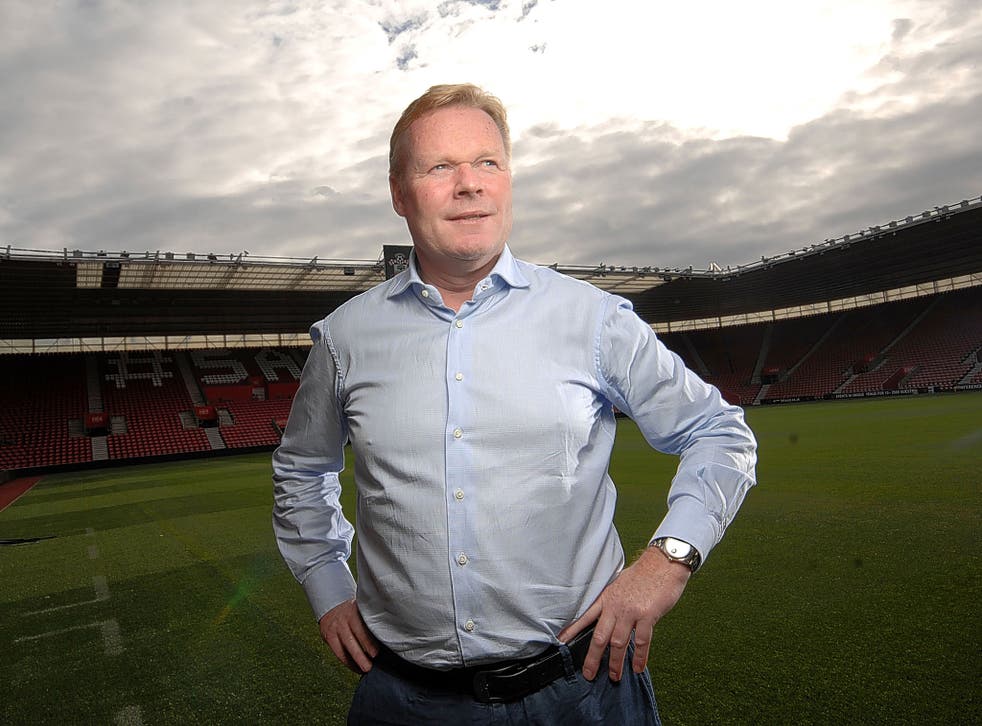 Ronald Koeman does not have to check the date of Southampton's game against Manchester United. "Sixth of December," he cheerfully interjects halfway through a question about how the Dutch will view the Premier League game between the teams of two of their most famous football exports.
The Southampton manager is chatting in an office at St Mary's having come straight from a press conference in which the first question was: "Can you qualify for the Champions League?" It has been a remarkable start to the season for a club written off in the summer and now second in the table. Arsenal were the latest scalp, beaten at the Emirates in the Capital One Cup on Tuesday night. Koeman is English football's man of the moment.
This Premier League season was supposed to be about another Dutchman, brought in to resurrect United and restore them to a place among the elite. Instead of Louis van Gaal, however, it is Koeman, once the former's assistant at Barcelona, who is making the job look easy. He has reinvigorated Southampton after their summer player exodus and at home to Queen's Park Rangers today they expect to win their fourth league game of the season.
Koeman had a glittering career as a player. Eight league titles in the Netherlands and Spain and two European Cup wins, including that one for Barcelona at Wembley in 1992 when he scored the winner. He won Euro '88 with his country. High standards to live up to as a manager but he has not done badly: three Eredivisie titles and a KNVB Cup over his time at Ajax and PSV Eindhoven. He won the Copa del Rey at Valencia.
As befitting a sophisticated polyglot Dutch coach, he is cool with the awkward questions, such as his rift with Van Gaal. They worked together at Barcelona and then fell out when Van Gaal was technical director at Ajax, and Koeman the coach. Later, Van Gaal was dismissive of Koeman in his autobiography – he referred to him as "that boy" – and suggested he was not the first choice to succeed him at AZ Alkmaar in 2009.
Koeman is open about it. "We had a problem because I was the coach of Ajax and he [Van Gaal] came in as technical director.We had some problems in the relation between his job and my job. First he left Ajax and, after three and a half years I left, too. It was difficult because it was a problem in the relation in football. But you know, if there is a problem in football relations then there is also a problem outside of football. Never more was there the contact that we had before. Sometimes a little bit fighting [dispute] between each other.
What of Van Gaal's description of Koeman as "weak"? "Yeah, that's true [that Van Gaal said that]," Koeman says. "But that is his story. My story is different. If there is a fight with two persons, both are involved in the problem. It's OK. It is the past and we look forward. I hope he will be very successful."
It was Koeman's decision to play three at the back during his final season at Feyenoord that inspired Van Gaal to do the same at the World Cup finals with the Netherlands team, and then with United. Koeman said that he chose that system at Feyenoord because he had the right players to do it. He thinks Van Gaal made the correct decision this summer.
"Van Gaal and the national team had five or six players from Feyenoord. He made a very good decision to play in that system because he did not have the best players in the world. Some, yes, like Robin van Persie, Arjen Robben, Wesley Sneijder. But he didn't have the best defenders so he played with three or five defenders and it was more compact. It was easier for the defenders.
"They had a little bit of luck because if David Silva scored the second one against Holland then maybe after three games we would have gone home. But he [Van Gaal] did a fantastic job at the World Cup. And maybe because we played in that system at Feyenoord in the last few games in Holland."
Koeman, 51, does not appear to have the towering ego that often seems as common among top Dutch footballers as a velvet first touch. He laughs about his nickname during his time at Barcelona, "Tintin" because of his Nordic looks. He even agreed to dress up as the famous Belgian reporter, complete with stand-in Snowy the dog, for a Spanish magazine. A more innocent time, before PR consultants took over footballers' lives. Koeman has the picture on his wall at home.
For the first time in his coaching career, Koeman is working at Southampton with his older brother Erwin who, like their late father Martin, was also a Dutch international. Erwin, 18 months older than Ronald, won fewer caps and his playing career was successful but less remarkable. He too has been a coach, most notably at Feyenoord. They had discussed the possibility of working together in the past, but circumstances dictated this was the first time it suited both.
"I said: 'Let's go for it'," Ronald says. "He is a different type of person. He can be the second [in command] and I am little bit more programmed not to be the second. Who can you trust more than your brother?"
Presumably, Erwin has no qualms about telling his little brother when he is going wrong? "Yeah, he says that and he has to say that. You need that kind of person about you. It's easy for people to, say, tell you you're good. As kids we were fighting. We competed at billiards and football.
"When I was 16, he was 17 and got offered a professional contract at PSV. I thought 'Wow, I'd like to do that as well'. You fight against your brother because what he has, you want. Maybe that forms your character." In the recent past they saw each other only every couple of months. "Now," he says, "we [are getting used to] saying, 'See you tomorrow'."
The Barcelona "dream team" that won four consecutive league titles has also launched some impressive coaching and administrative careers. Koeman is still in touch with Pep Guardiola, Txiki Begiristain and Andoni Zubizarreta. He took advice from Michael Laudrup before accepting the Saints job. "At that time [in Barcelona] you were only allowed four foreign players and now there are 10, 12, or 15. We had four and that was different. Now – it is much more difficult to be a group, to be a family."
Ronald's management career has taken him to four different countries – as with his playing career he has managed each of the big three in the Eredivisie, as well as AZ, Benfica and Valencia. His wife Bartina is still spending some of her time in the Netherlands where his three grown-up children Tim, Ronald and Debbie live. The family gets together as much as they can.
It is not the life for every great ex-player and this week one of Koeman's former team-mates, Marco van Basten, quit his coaching job at AZ with stress. "He's not feeling well doing that job," Ronald says. "Even the stress – he's not feeling well. It's difficult. We have texted. He's a good friend of mine. He's had too much stress in football. [He is better suited to] being second position [ie, assistant] and not the intensity, the press, the pressure of the head coach."
Does Koeman ever feel the same? "Yeah, I am used to that. Sometimes it is difficult. All the managers have a lot of pressure. But it is part of the job."
One of the first difficult issues he faced after the departures of five of last season's Southampton team was Morgan Schneiderlin's wish to join former manager Mauricio Pochettino at Tottenham. It was an awkward episode but Koeman simply stood his ground and the French midfielder is now back in the fold and a key part of the successful pressing game his manager likes to play.
"It is always difficult," Ronald says. "On one side I understand the player. As a player I had the possibility as well to go to Barcelona. If the club had said to me 'You can't go' that would have been difficult. But you sign a contract. They [Spurs] didn't come in with a good price – the good results make the situation easier. We have showed him by bringing in good players we can keep going what we did last season. It's a big influence on the player."
It was, he said, a tipping point. Not just for Schneiderlin but the whole club. "We did everything for that – because after losing some key players you have to say 'Stop'. The rest of the players, they need to see the intention and ambition."
It is refreshing to hear Koeman talking about winning a cup rather than just focusing on league position, although he believes that the club can aim for the top six. He wants a day the supporters will never forget so there was certainly never any chance of him throwing away a League Cup tie. "We are Southampton, we make the people very proud," he says. "More than 5,000 fans travelled to Arsenal and we won. That's a great night. We do that for the fans."
Should the Saints reach a cup final, it would be a Wembley return for a man who has won there before. Since that great playing career, Koeman has served a long apprenticeship as a manager, and the early signs for Southampton look very good indeed.
MY OTHER LIFE
"I had promised my wife we would have a day off on Wednesday. But the players wanted to train! I had said to her, 'Tomorrow morning, nice croissant for breakfast.' Then it was, 'I have to train.' She said, 'I thought you have a day off.' I said, 'But the players like to train.' She was, 'Oh no, fuck off!'"
Join our new commenting forum
Join thought-provoking conversations, follow other Independent readers and see their replies