Sandro: From Brazil to Chigwell
After two seasons of mixed success, the 23-year-old is now feeling at home – both in the Essex suburbs and the Spurs midfield, he tells Jack Pitt-Brooke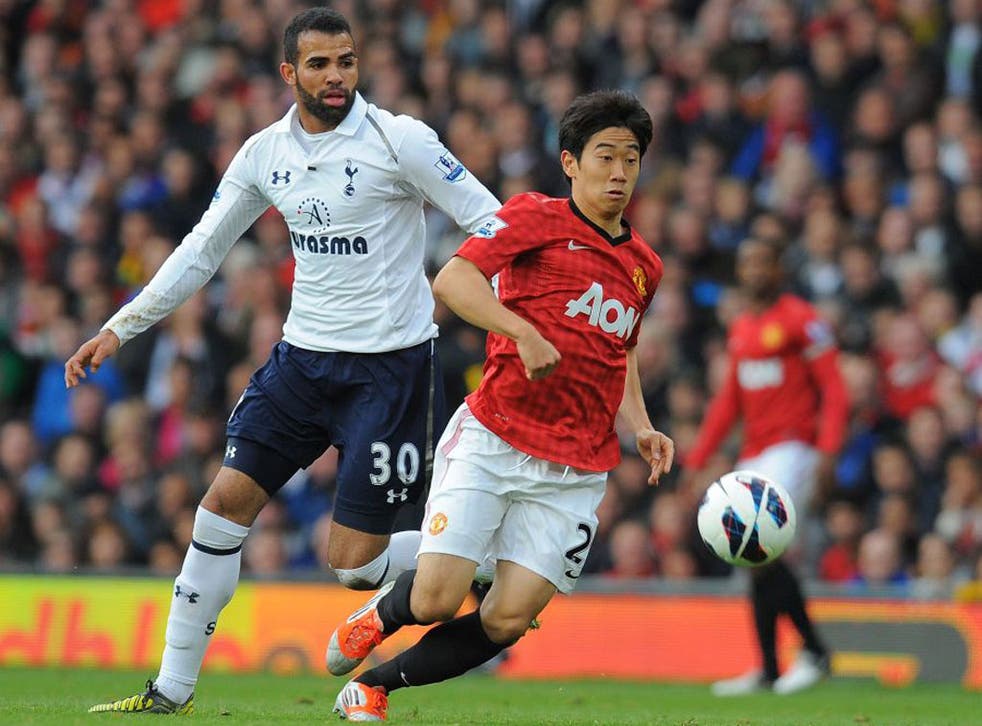 It is one of the handful of times that Sandro bypasses his Portuguese-speaking representative to answer directly in English when we speak this week. "England is my home," he beams, from the front room of his house in Essex.
This is a room where Sandro spends much of his time, a room which represents his roots in Brazil but also his two years in London so far. There is a Brazil flag on one wall but a dartboard on another. There are photographs of him in action for Internacional, celebrating winning trophies, including the Copa Libertadores, and, of course, playing for Brazil yet photos of him at Tottenham, including two framed pictures of training with David Beckham – who Sandro says is a "good guy" – from early last year.
There are Brazilian music DVDs, the recent documentary Senna, but also two books – one autobiography, one lexicon – by Bobby George, the darts player and Essex resident whose son is a close friend. There is also a well-thumbed English-Portuguese dictionary.
Chigwell is a long way from Riachinho, the small town outside Brasilia where Sandro Raniere Guimaraes Cordeiro grew up, as the son of a bricklayer who worked desperately hard to fund his son's dream. But Sandro is relaxed in his new environment, confident he has the right balance for his football, and enjoying the company of both friends and family over from Brazil but also the locals he meets.
"I'm very happy now," he says, this time through his representative. "Obviously I miss Brazil but London is my home. It has helped me a lot that it is a very affectionate community, particularly the Tottenham fans. Whenever I am out and people recognise me on the street, they are very affectionate towards me, which helps me firstly feel at home but also motivates me."
Sandro does not live far from where Tottenham used to train, at Spurs Lodge, until they moved to Enfield last month. This is a nice area but it is certainly not the sort of mansion-strip chosen by many footballers. It is a community, and one that the 23-year-old Sandro is increasingly a part of.
"I am speaking more English every day, which helps me," he says. "Every time I walk down the road I know people at the newsagents, at the barbers, at restaurants which is nice because it's a lovely atmosphere and particularly here in Chigwell it is a very, very calm area. I feel very comfortable here, it means I can relax when I am away from the training ground.
"After training I don't have anything scheduled in most days. I come back tired, rest a little bit, play a bit of music." Which explains the instruments in his front room: a drum set, a bass and an acoustic guitar (on which he plays "The Scientist" by Coldplay before we speak).
"I often have friends or family over from Brazil which helps a lot," Sandro adds. "When the weather is good some of the other Spurs boys, like Michael Dawson and Tom Huddlestone, like to come round and we have a traditional Brazilian barbecue, which takes longer, up to four or five hours to prepare, so we have time to play cards and relax as well. Heurelho Gomes is also a very close friend, he used to live just down the road, but he recently moved about 20 minutes away."
Although Sandro does enjoy his time away from football, there is no doubting his ferocious commitment to success and trophies this season. This is his third year at Tottenham, and in each of the first two there have been good runs of games but also injuries stopping him from imposing himself over the course of a year.
"In my first season, particularly towards the end of the year when I had a good run of games, in the Champions League I was playing very well," Sandro reflects. One of his other framed pictures shows him tackling Zlatan Ibrahimovic during that famous victory over Milan in the last-16. Sandro played more games last season but could not sustain a rhythm while Spurs' form started to slip towards the end of the campaign.
"Last year it was frustrating because I'd have a run of a few games but then every time I had to keep re-starting, from the beginning."
Sandro hopes that this season is the one where he overcomes these problems and shows everyone precisely what he can do: "I am looking after myself now better than ever, I feel good at the moment, and I am confident that – touch wood – if I can avoid problems, avoid injury, this is the year when I can play the whole season, rather than have a good run of games and then pick up a silly injury. Because I feel that I can play well and help the team, and that's what I want to do in order to help the team win titles."
It is not language that always sounds natural at White Hart Lane. But Sandro has always been a winner, for the Brazil Under-20s and for Internacional, where he won the state championship twice, as well as the Copa Sudamericana and Copa Libertadores, the South American equivalents of the Europa League and Champions League respectively. Sandro is keen to replicate such success over here.
"It has always been a personal ambition to win. In the history of my career – win, win, win – always a champion, that is always the ambition. This year, more than ever, there is a general feeling among the whole squad, this is what they talk about. To win every game they go and play. That is the ambition. There is a belief and a confidence about the squad at the moment. With the group of players, the back-room staff, if everyone keeps working hard and pulling in the same direction it is achievable."
There is a strong sense that this year is going to be different from the last two. Sandro moves back into English to promise that he is going to attack this season "like a tiger". He has certainly begun well, looking fitter than ever, starting all six of Spurs' league games, asserting himself around midfield, seizing the ball back from any opponent who dares enter his territory with it. With Mousa Dembélé he has already formed a natural partnership; quicker, smarter, tougher and sharper than most midfields in England.
"At the moment, physically I am feeling very good, I am very strong. It is the best run of games I have had since joining the club. And I feel as if I am really heading in the right direction, as is the team."
Confidence is understandable as we meet just three days after Tottenham's famous win at Manchester United. This was a game in which Spurs seemed to shed their former selves, playing with a bravery not all sides of theirs have shown at Old Trafford. It was a new assurance which Sandro revels in, and which he put down to the manager, Andre Villas-Boas.
"Before the game we had spoken a lot about this, about how a lot of teams go to Old Trafford and the moment overcomes them and they are overwhelmed. But the instruction, particularly from the manager, was: 'Go out there and play your normal game. It's a game of football.'
"There was a lot of talk in the build-up about the history of this fixture, how it had been so many years since Tottenham won. But we all went out on to the pitch with this in our minds: 'seize the moment, play the game, win the game, nothing to fear'."
Sandro is obviously enjoying the Villas-Boas era, and believes he is taking Spurs forward. "It is clear tactically that our manager is one of the best. We all knew that from his history before he joined the club and what he has achieved and every day we are learning tactically, as you can see from the recent performances. Especially we are very well prepared for every match.
"It helps all the players a great deal that the manager speaks perfect English, perfect Spanish, Portuguese, French, and so everybody understands very clearly the message. Personally, it is a big help that the manager speaks to me in Portuguese. When I first joined the club, I didn't speak any English and it was difficult to fully understand, even with the help of people translating for me, exactly what the messages were at times. It was frustrating.
"The big difference now is especially during a game, if there is a 30-second break, I can go over to the substitutes' bench to get a direct message from the manager, if he wants me to do something differently or pass on a message to one of the other players, I can now understand and react in the moment.
"I've got a good relationship with him, I'm very much enjoying working with him. He is one of the best out there, not just for me but for all of the team. And it helps that if there is something that is not going right we can approach him, or he can come and speak to us.
"Steffen Freund [the Tottenham assistant coach] is great to have around. He is a fantastic motivator. Every day that he comes to the training ground he is vibrant, bubbly, enthusiastic and we all feed off that. It is a great help that he was a player at Tottenham, so he knows the club inside out. Also he played in the same position so we are together a lot of the time, talking tactically about playing that position and about playing there for Tottenham."
For Spurs, as for Sandro, everything now seems to be in place: "The performances are improving. The aim with the manager is to create history for Tottenham, so we want to keep building on performances like last weekend, when we beat United at Old Trafford, but in order to really create history, our aim is to win the league."
My other life:
"When I have finished training with Tottenham I don't have anything planned usually but I like to play music on my guitar. I often have friends or family over from Brazil. I'm very close with a lot of the other Brazilian players over in London, the Chelsea boys David Luiz, Ramires and Oscar. And Andre Santos and now Fabio and Julio Cesar at Queen's Park Rangers. At Tottenham, Heurelho Gomes is a very close friend. When the weather is good some of the other Spurs boys, like Michael Dawson and Tom Huddlestone, like to come round and we have a traditional Brazilian barbecue, which takes up to four or five hours to prepare, so we have time to play cards and relax as well. I like English food, but prefer Brazilian."
Join our new commenting forum
Join thought-provoking conversations, follow other Independent readers and see their replies