Southampton 2 Manchester United 3: Louis van Gaal defensive of his side's defensive record after St Mary's win
While opposite number Ronald Koeman says United have a 'defensive weakness'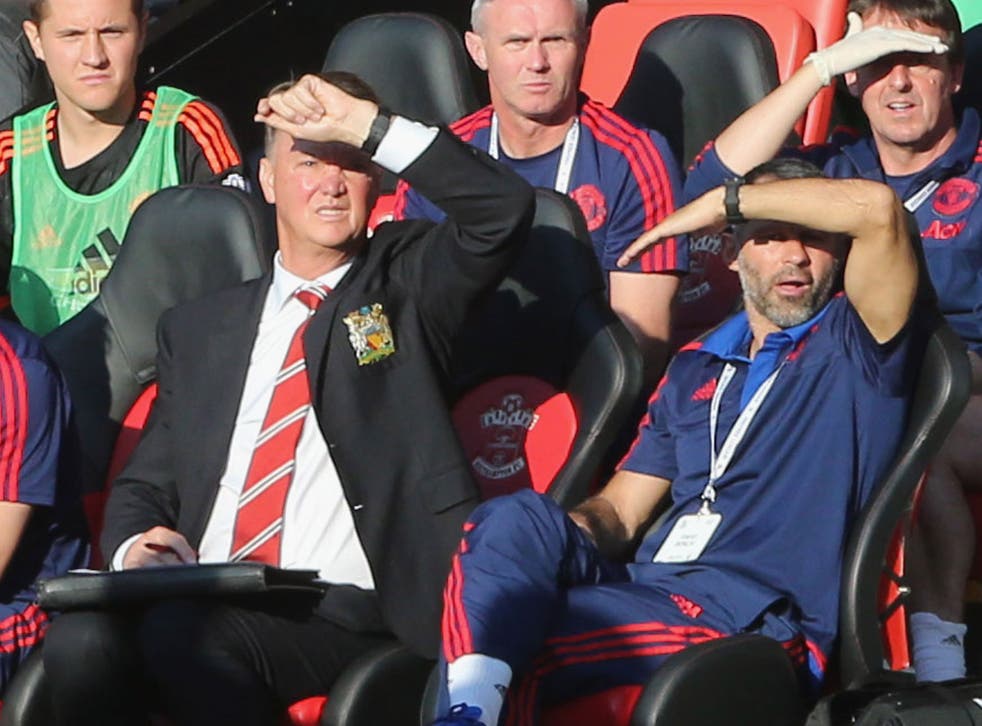 Louis van Gaal launched a spikey defence of his Manchester United team's defensive record after they won 3-2 away at Southampton with manager Ronald Koeman identifying the away side's "defensive weaknesses".
The Dutch manager was reluctant to accept that his side had struggled in the first 30 minutes of the game when they conceded the first of Graziano Pelle's two goals. United's new £58m signing Anthony Martial subsequently scored twice and there was another for Juan Mata before Pelle's second made it a difficult last few minutes for United.
Asked whether his team needed to score more goals to make up for defensive inefficiencies, Van Gaal said: "I don't agree with you. Have you seen the goal average against? Also last season all the media was writing the defence is very bad but at the end we were third [least conceded] in the Premier League [United were fourth for goals against]. You say something and don't think about what you are saying."
When it was put to Van Gaal that Koeman had pointed out the weaknesses of his team's defence the United manager first accused the media of having misquoted his opposite number. When it was pointed out that Koeman had indeed said just that, Van Gaal described the observation in question as "remarkable".
Van Gaal said that his team's struggles were down to tiredness from their Champions League exertions mid-week against PSV Eindhoven. He took Matteo Darmian off at half-time after a poor first half and later replaced Marcos Rojo with Paddy McNair who played at centre-back. Van Gaal said he replaced Darmian with Antonio Valencia to deal with the threat of Dusan Tadic.
"He [Darmian] gives too much space on Tadic in my opinion and Tadic was the most dangerous man. That is why I have changed him and Valencia did very well – I didn't see Tadic anymore in the second half."
Southampton 2 Manchester United 3 player ratings

Show all 21
Van Gaal praised Martial's talent adding that he expected the teenager's form to go through some peaks and troughs. "You cannot expect consistency from a player of 19-years-old. Emotionally they shall have a lot of dips so that I expect also from him but that is not a big problem for me.
"I'm very happy that he is in three matches and his talent is at a high level. He adapts to the system of how we want to play, that is also important, not every player can adapt in that system but he shows he wants to do that and he can do that. He scores goals. That is the most important thing, that as a striker he scores goals."
Koeman said that he had told his players not to hit back-passes to the goalkeeper of the kind that Maya Yoshida did for the second United goal. "I hate players who always hit the ball always back to the goalkeeper … there were several moments in the game where you put the pressure on them. We saw the weaknesses of Manchester United today, defensively.
"I will tell them the same story [about backpasses], it is always a risk. We have to learn form that because we made that mistake last year [with Jose Fonte] and we did it again. You can talk about tactics, and goalkeepers, offside or not offside but we lost by ourselves and not by our opponent."
Join our new commenting forum
Join thought-provoking conversations, follow other Independent readers and see their replies