Southampton vs Arsenal: Theo Walcott back in Arsenal picture after horror 2014, but is 'edgy' about contact
Striker ready to return after injury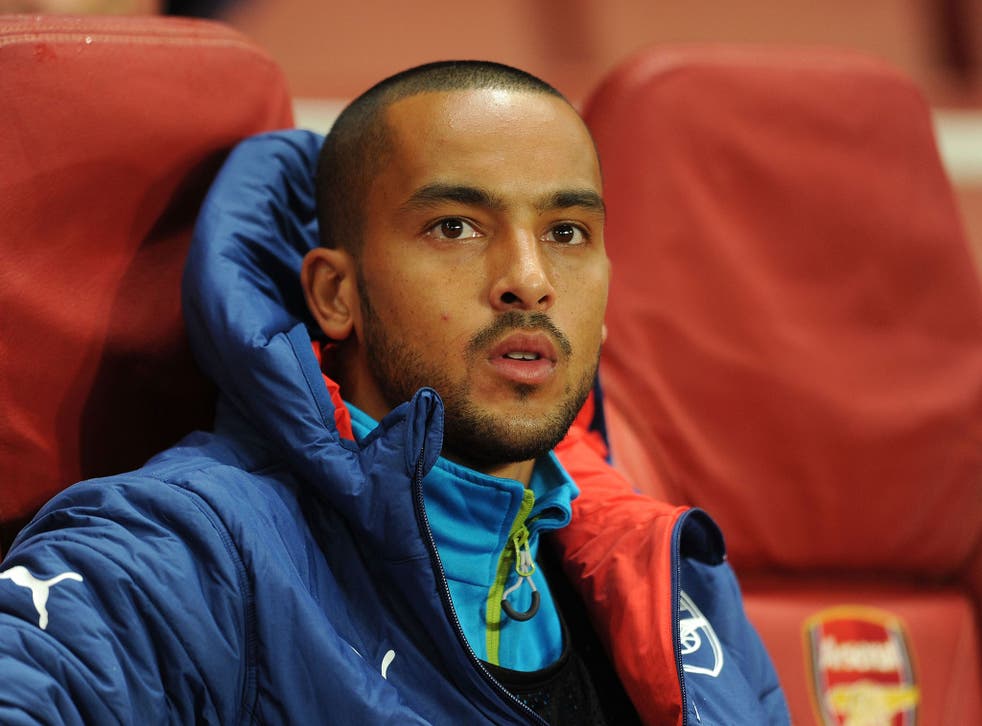 Theo Walcott could make his Arsenal return at Southampton, as he approaches the one-year anniversary of the knee injury which decimated his 2014.
It was in last year's FA Cup third round, on 3 January, that Walcott was carried off on a stretcher against Tottenham Hotspur. He had ruptured the anterior cruciate ligament and did not play again for nine months.
If Walcott does not play then he certainly will do at home against Hull City in the FA Cup on Sunday, one year and one day after the knee injury, which cost him, amongst other things, a place at the World Cup in Brazil.
Arsène Wenger is still considering precisely when to bring Walcott back. He described Walcott as "impatient" to return, as any player would be who has not started a game all year. The problem, though, is that Wenger admits Walcott is "a bit edgy" about the resumption of physical contact.
"There is a chance," Wenger said when asked about Walcott's possible involvement back at St Mary's. "And if it is not it will be Sunday.
"He has been out for one year – he was injured on 4 January – and he has to go for contact. Today the game does not forgive you any lack of contact or defensive focus, and we have to go through that."
It is difficult to recreate the intensity of a match situation, which is why Walcott is understandably cautious about his own return to the fray. "We will see that when he plays," Wenger said. "It is difficult to predict and he is certainly a bit edgy as he has been out for so long. You must have [the first tackle] in your mind, and have to go through that."
The better news, though, is that Walcott is confident that he is as fast as ever, having been fully rested while out. "He is fit, he has done a lot of work," Wenger explained. "The problem is that when you play game after game you lose your power and you burn your quick fibres. Ideally you should take the player out and rebuild again."
When Walcott returned from his nine-month knee injury absence, he made two brief substitute appearances in the Premier League, on 1 and 9 November. Walcott then joined up with Roy Hodgson's England squad for the Slovenia and Scotland games but after he came back he felt a groin injury.
Wenger now says that he "regrets" allowing Walcott to join up with Hodgson's squad, although it did make sense at the time. "I thought maybe a game or one half would help him to get through that and play at a high level," Wenger said. "But he came back injured. He overloaded his groin in training. It can happen."
Since Walcott was first injured last year, Arsenal have spent £50 million on forwards, in Alexis Sanchez and Danny Welbeck. While Walcott has played most of his games for Arsenal out wide, he has always made clear that he wanted to play as a striker, and that is where he played on the day he injured his knee.
Wenger's new 4-3-3 formation, though, ought to be a good platform for Walcott. Sanchez and Welbeck have both occupied those wide roles but, should either play through the middle, Walcott could come in. Arsenal have lacked pace in behind opposition defences for a while but now they have three players who can provide it which should, of course, create more space for Santi Cazorla and, in time, for Mesut Özil.
Arsenal's injury list

Show all 6
Soon enough Arsenal will have far more options up front than they did in August, when Olivier Giroud broke his leg and any departures before the window shut were blocked. This means that Yaya Sanogo could well go out on loan this month to a Premier League side. Sanogo might well have played, depending on Welbeck's fitness, but he has been missing, first with infected wisdom teeth and now with a hamstring strain.
"A loan is a possibility," Wenger admitted. "I would prefer [Sanogo] to go to a Premier League club. He is a goalscorer and he's not frightened, he's a guy who is naturally aggressive and in the modern game that's a vital quality." Mikel Arteta and Aaron Ramsey, though, remain injured.
Join our new commenting forum
Join thought-provoking conversations, follow other Independent readers and see their replies