Southampton vs Sunderland: Jermain Defoe looks to the positives after Black Cats spurn chance of first win
Southampton 1 Sunderland 1: Defoe put Sunderland ahead from the penalty spot ten minutes from time, but Southampton threw caution and Claude Puel's diamond formation to the winds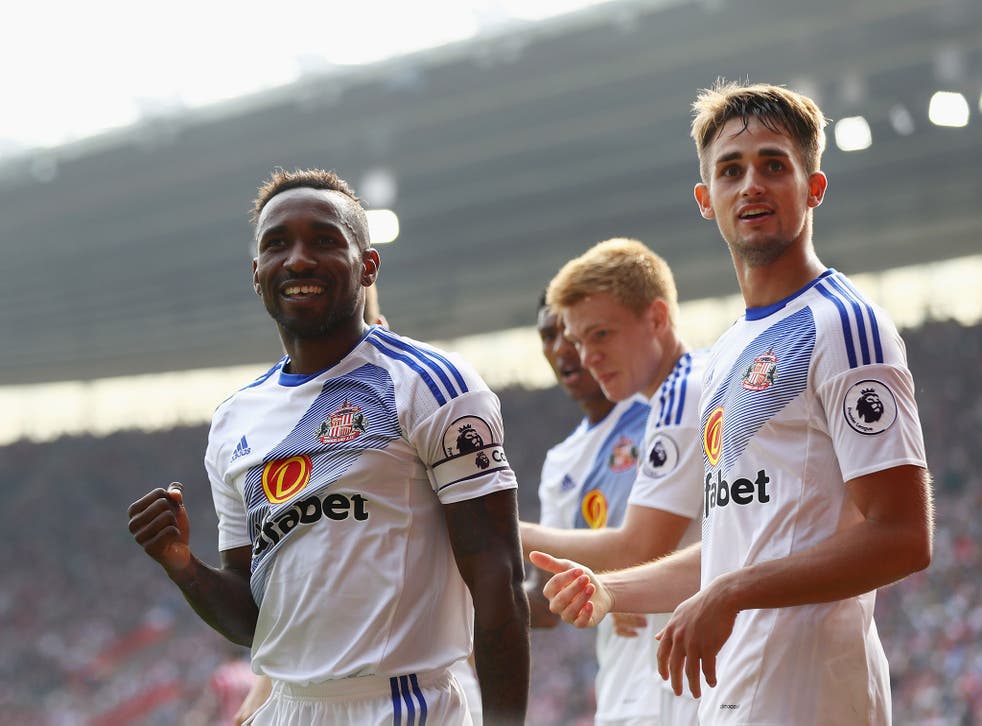 Jermain Defoe, the Sunderland striker, was surprisingly upbeat despite a sense of deja vu after Saturday's 1-1 draw at Southampton. For a second successive season he had given the Wearsiders a late lead at St Mary's only to watch his defenders surrender it again within minutes. But he still dismissed concerns previously expressed by manager David Moyes that the club was likely to be in a relegation battle, and even praised the player who was to blame for Jay Rodriguez's late leveller for the Saints.
Jordan Pickford, the 22-year-old England under-21 goalkeeper from Washington, Co Durham, who was making only his third Premier League start, had let a shot from Rodriguez slip under his body. But Defoe had only positive words for a young player given his chance by the elbow injury that is expected to keep Vito Mannone out of the the team for three months or more.
"He kept us in the game," Defoe said. "His decisions – like when to catch it and when punch it - were superb. And he made some good saves. I'm talking about shots where he's saved it and pushed it away, instead of saving it and the forward comes in to tap it in. I thought he was unfortunate for the goal. He was okay afterwards. The goal is not something that will affect him. He's a confident lad."
"Maybe [the manager] was joking [about relegation], I don't know. A a player, I never really think that. I take each match as it comes. It's never easy, but it is never easy for any team. Leicester showed that last season. So we'll see what happens. We have a few injured players who need to come back and a few additions would be nice. But in a way it'll be good if the young lads get an opportunity."
Pickford's next opportunity will depend on Moyes bringing in additional cover this week. He has not decided whether he will sign a replacement or a competitor. Joe Hart, he hinted, might block the progress of a promising player in Pickford. " Part of it is what becomes available," Moyes said. "Some would probably see themselves as number ones, others as back-ups."
Defoe put Sunderland ahead from the penalty spot ten minutes from time, but Southampton threw caution and Claude Puel's diamond formation to the winds, and Pickford had saved well from Shane Long and a deflected effort by Nathan Redmond before the leveller.
Portugal full back Cedric Soares is sure that Southampton will adapt successfully to Puel's formation in time. "All the lads are getting used to it all step by step," he said. "We are a young group and it's a different system. I need to go forward to give also a solution for the middle. It's another type of thing. I think we are getting better. That's the main part. All the lads are trying to get better in that."
Two points from three matches and a place nearer the bottom of the Premier League table than the top is something of a shock after the thrill of winning the European Championships against the odds with his country. But he pointed out that Portugal had also struggled before coming good. "There were difficult moments as well a good moments in there, but in the end we won so it was a fantastic achievement for me personally and all the national team," he said. "But I always want more and I'm already focusing now on this season and doing well.
Join our new commenting forum
Join thought-provoking conversations, follow other Independent readers and see their replies