Steven Gerrard faces the final curtain after 17 years in spotlight
Liverpool's captain assesses the highs and lows of enduring love affair as he prepares for last competitive game at Anfield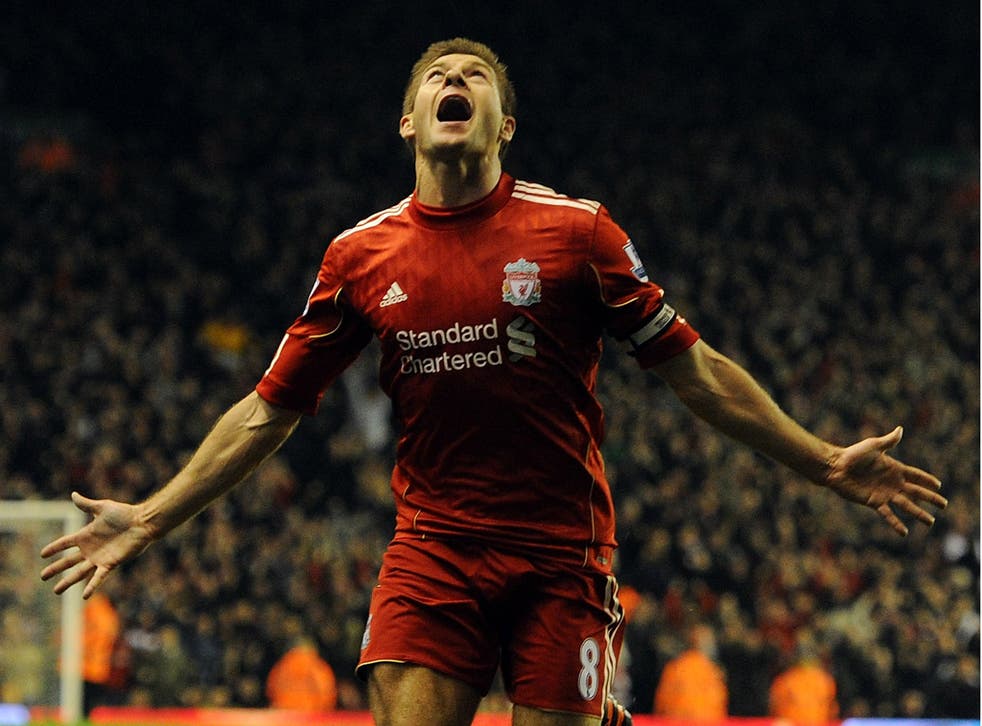 It's the advertisement on the Albert pub's exterior wall, overlooking the Bill Shankly statue on the Anfield Road, which reveals the size of the chasm that will soon be at the heart of Liverpool.
It depicts three of the players to whom Steven Gerrard now passes the Liverpool torch, each of them modelling next season's kit beneath the words "Hold Nothing Back". And though that trio – Jordan Henderson, Alberto Moreno and Lazar Markovic – will fight the good fight, and though Gerrard reflects that "the reality is I'm getting too old for this level", you look up at them and sense the enormous emptiness he leaves behind.
Gerrard doesn't leave proclaiming his own worth, needless to say. If you'd asked Jamie Carragher to mark his Liverpool career out of 10, he would have called it bluntly and brutally – a seven at best he'd probably allow himself. But the man with the furrowed brow grapples with the same question. "No one is interested in what I would give it. You're just after a headline, aren't you?" he responds, despite his inquisitor being one of those who have followed him down the course of many years. And finally, he replies: "I'm not going to judge my Liverpool career out of 10. But I can judge two performances for you. I'll give Istanbul nine and I'll give the last Man United one at home zero. Is that alright?"
There's always that degree of visible angst with Gerrard. "With Stevie I could always see it in his face if he was disappointed: I maybe hid it a little bit better," Carragher said recently, and the last man standing of the pair was always the more introspective.
And now, in 24 hours or so, after 17 years of swinging his car out on to the Anfield Road on a Saturday evening and away towards the A57 home, then spending his days off "day-dreaming about the next game" as he put it recently, it will be over. The boy who was a nine-year-old with Whiston Juniors when Liverpool academy youth coach Dave Shannon got the call to go and look, and who was 13 when he first impressed Carragher playing under-14s in a kids' tournament in Aberystwyth, will run out on to Anfield turf for the last time in a competitive context. And his observations made it clear that he fervently wishes to be back there watching in a competitive context as a coach.
Until the very end he has been inextricably linked to this place. It was in this, of all weeks, that the Hillsborough inquest turned its focus on to the death of 10-year-old Jon-Paul Gilhooley, Gerrard's cousin and the youngest of the 96 who died 26 years ago. Gerrard dedicated his autobiography to the boy – a year older than him when he died – who had joined him for kickabouts on Huyton's Bluebell Estate.
The city of Liverpool will not know fully what they have lost until Gerrard has left, because only he really knows what it is to have been a Liverpudlian leading the club on its frustrated quest for the lost terrain of championship titles these past years, with ghosts of glorious ages past all around.
"I have been in the spotlight in this city, in this team, for 17 years and had some highs and some lows in that time," Gerrard says. "What some people don't understand is sometimes it's a tough place to live and be a player as well. So I think there will be a relief and a release in a couple of weeks and when I have been away for a few years."
That relief also extends to the fact that he will actually have on Saturday, when he walks out against Crystal Palace, as one of the Liverpool memories to draw on 10 years from now. The oldest of his recollections is getting the bus with his father from the Bluebell to the Vernon Sangster Centre of Excellence in Stanley Park, where Shannon had organised for him to come and train – "Getting two buses in the rain and the cold and the ice and snow, and just going back to that moment when it all began," as Gerrard remembers it.
But the prospect of a glorious swansong receded dramatically seven weeks ago, when Gerrard was dismissed 38 seconds into his last appearance against the club which has denied him so much – Manchester United.
"Certainly sitting in the dressing room after the sending-off against Man U, I was thinking I don't want it to fizzle out in that way, and people to remember a hamstring injury, the suspension against Man U and some bad performances," he says of that game for which he has awarded himself a player rating of zero.
His season recovered. He has scored two decisive goals in the last two games, thrusting himself into the same last corridor that Carragher faced ahead of his valedictory afternoon against QPR two years ago – worrying if a training ground injury might wreck it all and, Gerrard being Gerrard, also worrying about how to train while avoiding one. "It's difficult in the moment when you're in a session or in recent games, to think about what if you got injured or not," he reflects.
He will look back on some monumental moments. Best goal? "On the eye, the FA Cup final," he says, that May afternoon against West Ham nine years ago really needing no year appended. "The most important, Istanbul." Best team-mate? "[Luis] Suarez." And the biggest disappointment? The absence of that Premier League title that seemed such a certainty when the Anfield years rolled out in front of his 18-year-old self.
"I don't just think about winning the League once a day, but sometimes as many as half a dozen times in an afternoon," Carragher once said of that ghost, and Gerrard admits that at the beginning, as a 16-year-old YTS player kicking a ball around Melwood with John Barnes and Jan Molby, he did not think that he would never win a championship. "Not at the very beginning," he says. "I always felt like I had the talent and ability to stay around for a long time. I knew I had to work hard to do that but I thought over the 15-year period that I wanted to stay for, that I'd get the chance to win it, and I did on a couple of occasions, last season being the best chance. That makes it a bit more painful because it's so recent."
Gerrard says that if he could offer his 18-year-old self one piece of advice it would be to get into the gym earlier. "The way the game's gone now there's no place for players who aren't physically strong." But what he offers is way beyond the kind of metrics – tackles placed, yards covered – which absorb football's modernisers.
Gerrard says in Liverpool's latest issue of the in-house magazine that when he arrived on the fringes of the side, with Paul Ince and Jamie Redknapp ahead of him in 1998, he had a visceral desire "to take a position in the team from people who thought it was theirs. What made the difference was I wanted it so much". It is the Liverpool soul and it can't be measured in numbers.
Gerrard rejects the idea that his departure, two years after Carragher's, leaving only Jon Flanagan behind as Liverpool-born, represents a break with the past. "I don't think it is the be-all and end-all," he says. "I think it is important there is a group of players here that are very good footballers and they have got a coach in charge who is very good tactically. That is when success comes.
"I don't think it will come down to whether there is a Scouse lad…in the team. The important thing for the future is that we keep trying to attract world-class players who can help contribute to success. That is how you win games and tournaments. It is as simple as that."
Carragher would argue – forcefully – that Gerrard's departure removes an enticement for great players to join Liverpool. "I tried with the last four or five and none of them have come!" Gerrard insists. "Don't look too much into that. I don't think people come because of me, Jamie Carragher or anything else… I think they come because of the badge and the club, the wonderful history and tradition. The way football has gone now, players just want to play in the Champions League. That is the key."
However, as Gerrard looks ahead to life on America's west coast and contemplates Carragher's jocular order that he must not cry on Saturday like Sami Hyypia, from who he took the captain's armband, famously once did, you feel he is skirting around what he and his presence have really meant.
Around the corner from the Albert, one of the 10 giant boards depicting Liverpool legends outside the Centenary Stand entrance encapsulates what this club are losing. "Once in a generation a player comes along for whom nothing seems impossible," it states. "Luckily that man wears the No 8 shirt at Anfield." For one last time, he will.
Join our new commenting forum
Join thought-provoking conversations, follow other Independent readers and see their replies