Steven Gerrard focusing on European bid rather than new Liverpool contract
Captain has 15 months remaining on his current deal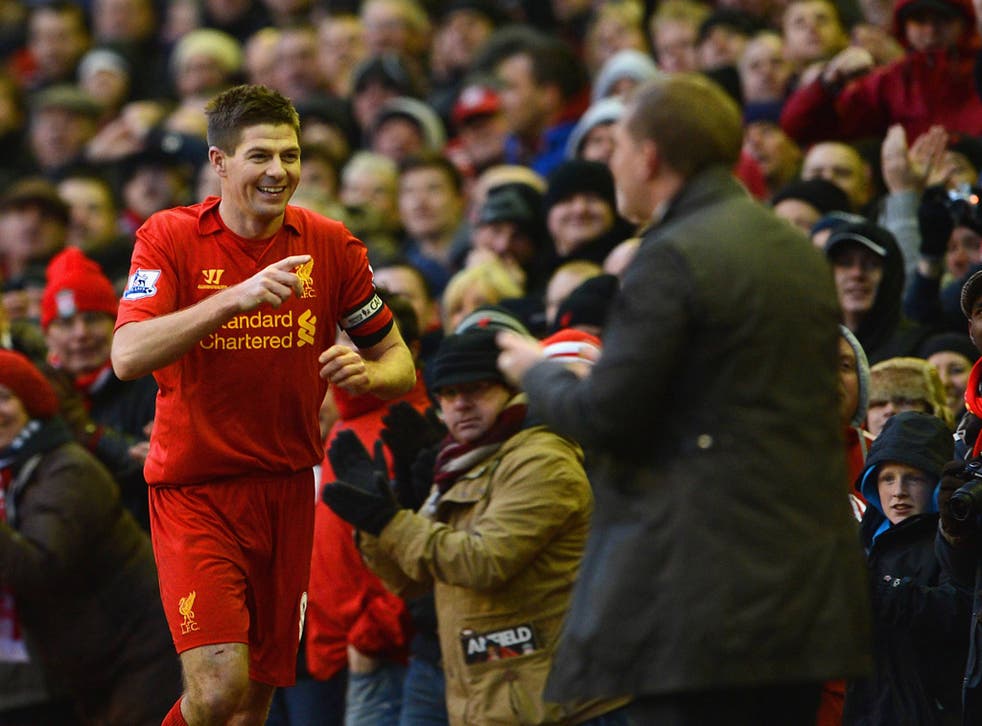 Steven Gerrard insists driving forward Liverpool's late bid for a European spot is more important than sorting out his own future.
Reds manager Brendan Rodgers has indicated that speaking to Gerrard about a new contract is on the agenda with the Liverpool and England skipper having 15 months left of his current deal.
But Gerrard's thoughts are firmly fixed on Liverpool sustaining their current momentum and avoiding the inconsistency he believes they have paid a heavy price for this season.
Liverpool registered their third win in four games with a 2-1 win at Aston Villa to close the gap on sixth placed Everton in the Barclays Premier League to three points.
Gerrard said: "For me, it (contract talks) is not a priority at the moment.
"The most important thing for me now is to move on to the West Ham game. I want to finish the season strong. I'm feeling good.
"Of course, I'm happy that the club are mentioning new contracts, but it's not important at the moment.
"What we need to do is put pressure on for that European place. A lot of the teams above us need to play each other.
"We're hoping there's a few slips ups above us and we can capitalise but it's important that we take maximum points.
"Every game is a cup final now. That's what the manager said after the game. It's a little small short season left now if you like.
"We just need to play to our maximum every game because if we don't, like we didn't at Southampton, we know we'll be punished. We need to the level of performance at Villa to continue."
Gerrard makes no excuses as to why Liverpool are clinging to a slim hope of climbing into a European position.
He said: "I think if you say that you haven't got what you deserved, then there's an element of feeling sorry for yourself.
"We know what our problem is and it's inconsistency. In the majority of games we've played well enough to be higher than where we are in the league.
"But when you look at performances like Southampton, Villa at home, West Brom away, Arsenal at home, there's a handful of games in there where this team hasn't turned up.
"That's the reason why we are sitting where we are in the table. In between those games there have been some fantastic performances, well worth a top four finish, so we know we're not far away.
"If there's a few improvements in the summer to the squad, we believe we can put in a better challenge to the top four next season."
Villa have slipped back into the bottom three for the fifth time this season and have gone 20 games without a clean sheet since early December.
Keeper Brad Guzan said: "The second half wasn't good enough from our point of view. For 90 minutes you have to be able to put together a more solid performance.
"You have to limit the mistakes and chances we give away. It didn't go our way. It's a bit of bump in the road but we've shown before that we can bounce back.
"Regardless of whether we're in the bottom three, you look at the table and see how tight it is.
"There's a lot of football to be played and lot of points to pick up. You win three matches and you're talking about Europe. You try not to get caught up in looking at the table."
Guzan added: "A clean sheet would be nice. At this point though, it's all about winning, I don't care if we win 5-4.
"If we win games, that's what it's about. It's about fighting for each other. We have to make sure we come out on top, regardless of the scoreline."
PA
Join our new commenting forum
Join thought-provoking conversations, follow other Independent readers and see their replies