Work to be done for Claude Puel with a Leicester side that remains caught in its storied past
Leicester flashed hot and cold in their 2-2 draw against Stoke. The swashbuckling football of their title-winning season was there to see but offset against momentary lapses in judgement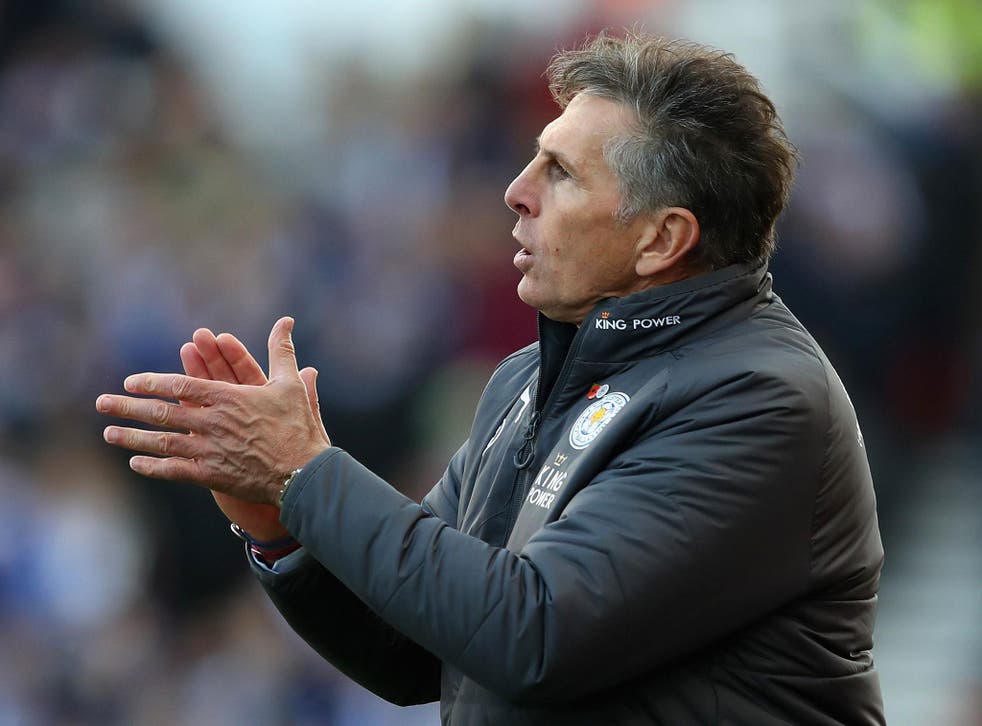 After the highs of last weekend's 2-0 win over Everton, it was back to reality for Leicester and Claude Puel, who was overseeing his second game in charge of the Foxes. Christian Fuchs had said ahead of the trip to Stoke that it'll take time for the Frenchman to implement his "philosophy and ideas" at the club, and on the back of today's 2-2 draw that certainly seems to be the case.
It was a match in which Leicester flashed hot and cold. The swashbuckling football of their title-winning season was there to see, with the likes of Riyad Mahrez and Demarai Gray up to their usual tricks, but it was offset against momentary lapses in judgement – most notably showcased in Stoke's opener – that served to undermine the visitors' efforts.
Leicester have certainly looked more, well, Leicester across their past two games but, as Fuchs himself said, it'll take time and patience to get the Foxes to where they so desperately want to be.
In Stoke the former Premier League champions found themselves up against a side set up to frustrate and resist Leicester's fast-paced, counter-attacking football. Opting to sit deep in numbers whenever the visitors had the ball, Puel's men found it difficult to break down their opponents. As a result, it made for somewhat dreary viewing in the first 30 minutes as both sides poked and probed their way forward in an attempt to break the deadlock.
It was new signing Vicente Iborra who eventually opened the scoring at the bet365 Stadium, latching on to Harry Maguire's nod-back from a corner to slam the ball into the roof of the net from five yards out. From there the visitors pushed on, creating and enjoying more chances down the flanks and from the set-piece.
Shinji Ozakaki came close to doubling the score moments later, stooping low to meet Gray's well-placed delivery with his head, but was denied by an instinctive Jack Butland save that pushed the ball over the bar.
Stoke's goal, coming just six minutes after Iborra's, demonstrated that Leicester have yet to shake off their hangover from the start of the season. It was Maguire who was at fault, rushing to close down Eric Choupo-Moting inside his own final third only to see the ball pass between his legs following a smart flick-on from the forward. Xherdan Shaqiri subsequently rushed into the huge pocket of space that Maguire had vacated before curling the ball past Kasper Schmeichel with a delicious strike.
It was sloppy from Leicester; a showcase in how not to defend. For all their energy and vibrancy going forward, the visitors looked unconvincing at the back. An impenetrable unit two seasons ago, Leicester's defence is now far more porous.
Maguire's introduction has certainly changed the dynamics of the side's backline. A ball-playing English defender – a rarity in these times – the former Hull man plays his game with an enthusiasm which both plays in and against Leicester's favour. His surging runs forward – somewhat curbed today – have meant Leicester's football now starts much further back on the pitch but, on those occasions when he gets caught in possession, it can leave his side in a sticky situation. The 24-year-old is certainly one player Puel needs to nurture and mould.
Stoke's second goal was further confirmation that Leicester remain their own worst enemies. How Peter Crouch was allowed to barge through the box, worming his way past Christian Fuchs and Maguire in the process, to head home his side's equaliser will undoubtedly be scrutinised in the days ahead as Leicester look to learn from this draw. A fantastic save from Schmeichel late in stoppage time ensured his side weren't punished again.
Puel will take this result, for sure. There were plenty of positives to take from the match – Mahrez's improving form will be most welcomed by all at the club – and there will be a sense that this is certainly a step in the right direction. But, having come undone through their own shortcomings, Puel must now look to tighten and sharpen up the Foxes. There's clearly work to be done with a Leicester side that seems caught in its past and unwilling to embrace the future. Whether or not he's the man to take them forward remains to be seen.
Join our new commenting forum
Join thought-provoking conversations, follow other Independent readers and see their replies