Stoke vs Manchester City match report: Sergio Aguero and Nolito bag braces in game of controversial penalty calls
Stoke City 1 Manchester City 4: Mike Dean was the centre of the attention once again until substitute Nolito rounded off a good afternoon's work for Pep Guardiola's men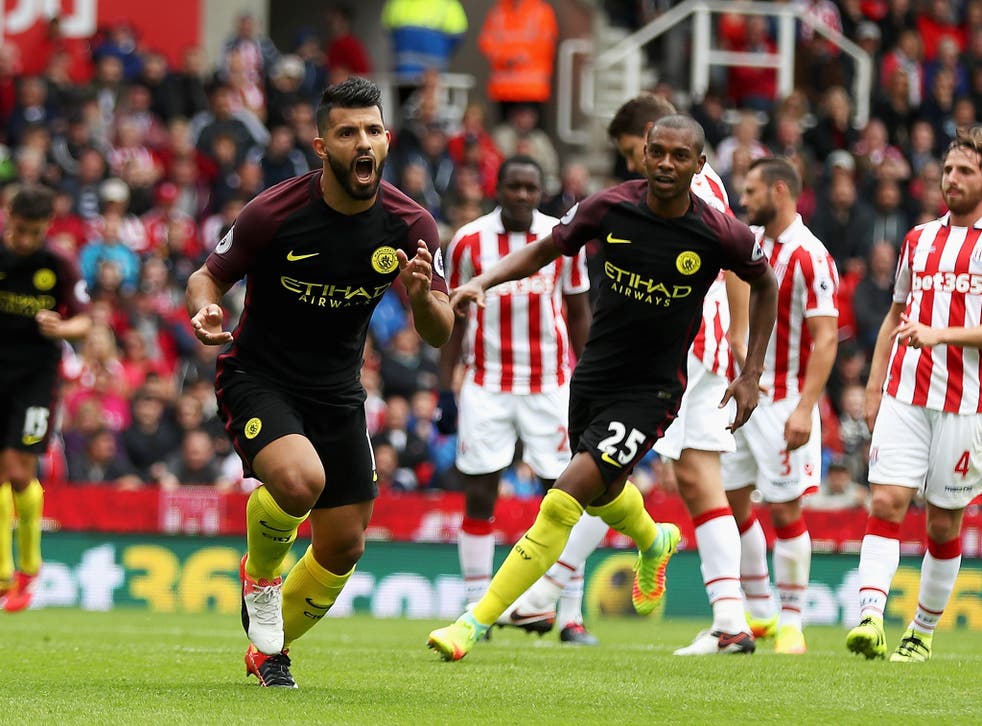 Pep Guardiola may be ushering in a brave new world at Manchester City but some things never change - Sergio Aguero scoring goals and refereeing controversy.
Aguero took his tally for the season to six in three games to set up an ultimately convincing win sealed late on by two goals from substitute Nolito.
But it was hard to keep Mike Dean out of the spotlight as the referee awarded two penalties and ignored arguably the most pressing appeal as Stoke ended up on the wrong side of the equation.
Dean, seemingly on a crusade to clear up penalty area argy-bargy following new directives issued to officials over the summer, gave each side a spot-kick as a result of contact following corners and at one point Stoke's former City manager Mark Hughes looked as though he didn't know whether to laugh or cry.
But in the end, Hughes could have no complaints as City picked his side off at the death to start as they hope they will mean to go on - their previous record of just four wins in 16 away league games do nothing for their chances of regaining the Premier League title in Manuel Pellegrini's final season in charge.
"We know the directive's out there," admitted Hughes. "If that's what the directive is, let's hope every time Mike Dean referees, he referees in the same manner.
"In my experience there is usually a little bit of a purge for three or four weeks then everyone reverts to type. Mike Dean is one of the more high-profile ones so maybe he enjoys that centre of attention, possibly.
"The scoreline was a little bit flattering for City but they are a good side. They are going to run the league title very close and run everybody else who has ambitions to win it this year."
City certainly look as though they mean business under Guardiola, combining his desire to play the ball out from the back with a show of strength to nullify what might have been a Stoke fightback after they had pulled a goal back to make it 2-1 from their penalty, converted by Bojan Krkic.
Guardiola's new side has now won back-to-back Premier League games, either side of a 5-0 victory at Steaua Bucharest in the Champions League which has made Wednesday night's return leg at the Etihad Stadium a formality.
"We have had a short time together and in spells in our last three games my players have shown me how intelligent they are," enthused Guardiola.
"They are really good players with a lot of quality which they have shown here in one of the toughest places in the Premier league – at least people told me that.
"We saw again an amazing team spirit, how they communicate between each other, how they celebrated the goals and how they celebrated afterwards with the fans. That is the first step.
"We will improve many things but I am little bit surprised in the short time the level we played in Bucharest and here. To win 4-1 here is very good and we have scored nine goals in two games. It was a nice week for us."
Having a player like Aguero in your side certainly helps. The Argentina international has now scored 152 goals in 209 games for City, despite missing two penalties in the mid-week European tie.
He was up and running here when showing no signs of uncertainty in drilling home the penalty awarded when Shawcross grabbed the arm of Nicolas Otamendi 26 minutes in. Nine minutes later it was 2-0 when Aguero glanced a header into the net from a Kevin De Bruyne free-kick.
Stoke should have been awarded a penalty when Aleksandar Kolarov barged Joe Allen to the ground but then got their break three minutes into the second half when Sterling, one of the smallest players on the pitch, was penalised for pushing Shawcross, one of the biggest.
Stoke had lost only one of their previous eight home Premier League games to City but couldn't make their renewed momentum count. Unlike last season's dismal 2-0 defeat here, City didn't wilt and instead finished with a flourish as they exposed Stoke's porous defence.
Substitute Kelechi Iheanacho ran through to create the first for Nolito, who tapped in at the far post, and the revived Sterling then capped an impressive performance by teeing up the Spain international for his second in injury time.
Register for free to continue reading
Registration is a free and easy way to support our truly independent journalism
By registering, you will also enjoy limited access to Premium articles, exclusive newsletters, commenting, and virtual events with our leading journalists
Already have an account? sign in
Register for free to continue reading
Registration is a free and easy way to support our truly independent journalism
By registering, you will also enjoy limited access to Premium articles, exclusive newsletters, commenting, and virtual events with our leading journalists
Already have an account? sign in
Join our new commenting forum
Join thought-provoking conversations, follow other Independent readers and see their replies