Stoke vs Tottenham: Mark Hughes defends actions after being sent to stands during Spurs rout
Stoke City 0-4 Tottenham Hotspur: Mauricio Pochettino was relieved to see Harry Kane find the net again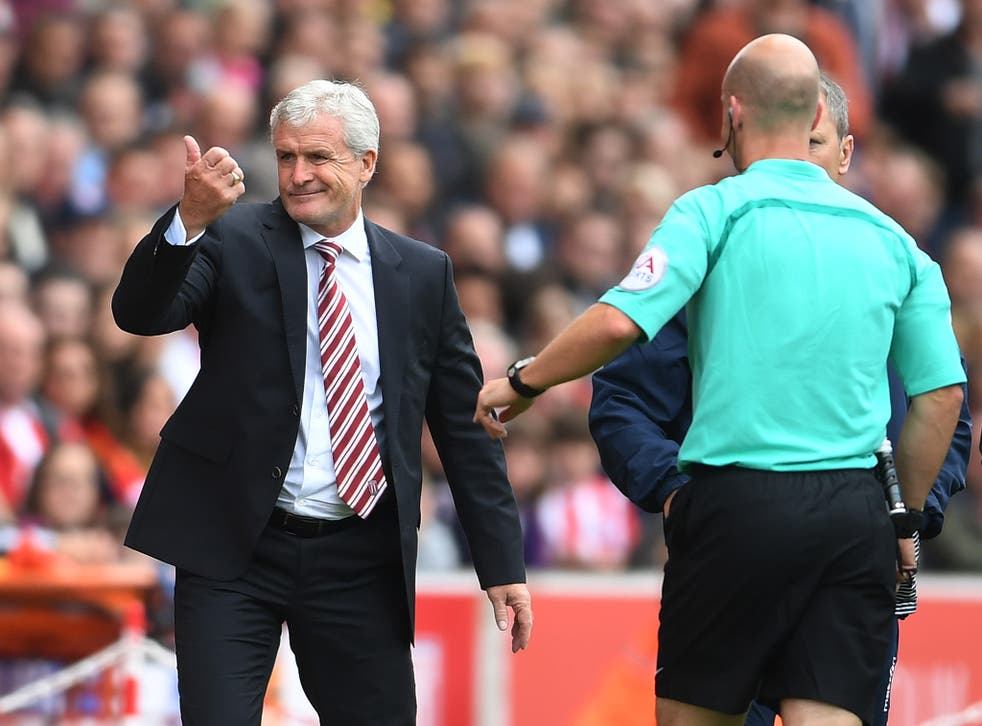 Stoke manager Mark Hughes denied swearing at fourth official Jon Moss as he played down the prospect of further FA action following his sending-off during a 4-0 defeat against Tottenham.
Hughes was sent to the stands on a miserable afternoon for the Potters after reacting angrily to a yellow card for diving for winger Marko Arnautovic.
The Welshman appeared to continue his remonstrations towards fourth official Jon Moss after being ordered from the sidelines but he denied using abusive language towards the officials.
And he revealed he had been sent from the dugout as part of a new Premier League clampdown on managers leaving their technical areas.
"I did not swear," said Hughes. "I was sent off before I engaged with Jon Moss. So let's put that to bed.
"I came out of my technical area. I was a bit upset. The assistant referee had not flagged for a foul (on Jon Walters) and the referee then thought it was the right decision to book Marko when he was taking evasive action.
"They were two decisions I thought should have gone our way.
"So I reacted in a forceful manner and came out of my technical area, which this year you are not allowed to do and sometimes you forget that.
"Mr Moss, bless him, decided that warranted a sending off, which by the letter of the law it did. "So I have to hold my hands up.
"It was a foul on Jon Walters and Marko had to hurdle the challenge, he was not diving."
Stoke's misery was in stark contrast to Tottenham's joy as they ran riot and saw Harry Kane end his goal drought.
The England man's first goal in 10 games for club and country made him the quickest Spurs player to reach 50 goals in the Premier League.
"It was very important for him to recover the feeling of scoring," said boss Mauricio Pochettino.
"Strikers always worry when they do not score goals. He will be happy."
Son Heung-min also scored twice for Tottenham after being linked heavily with a move away from White Hart Lane in the transfer window.
And Pochettino was delighted with the Korean's contribution and his team's performance after a low-key start to their title challenge.
"Last season was tough for him (Son)," said Pochettino.
"We had to decide in our out in the window. It was difficult for us. The decision was for him to stay and I am very pleased.
"We have a very hard season with the Champions League and everything and it's important we have everyone competing.
"After four games unbeaten you can see the players are thinking about the new season and the new challenge.
"We have forgotten the past. It was tough for us, but we have worked hard to forget last season and refocus.
"We are up for the challenge we are always optimistic and believe in our players so why not go better than last season."
Join our new commenting forum
Join thought-provoking conversations, follow other Independent readers and see their replies