Thierry Henry: Don't expect me to be the player I was
Veteran striker confirms his return to Arsenal on loan until next month – and says Giggs and Bergkamp will be his role models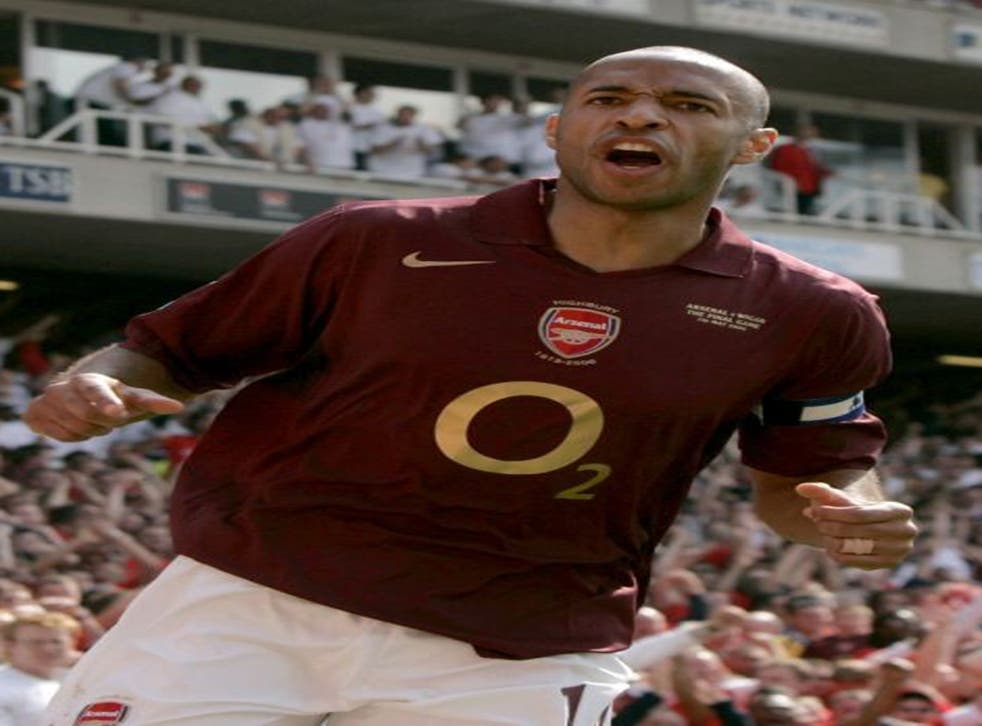 Amid all the emotion, both Thierry Henry and Arsène Wenger admitted last night that Arsenal's leading goal-scorer would not be the same player in his second spell at the club.
Henry's return on a short-term loan was confirmed yesterday, but the man who scored 226 goals for the Gunners cautioned that he cannot be expected to replicate his old thrilling style of play, and will not necessarily be a starter.
"I hope people are not going to compare what I did here before," said the forward, of whom a statue was recently unveiled outside the Emirates. "I'm going to be here most of the time on the bench, we all know it and I'm not stupid to think I'm going to start. It's a helping process."
During his eight seasons at Arsenal, Henry was particularly notable for his greyhound pace and ability to beat defenders. Now 34 years old, the striker admitted that he could not play the same game, and would have to re-model his approach. "I am not 25 anymore, I am not going to take the ball from the middle of the park and dribble past five or six players," he told Arsenal Media.
"Don't expect that. I remember Dennis [Bergkamp] and he used to be the main front guy. Suddenly he was playing behind the striker and if you have the awareness to see things before players, you can get away with not having your legs."
For Henry, the model is Manchester United's Ryan Giggs, not the winger he used to be, but still an exceptional midfielder at the age of 38. "If you look at Ryan Giggs, it's not the same Ryan Giggs who used to take the ball from the wing or from Denis Irwin and dribble past everyone and deliver a great cross," Henry said.
"But what Ryan Giggs has is he can see the game, he is always available, he puts himself in a position where he can receive the ball alone and then you will never lose your touch. That's what I am going to try to bring to this team if I have to play."
Henry's deal lasts until 16 February, with an option, should New York Red Bulls agree, to extend until 26 February, allowing him to face Tottenham Hotspur at the Emirates that afternoon. He is eligible to face Leeds United in the FA Cup on Monday, although Wenger admitted that he has not decided yet whether Henry will start the game or come off the bench.
The Arsenal manager did agree with Henry's point, though, that the ageing process means he will not be the same player he used to be. "He still has the quality," Wenger said. "He is a bit less strong physically, because we all go down physically every day. Nobody can stop that, you can only slow it down."
Echoing Henry's comparison to Giggs and Bergkamp, Wenger was hopeful that he had a more team-focused player than the famous striker of old. "He is like everyone who develops in life, he is more open to people," Wenger suggested. "When you are a young striker you are more focused on yourself and today, what he can give to others is of a higher level than he could do five or six years ago."
Regardless of his role, Henry was obviously keen to show just how happy he was to return to the club he loved. "Arsenal and me has always been a love story," he said. "They say love is blind, but it is difficult for me to say no to Arsenal."
Wenger is still looking for a left-back on loan as Thomas Vermaelen will be out for another two weeks.
Join our new commenting forum
Join thought-provoking conversations, follow other Independent readers and see their replies