Tottenham forward Clint Dempsey didn't feel 'valued and appreciated' at Fulham
American forward joined Spurs on transfer deadline day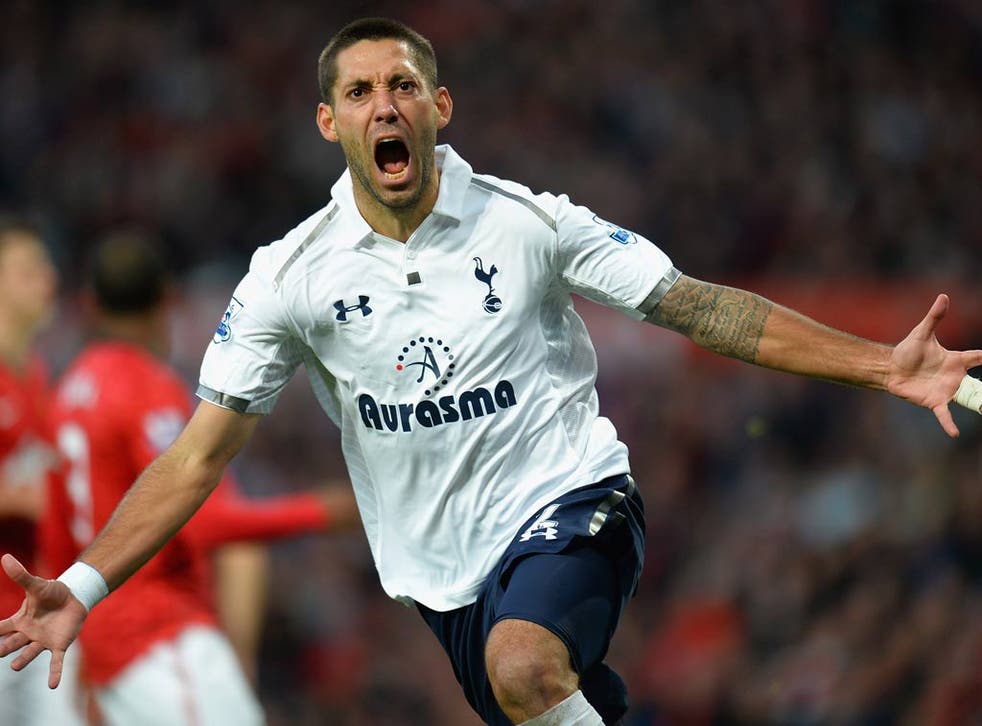 Tottenham forward Clint Dempsey admits he only left Fulham because he did not feel appreciated at the club.
Dempsey will return to Craven Cottage on Saturday for the first time since he left the west London club in a £6million move across the capital this summer.
The United States international scored 23 goals in a glorious final season at Fulham, but his five-and-a-half-year spell at Craven Cottage came to a bitterly disappointing end for the 29-year-old.
Martin Jol left Dempsey out of Fulham's squad for their pre-season training camp in Switzerland after Liverpool had made an enquiry for the player, and the Cottagers boss then decided the Texan was not in the right frame of mind to play for the club once the season started.
Jol insisted there was a chance Dempsey could stay, but the American felt deeply unhappy at his treatment by the club and decided he had to move on.
Dempsey said: "If you always felt valued and appreciated enough, I don't think you'd ever leave, but it came to a point for me where I didn't feel valued and appreciated, not by the fans, but by other situations. That's just the way things went."
Despite the way his spell at Fulham ended, Dempsey still has fond memories of his time in SW6.
The American helped the Cottagers to their highest Barclays Premier League finish under Roy Hodgson in 2009 and then was part of the squad that reached the Europa League final the following season.
Dempsey hopes the fans will remember him for his exploits on the pitch, rather than the way he left the club, when he takes to the field on Saturday for Spurs.
"Any time I go back, there will always be good memories," the former New England Revolution player said.
"It's unfortunate how things happened in the end but you look forward to going back and how you're received, you're received.
"But no matter what, I'll always look back with good memories and be grateful for the club and the fans for the way they took care of me.
"The fans were great to me, the chairman was great to me and it got to the point where I wanted to keep going and try to further my career."
Saturday's fixture has an interesting array of sub-plots.
Mousa Dembele will also be returning to Craven Cottage for the first time since he left for Spurs and Fulham have two men in Jol and striker Dimitar Berbatov who are almost iconic figures to fans of the north London club.
Berbatov scored 49 times in his two seasons at Tottenham while Jol delivered two top-five finishes before being harshly sacked in 2007.
Jan Vertonghen, who signed for Spurs this summer, knows Jol well having worked with him at Ajax.
The defender credits the Dutchman with guiding him through one of the most difficult parts of his career after he had just joined the Dutch club.
"I liked working with him and he gave me a lot of confidence," Vertonghen said.
"He is a good trainer. I was always doubting whether I was a left-back, a central midfielder, or a centre-back. He just told me I was a centre-back and he let me play there for two seasons and I started playing well.
"That was important for me."
Tottenham's 2-1 victory over Liverpool last night catapulted them in to fifth and the team's recent three-match losing streak is now fading fast in the memory.
Vertonghen has warned Spurs they must not get complacent, however, and has predicted they will be faced with a tough test this weekend.
"We've had two good wins but Fulham are a well-organised team," Vertonghen said.
PA
Join our new commenting forum
Join thought-provoking conversations, follow other Independent readers and see their replies