Tottenham goalkeeper Hugo Lloris given the all-clear as Spurs hit back at criticism over decision to leave him on despite concussion threat
Spurs' head of medical services claims 'Once the relevant tests and assessments were carried out we were totally satisfied that he was fit to continue playing'
Jack de Menezes
Monday 04 November 2013 13:52 Comments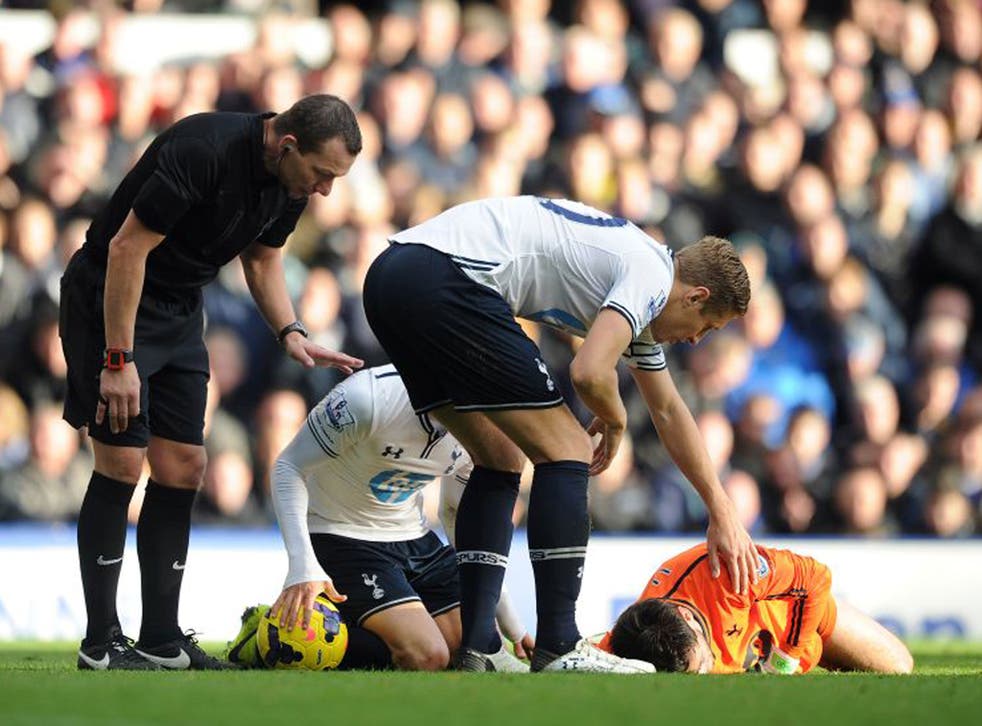 Tottenham goalkeeper Hugo Lloris has been given the all-clear after his nasty collision with Everton striker Romelu Lukaku left him concussed, with a scan on his brain showing that there was no further damage sustained in yesterday's Premier League match.
Lloris and Lukaku both sprinted for the ball in the 78th minute, with the French shot-stopper reaching it a split-second before the Belgium international, resulting in Lukaku's thigh accidentally striking the side of Lloris' head.
The 26-year-old was visibly knocked unconscious by the impact, coming round after a short time with the Spurs medics already on the scene after being called on by the referee and both sets of players.
The north London club have since confirmed that after undergoing a CT scan, Lloris has been given the all-clear, and they have responded to criticism from both Fifa's medical chief and brain injury charity Headscan by claiming the club's medical staff were "totally satisfied that he was fit to continue playing".
"The club can confirm that Hugo Lloris underwent a precautionary CT scan and was given the all-clear and travelled back to London last night," the statement read.
"The France goalkeeper suffered a knock to the head following a collision with Everton forward Romelu Lukaku in the closing stages of yesterday's Premier League encounter at Goodison Park and was cleared to resume playing after examination by the club's medical team."
Head of medical services Wayne Diesel added: "Once the relevant tests and assessments were carried out we were totally satisfied that he was fit to continue playing."
This comes after Lloris was visibly hurt by the collision, with the goalkeeper remaining prone on the floor for a number of minutes as he was treated by medics, before being taken somewhat gingerly to the sidelines.
Manager Andre Villas-Boas has prepared replacement keeper Brad Freidel to replace Lloris, but quickly told him to sit back down when he heard that Lloris could continue. The £11.8m signing from Lyon returned to his goal after some hesitation, and went on to produce a good save from Everton forward Gerard Deulofeu to keep the match scoreless.
Fifa's chief medical officer Professor Jiri Dvorak admitted there was a "99 per cent probability" that he had suffered a concussion.
"The player should have been substituted. The fact the other player needed ice on his knee means it's obvious the blow was extensive," Professor Dvorak said.
"It's a 99 per cent probability that losing consciousness in such an event will result in concussion.
"When he has been knocked unconscious, the player himself may not see the reality.
"I do not know the details but I know that the Premier League doctors are extremely good and I can imagine that the doctor may have recommended he be replaced.
"We have a slogan: if there is any doubt, keep the player out."
Headway have also slammed Villas-Boas for his decision not to substitute Lloris, and claimed that it was "dangerous and irresponsible" to leave him on the field of play, putting his long-term health at risk.
"We are hugely concerned that a professional football club should take such an irresponsible and cavalier attitude to a player's health," said Luke Griggs, spokesperson for Headway.
"When a player - or any individual - suffers a blow to the head that is severe enough for them to lose consciousness, it is vital they urgently seek appropriate medical attention. A physio or doctor treating a player on pitch simply cannot accurately gauge the severity of the damage caused to the player's brain in such a setting as there may be delayed presentation of symptoms.
"By continuing to play, the player may have caused greater damage to his brain. He should have been removed from the game immediately and taken to hospital for thorough tests and observation."
Register for free to continue reading
Registration is a free and easy way to support our truly independent journalism
By registering, you will also enjoy limited access to Premium articles, exclusive newsletters, commenting, and virtual events with our leading journalists
Already have an account? sign in
Join our new commenting forum
Join thought-provoking conversations, follow other Independent readers and see their replies