Harry Kane the hero as Tottenham beat Arsenal in one of the most dominant one-goal wins you're ever likely to see
Tottenham Hotspur 1 Arsenal 0: In front of a record Premier League crowd Kane delivered when it mattered – Spurs should have won by many more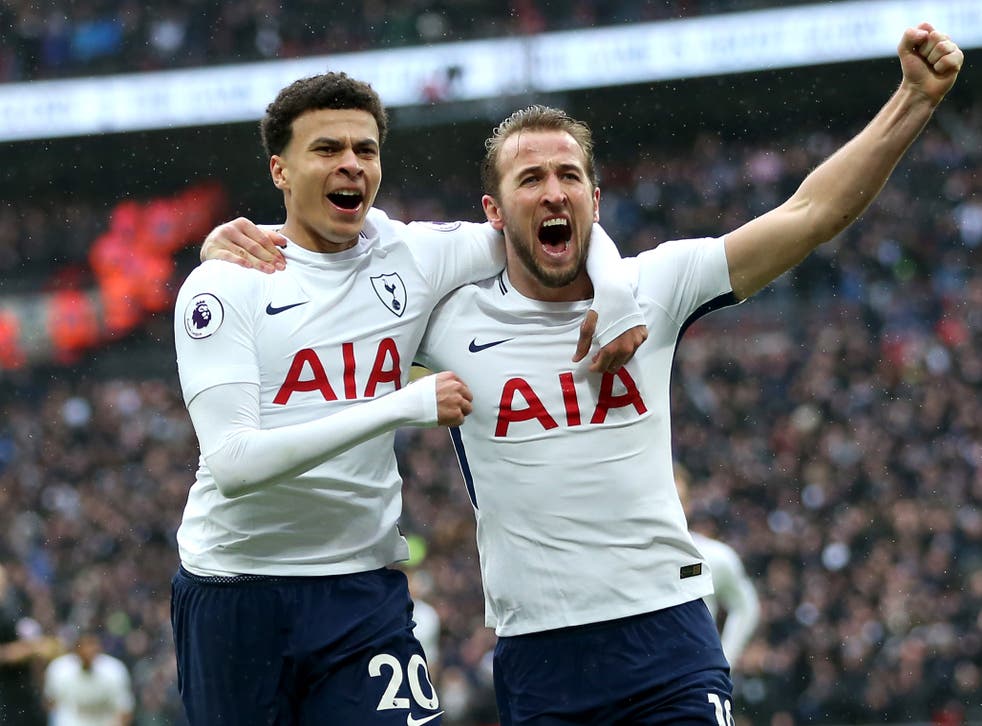 Only one goal that made difference, that was threatened by one big late miss, but still only ever one winner to this derby. Tottenham Hotspur were just on a different level to Arsenal, as Harry Kane again proved he was just on a different level to every other striker in the Premier League.
The forward hit his 101st Premier League goal and, even though his side should have won by many more, such a binary-code number was appropriate for the day that was in it. This was one of the most one-sided 1-0s the competition will see.
There's also the sheer single-mindedness of Spurs, who seem to once more be ramping up to the type of spring form that launched their title challenges in the last two seasons. Manchester City might be making sure that is beyond them this time, but other feats might not ahead of a Champions League trip to Juventus, as they themselves did their best to make sure Arsenal can again forget about such vaunted fixtures next season.
Arsene Wenger's team now lie seven points behind Spurs in the table, and it is no exaggeration to say they could have easily conceded seven goals in this game. They were battered, their erratic and unstructured display such a contrast to Spurs' focus.
The game itself was such a contrast to the November derby at the Emirates. Spurs flatness then was totally replaced by fleet-footed brilliance here, as the "express train" - to repeat a word used about the team - is coming down the track again.
Kane's finest quality beyond his movement is arguably that same relentlessness. The striker had missed what was really the best chance of the game in the first half, heading over unmarked from just yards out. As ever, though, a miss like that had absolutely no negative mental consequence on him in the slightest. The next time a similar - but still more difficult - chance came along, he took it. Two Arsenal defenders were actually jumping with him this time, but it just meant he raised his level.
That is what really elevates the great strikers. It is not they prove themselves prolific with every chance, but how they respond to profligacy.
The nature of the goal also indicated another response, that was just as significant. After a flat first half when Spurs were well on top but struggled to overturn Arsenal's deeply withdrawn backline, Pochettino clearly noticed how easy it suddenly was to open them through a deep cross.
So, it was even more noticeable when the home side started bombarding Petr Cech's goal with such efforts straight after the half-time team talks. That one type of attack led to the goal, and so many Spurs chances.
Kane alone could have had four, as Arsenal seemed so bizarrely satisfied to keep allowing him 10 yards of space in their box.
That was the other side of the game, that in turn made it so one-sided. Arsenal displayed no ability to react to what was happening to them, to readjust.
It also again raises questions about Wenger's recruitment. Since Alexandre Lacazette is now just an expensive substitute, why didn't they buy Pierre-Emerick Aubameyang in the summer, and invest the January money into the responsible defensive players - and especially an actually strong midfielder - they so desperately require?
Once Spurs were ahead, the lack of a proper holder became even more painfully apparent than the lack of that defensive order. Every Arsenal attempt to even slightly step up to get an equaliser just resulted in white shirts surging at their goal, the brilliant Mousa Dembele taking control.
It led to big chances for Son Heung-Min, Kieran Trippier, Dele Alli and substitute Erik Lamela… but still no increase in a narrow scoreline.
That felt like it would be the danger for Spurs, except there was barely any threat from Arsenal. It was as pathetic in its own way as the dismal defensive displays from Crystal Palace and Everton in the last few weeks that had allowed them to so typically express themselves, to paint what look like very misleading pictures.
Without that kind of space - who could have guessed it - the type of players John Giles might call "sunshine boys" in Aubameyang and Henrikh Mkhitaryan did nothing; offered nothing. The Armenian wasn't even on the pitch at the period when he should have been most required, and the board signalling his substitution may as well have been a white flag.
Lacazette did at least get on the pitch to get into good positions, but that only served to show his deficiencies as he missed by far Arsenal's two best chances - one right at the death.
The reality is any equaliser would have been robbery, because Arsenal just did not look like their equals.
They certainly don't look like they should even think about getting into the Champions League. That is beyond them. Spurs were beyond their level.
Join our new commenting forum
Join thought-provoking conversations, follow other Independent readers and see their replies