Tottenham Hotspur: It's worth crowing over Spurs' boys' own
Coach Pochettino building for a bright future at White Hart Lane as his policy of blooding young, English talent pays dividends at the highest level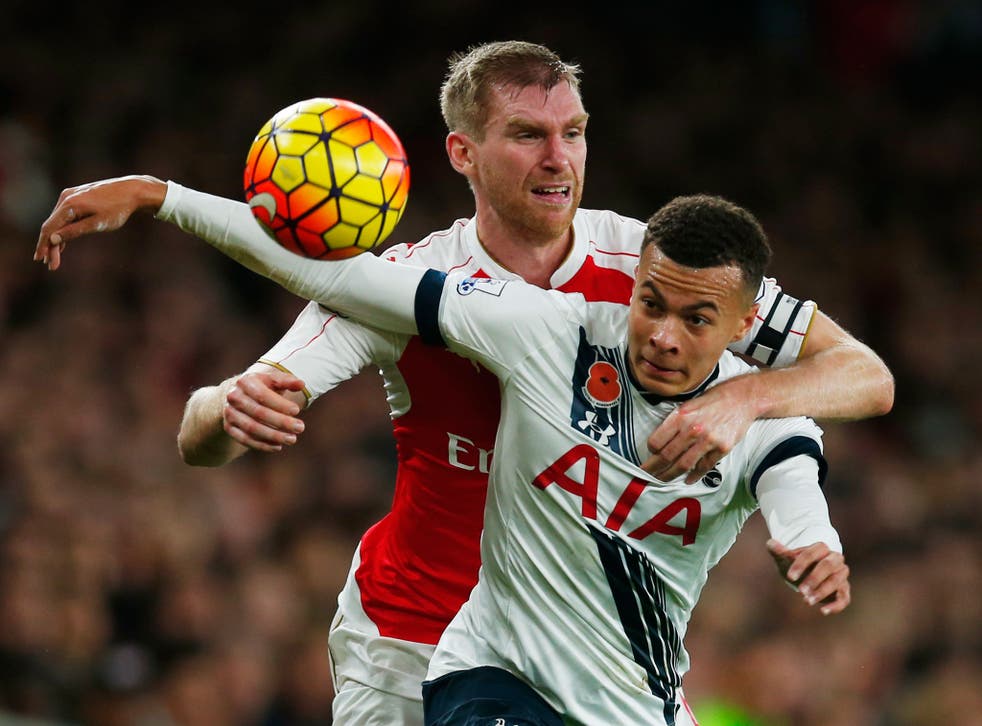 "They dug in and ground out a point," said Graeme Souness admiringly of an Arsenal side oft accused of being dilettantes. An alternative view is that, after another sublime pass from Mesut Özil had given Arsenal a foothold in a match that was sliding away from them, it was Tottenham who showed their character, withstanding Arsenal's attempt to stage a grandstand finish and steal the point that was the least the visitors deserved.
In the aftermath, Arsène Wenger and Mauricio Pochettino both talked more of their teams' character than their talent, which is understandable. At this level, talent is a given; it is attitude that is sometimes absent. Success in the Premier League requires both qualities.
The two managers had been entranced by the esprit de corps of the Rugby World Cup teams. "The mentality, the philosophy and spirit: that's what we need to translate into football," said Pochettino last month.
"I like in rugby the true solidarity," said Wenger. "If you want to play, you have first to be together. I think in the modern world it is very interesting you still maintain that."
Rugby, because of its greater physicality, generates team spirit more easily than football, but there are other reasons why the togetherness of the oval-ball code is hard to replicate in the round-ball version. In the international arena, football teams do not spend as long together as they do in rugby; in the club game, there is a greater mix of nationalities and, at the elite level, much more wealth.
It used to be straightforward. In the late 1980s, Dave Bassett became Sheffield United manager and brought in several players and staff from his Wimbledon days. The dressing room soon divided so poisonously north v south that five-a-sides were banned in training. Bassett's solution was old school. As Derek French, the club's physio, recalled recently: "He packed us all off in a coach to an army camp at some godforsaken place in Wales. Once there, it all ended up in a mass fight – and everything was sorted out! We became real tight and good friends."
It is just about still possible to imagine a lower division club repeating such an exercise in team bonding, similarly the once-popular tactic of organising a lock-in at the local pub. But in the modern Premier League, such methods are anathema. Millionaire footballers, drawn from a diverse mix of cultures and often with sophisticated diet and exercise regimes, simply would not co-operate. Add in the high turnover of players in the contemporary game and team unity, such a key component of successful sides, is increasingly hard to forge.
One solution is to develop a core of players with a shared background whom the team can be built around. This was the bedrock of Alex Ferguson's team at Manchester United and is now Tottenham's latest, and potentially most productive, philosophy.
Arsenal 1 Tottenham 1 player ratings

Show all 23
While Arsenal fielded a starting XI without a single Briton, composed of six nationalities, Spurs began with five Englishmen, most of them young. Harry Kane, Danny Rose, Eric Dier, Kyle Walker and Dele Alli were later joined by Ryan Mason and Josh Onomah. Only Bournemouth and Norwich had more English players in their starting XIs this weekend. While it is true several of Tottenham's youngsters have been imported in their late teens or early twenties, when players such as Tom Carroll and Andros Townsend are counted, Spurs are now rivalling Everton and Southampton for academy products.
Once upon a time, a group of young English players would have headed for the pool hall after training, or the pub. The speed of the modern game – and the ever-present cameraphone – means players must now live more careful lives. This means staying at Spurs' Enfield base after training, encouraged by the provision of a recreation room featuring a pool table and video and board games. They bond over coffee and backgammon, rather than ale and cards.
This togetherness enables a young player such as Alli to settle into the team more easily. It also makes the team more resilient. Tottenham have frequently folded under pressure at the Emirates. Not so long ago, a 2-0 lead became a 5-2 defeat. Yesterday, when Kieran Gibbs scored what, at the time, was an undeserved equaliser, Spurs heads could have gone down. But for Petr Cech they would have been on the brink of celebrating a famous victory. Instead, they were suddenly hanging on against an Arsenal side revived by the leveller and with 24 hours' extra rest.
This time they retained the composure with which they had earlier knocked the ball around as if enjoying a training exercise. And what a boost to a young player's confidence it must be to see a manager demonstrate his faith in youth by bringing on a teenage rookie with his team under the cosh, as Pochettino did with Onomah.
In the end, Spurs had to settle for a point but, once the initial disappointment at letting slip a lead subsided, their supporters should have felt buoyant. There is much reason for them to be optimistic. The new stadium is finally going up, the academy is producing players, chairman Daniel Levy has resisted selling Harry Kane. There have been many false dawns at White Hart Lane in recent years, but this time the cockerel's crow could signal a genuine one.
Join our new commenting forum
Join thought-provoking conversations, follow other Independent readers and see their replies