Tottenham manager Mauricio Pochettino in no rush to agree new contract at White Hart Lane
The Argentinian revealed why he represents himself rather than using an agent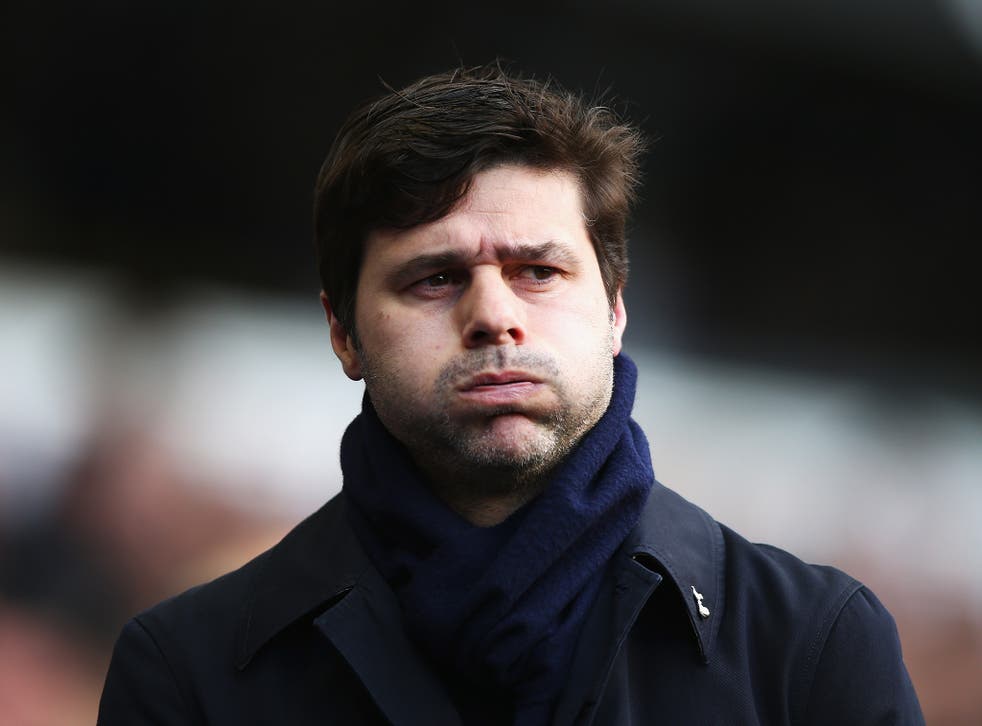 Mauricio Pochettino admitted on Friday that he is in no rush to sign a new deal at Tottenham Hotspur, as negotiations between him and Daniel Levy drag on. Pochettino does not have an agent and is dealing with chairman Levy directly, and said that he would push for the best deal for his coaching staff.
Pointing to the fact that he is contracted to Tottenham until summer 2019, Pochettino said there was no immediate need for him to extend his stay at White Hart Lane. The club, naturally, would like him to commit to them. "At the end you can see that nearly two years ago I signed a five-year contract," Pochettino said. "There are still three years and three months left."
Speaking at his press conference on Friday afternoon, Pochettino explained for the first time why he does not employ an agent, and instead chooses to represent himself. "Because the best agent for me is myself," Pochettino said. "As a player, I had an agent. But as a manager, when I stopped playing football, I stopped my relationship with my agent. I want to manage my life. I am not disagreeing with managers that have agents. I think I can deal with the offers."
Pochettino negotiated his move to Spurs in 2014 directly with Levy, and is now back in talks about a possible new set of deals, not just for Pochettino but for "his people", coaches Jesus Perez, Toni Jimenez and Miguel D'Agostino. "The money is not important for me, for them it is," Pochettino joked, sat alongside assistant head coach Perez. "I fight more for them than I do for myself."
Any deal is unlikely before the end of the season, given that Tottenham have the more pressing concern of their strongest title challenge for years. They are in second place, seven points behind Leicester City. They host Manchester United on Sunday and Pochettino said they would need to win all of their last six league games to have a chance of winning the title. Wherever Spurs finish, though, Pochettino has been a remarkable success as head coach and said that he feels "at home" at the club.
"You build a new stadium, you start to build a relationship, an emotional relationship," Pochettino said. "I think we are a team. Not only the money is important, so is the emotional link you create with the people here. Sometimes it is difficult to take some decisions. It happened with me at Southampton too. It was difficult to take the decision to come here."
Pochettino said that job security was far less as a coach than as a player, and surprised the press conference by almost quoting Shakespeare. "For me, to be here, or not to be, that is the question," he said. Pochettino then reminisced about his first date with Karina, his wife, was to see Hamlet, starring Mel Gibson and Glenn Close, at the cinema in Argentina in 1990. He had just finished a game for Newell's Old Boys.
"I was very tired after the game and thought 'Shakespeare? For me?'," Pochettino remembered. "It was very boring. Then suddenly I felt a nudge in my ribs and sat up quickly, thinking, 'What's happening?' I had been snoring."
Register for free to continue reading
Registration is a free and easy way to support our truly independent journalism
By registering, you will also enjoy limited access to Premium articles, exclusive newsletters, commenting, and virtual events with our leading journalists
Already have an account? sign in
Register for free to continue reading
Registration is a free and easy way to support our truly independent journalism
By registering, you will also enjoy limited access to Premium articles, exclusive newsletters, commenting, and virtual events with our leading journalists
Already have an account? sign in
Join our new commenting forum
Join thought-provoking conversations, follow other Independent readers and see their replies