Tottenham sting Manchester City but they are not yet looking like a team striding to a title
Spurs showed fight in coming back but could have been well beaten if not for a questionable refereeing decision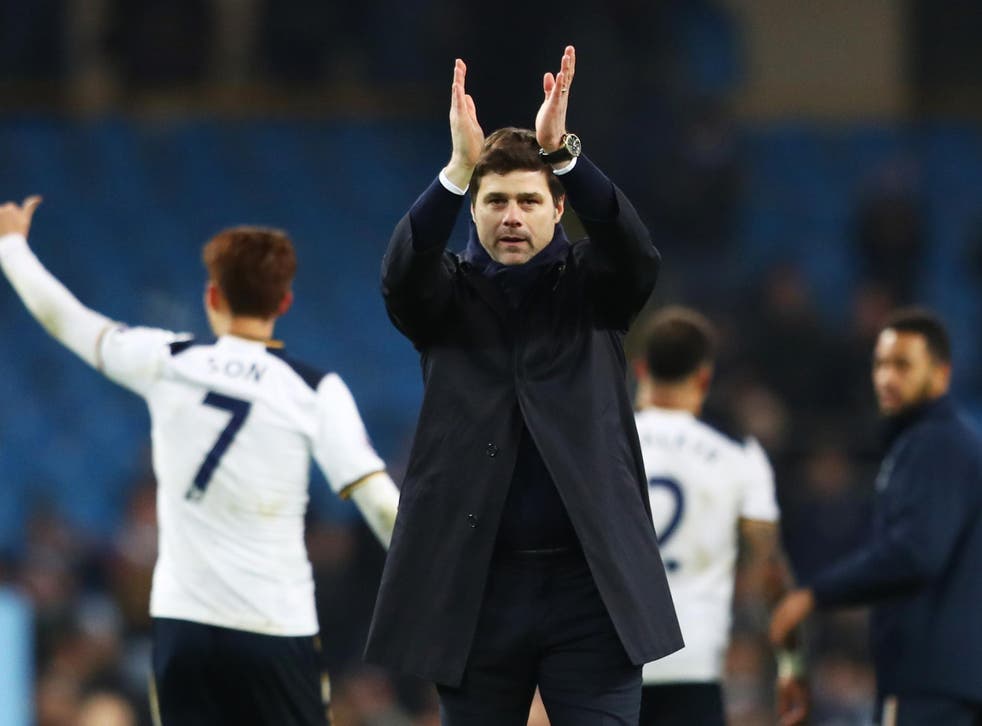 There was a moment near the end when Mauricio Pochettino and Pep Guardiola almost came face to face in their technical areas. Both were pacing around in there - heads down, hands in pockets - and it was Pochettino who swerved away at the last moment. Considering what was unravelling on the pitch, he may have been embarrassed to make eye contact.
It was a sting, for sure, from the side who had two shots on goal and scored with both of them, and perhaps Tottenham can at least take away from it a conviction in playing football their own way, whoever they play.
The result will be a source of delight but it was another of those nights which told us more about the distance Spurs have to travel. It put into uncomfortable sharp focus some of that talk about them being genuine title contenders. You see where that talk is coming from, because so many sides Spurs face cannot cope with them. But the final hurdle entails the side travelling to face strong, experienced sides who also possess a plan and having what it required to win. Beautiful and enervating though the enduring Tottenham story is, the final hurdle looks like it may take a while to clear, requiring one more commodity: a seasoned winner and leader or two at the core of the ranks.
The defeats at Chelsea, Manchester United and this performance form part of a pattern in which the side are knocked out of their own game plan and never look like recovering it. There was evidence in the goals they pulled back – Dele Alli rising to Kyle Walker's beautifully navigated cross from the right and then Heung-min Son drilling home from Harry Kane's delicious backheel – of City's defensive weaknesses. Nicolas Otamendi's leap to clear the cross for the first was hopeless. He was too busy claiming offside to defend the second. Yet such a transparent flaw was simply not exploited enough.
If ever there were an opportunity to send Manchester City down into the dust then this was the one, against a side emerging into the lights for the first time since Everton required four chances to put four goals past them, a week ago, and arranged in what, at first sight, looked like a kamikaze formation by Pep Guardiola.
Yaya Toure alone shielded a three-man City defence. The wing backs Pablo Zabaleta and Leroy Sane operated high, leaving opportunity in the vast, vacant spaces down the City flanks. If Tottenham could have found the same high energy game which had run City aground at White Hart Lane in October, then there seemed to be ample scope for exploitation.
Nothing can obscure Tottenham's struggle to find any kind of electricity, though. Two half time statistics - one Spurs touch in the City box, with eight touches in those entire 45 minutes for Alli - spoke of a side who found the fast intricacy of City's exchanged passes giddying at times. City played them at their own game, pressing relentlessly, and frankly they could not cope.
The pressure told. When easy Spurs possession arrived, there were frequent clumsy errors to hand it back again. The complacency in that respect was extraordinary at times, considering what a statement a victory would have been. It didn't help that was a fault line at the back of the team, in Kevin Wimmer's losing battle against Kevin de Bruyne. Jan Vertonghen's absence was sorely felt. At the top of the team, Harry Kane was isolated.
There were flashes of the Mousa Dembele who marshals the team. There are few players whom Toure bounces off but he was a rare exception in the game's early minutes. No slighter a figure than David Silva marshalled the back of the City midfield and Pochettino has reason to ask how on earth that could have been so. In some ways, it was a mirror image of Old Trafford last month, when Kane, Alli, Victor Wanyama and Christian Eriksen could not make an impression on the game and Tottenham's only threat was with the dead ball.
When the equalizer had gone in, Pochettino made Tottenham look like they meant it - throwing on Moussa Sissoko to help penetrate the rickety City defence once more, though his side did not threaten again. The Argentine keeps telling us that his side have evolved from the one which could not take the final stride last season, though the evidence of this great escape is that there is more work to be done; a few more pieces to add.
Join our new commenting forum
Join thought-provoking conversations, follow other Independent readers and see their replies