Tottenham v Manchester City: Only way to beat City is to copy them, claims Spurs manager Tim Sherwood
Spurs manager plotting how to stop City goal machine that put six past the north Londoners in November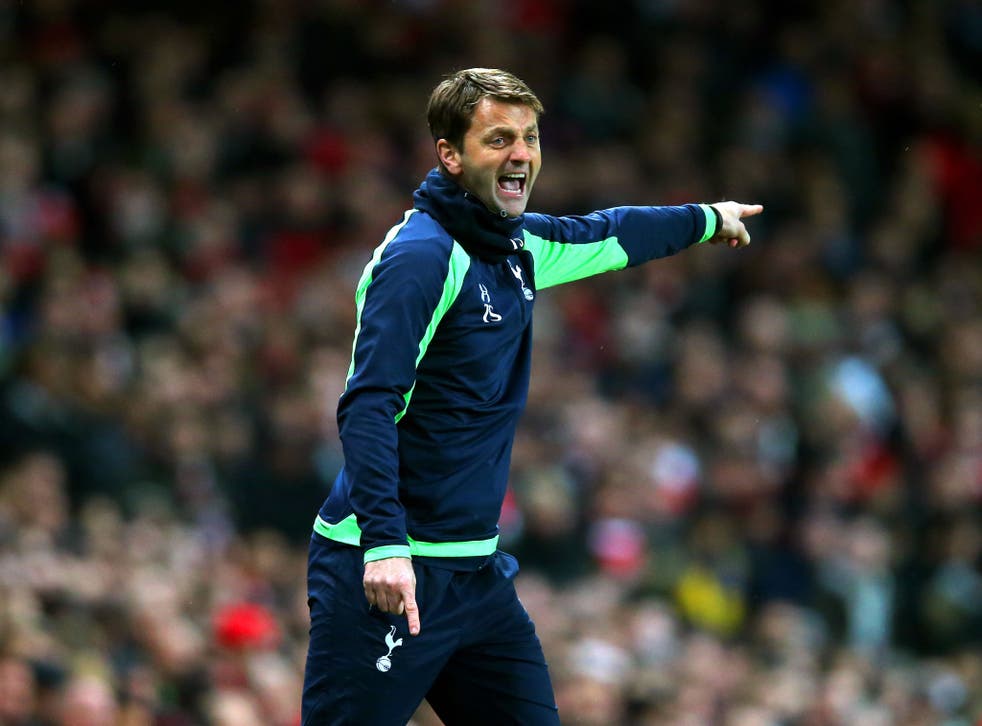 As painful as the 6-0 defeat at Manchester City in November must have been for Tottenham Hotspur, Tim Sherwood might just have felt a twinge of recognition.
A sense of the similarity between City, with their relentless commitment to attack, and his old Blackburn Rovers side – champions nearly 20 years ago – and of a broader lesson: that 4-4-2 can still work at the top level, that in the era of single strikers and holding midfielders, there is another way.
Sherwood, who stepped up from youth-team coach to Spurs manager three weeks after that mauling, has changed the approach, playing a 4-4-2 he has himself described as "gung-ho", and will compete against City's own goal-machine at White Hart Lane. He has surprised many, but to Sherwood, the old ways had been wrongly discarded.
"It was never out of fashion in my eyes," Sherwood said of 4-4-2, although he did add the caveat that "players win games, not formations". But Manuel Pellegrini's City have suggested that the critics were wrong. "He has made a mockery of the 'boring English 4-4-2'. People keep saying it's old hat, but [City] are running away with the league playing that, just as United did for many years."
The City system particularly appeals to Sherwood for its lack of a holding midfielder, a role he does not particularly believe in. "We don't have one," he said. "I never used to play with one – I used to play with two who can do everything, one goes up, one stays back, just be clever and adapt around each other. That's what City have with Yaya Touré and Fernandinho."
Premier League Wednesday - LIVE! Follow all of the news and updates HERE
This is Sherwood's system too. Recently, he has been partnering Mousa Dembélé with Nabil Bentaleb in central midfield. Etienne Capoue, a specialist holder, is likely to leave Tottenham this month.
City's whole approach – which has brought them 110 goals in 36 games so far this season – reminds Sherwood of his old Blackburn Rovers team, Premier League champions in 1994-95. "We went into every game thinking we would score," Sherwood reflected, "and we played a similar style as well, 4-4-2. We got the ball forward to Alan Shearer and Mike Newell and wide to Jason Wilcox and Stuart Ripley. We realised we could be solid and responsible and get the ball forward to those players who could hurt teams."
Sherwood acknowledged that football had changed in the past 20 years but stressed the similarities between Kenny Dalglish's Blackburn and Pellegrini's City. "Different eras, different times," he said, "but we did get the ball wide, get it into the box, and score more than the opposition."
Sherwood knows that building a team to attack like that is difficult, and he spoke with admiration about Pellegrini's ambition. "It's not easy. The manager has a clear vision of how he wants to play, he doesn't veer too much, he doesn't worry about the opposition. We never changed our system at Blackburn to accommodate anyone and Pellegrini isn't doing that either."
City even have, in Alvaro Negredo, a striker with the same aggressive instincts as Blackburn spearhead Alan Shearer. "They both score every type of goal, they hold the ball up well," Sherwood said. "He is probably the most similar to Shearer there has been in recent years."
So Sherwood will need to find a way of stopping Negredo, Sergio Aguero, David Silva and the rest. Unsurprisingly, attack will be his form of defence. He has "never been a believer" in parking the bus. "You can have a lot of people behind the ball and get hammered. You need to have your own threats. There will be weaknesses in City's play, hopefully we can look to exploit that."
Join our new commenting forum
Join thought-provoking conversations, follow other Independent readers and see their replies