Tottenham vs Liverpool match report: Raheem Sterling, Steven Gerrard and Alberto Moreno fire Reds on Mario Balotelli's debut
Tottenham 0 Liverpool 3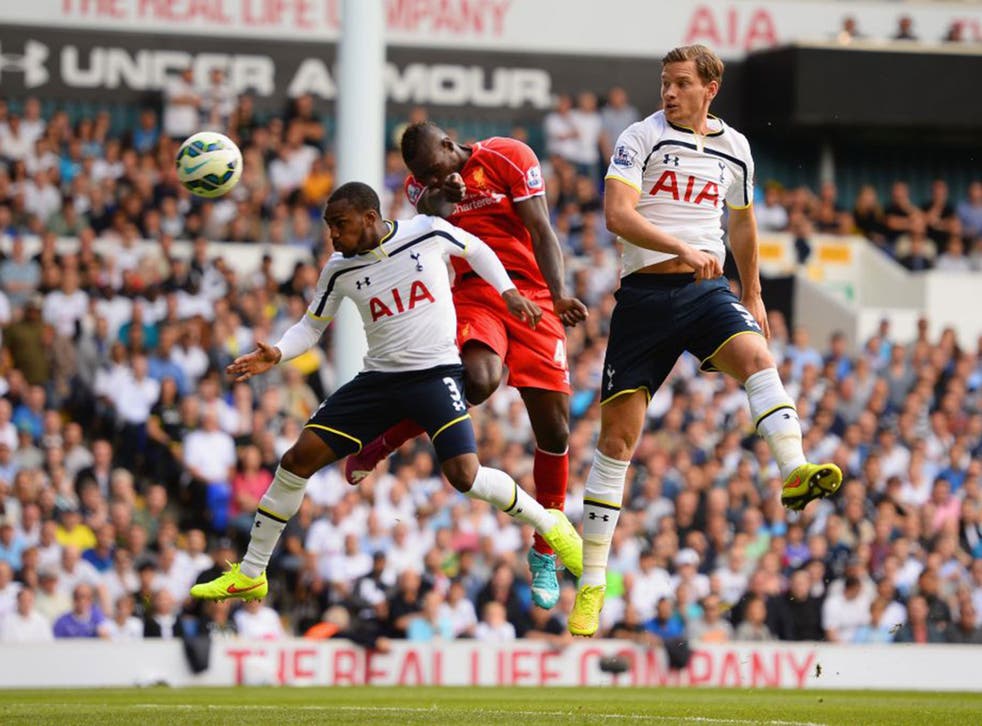 If ever a new Tottenham team was going to crumble early in the season, it might as well be just before transfer deadline day, also quite possibly their chairman Daniel Levy's favourite 24 hours of the year.
For Mauricio Pochettino, with two wins and a summer of low-key but interesting trading, this was a shock to the system. Like so many incumbents of the padded manager's seat in the White Hart Lane dug-out, he was forced to contemplate the creeping anxiety that this Spurs team he has started shaping might not be everything he had hoped it would be – in fact, at times it looked like it filled none of that particular criteria at all.
Tottenham were well beaten, although one could argue that the three-goal margin was an improvement on the 5-0 and 4-0 defeats by Liverpool last season – carry on like this and Spurs will be due a draw against Brendan Rodgers' team sometime in the second half of the next campaign. Liverpool showed both of Spurs' managers last season the weaknesses in their teams – and they obliged Pochettino by doing the same this time.
Watching from on high was the 77-year-old billionaire Joe Lewis, the man who has ultimate control of Spurs and is a rare visitor to White Hart Lane. Not an easy man to impress, he will have left wondering whether he will ever see a Tottenham team capable of challenging for the title. Tomorrow will be a busy day for Levy once again, which, of course, is the way he likes it.
Tottenham 0 Liverpool 3 player ratings

Show all 22
Pochettino would not confirm that the club will push to sign Morgan Schneiderlin on the last day of the window, nor the departures of Sandro or Roberto Soldado, although all three will surely be in play as far as Levy is concerned. As for Liverpool, this was a ruthless display, with some stand-out performances from the likes of Daniel Sturridge, Raheem Sterling and their new left-back, Alberto Moreno. There was an hour from Mario Balotelli before he was substituted by a happy Rodgers, although even this particular Italian could not steal the show from some of his team-mates. A week after the Manchester City defeat this was a very solid response from Rodgers' team.
Later, Rodgers told a good story at Balotelli's surprise at being told earlier in the week that he would be expected to mark at defensive corners. "For the first time in his life, he marked at a corner," the Liverpool manager said. "Serious. An international player who has won three titles in Italy, cups, the Champions League."
Balotelli should have scored with a header within two minutes, when Sturridge picked him out at the back post and the ever-reliable Hugo Lloris somehow managed to intervene between forehead and goal. It was early – in the game and in his Liverpool career – but it should have been a goal.
Accommodating Balotelli was one of the great challenges for Liverpool and in the first half he tried out most of the forward line for size. He had even asked for the penalty responsibility, Rodgers said, but that remained with Steven Gerrard, whose successful spot kick took him ahead of Jan Molby as the club's all-time leading penalty taker with 43.
The Italian started on the right side of the attacking three behind Sturridge and ended the half on the left side. There were times when it looked like he was part of a two-man strike force. There are few players who walk back to their own half more slowly than Balotelli when a move breaks down, but when the ball came to him he came to life.
There was a back-heel to Sturridge in the first half that opened up the space for the Englishman to shoot. On the half hour a brilliant turn around the halfway line took Balotelli away from Younes Kaboul. His chip forward to Sterling might have been better but it drew Lloris from his line and the loose ball pinged back to Balotelli. With the Spurs goalkeeper off his line, the Italian failed to hit the target.
Nevertheless, on the touchline, Rodgers clapped and grinned as if to say that was exactly what he brought Balotelli back to English football to do.
As for English football, it welcomed Balotelli back with one of those sliding tackles that, uniquely, an English crowd rise to applaud. This one was from Eric Dier, schooled in Lisbon but English to his boots, who spotted that Balotelli had slowed down and took man and ball at once.
The first goal came down the right but had no Balotelli involvement, being worked down the wing by Sturridge and then Jordan Henderson who brilliantly picked out Sterling, who squeezed the ball in from the back of the area.
Spurs created too few chances, the best of which was an Emmanuel Adebayor flick on for Nacer Chadli just before half-time. There was a strong spin on the ball which took it away from the Belgian just as he set himself to shoot and gave Simon Mignolet a chance of saving it.
Within two minutes after the break, Spurs conceded the penalty that changed the balance of the game for good. Dier, who had been physical and decisive, grabbed at Joe Allen's shirt as he went past him in the area and got enough of a contact for the midfielder to go down. It was, as Pochettino said, "soft" but the kind of thing that invites a tumble.
Gerrard dispatched the penalty with authority, and it was then that Pochettino will have started to consider his options. A minute before the hour he sent on Mousa Dembele and Andros Townsend, and within a minute Townsend had conceded possession for Liverpool's third. In defence of the Englishman, Alberto Moreno should never have been allowed to run unchecked from his own half to score.
Moreno's mistake allowed Manchester City in for their first goal last week but yesterday he was committed and effective from the start. His shot, perfectly placed, clipped the base of Lloris' far post, out of the reach of the goalkeeper. One more indicator that Liverpool were getting the details right while Spurs floundered.
Rodgers switched to 4-3-3 to see out the last 30 minutes. There might have been a fourth, a brilliant penalty-box adventure from Sterling that just lacked a decent finish.
"Raheem ran into the box like Ricky Villa and finished it like Ricky Gervais," Rodgers said. All in all, though, a good day at the office.
Tottenham (4-2-3-1): Lloris; Dier, Kaboul, Vertonghen, Rose (Davies, 72); Bentaleb (Dembele, 59), Capoue; Chadli, Eriksen (Townsend, 59), Lamela; Adebayor.
Substitutes not used: Friedel (gk), Chiriches, Holtby, Kane.
Liverpool (4-2-3-1): Mignolet; Manquillo, Lovren, Sakho, Moreno; Gerrard, Henderson; Balotelli (Markovic, 60), Sterling (Enrique, 86), Allen (Can, 60); Sturridge.
Substitutes not used: Jones (gk), Toure, Lambert, Coutinho.
Referee: P Dowd
Man of the match: Sturridge
Rating: 7
Booked: Liverpool Allen, Manquillo, Sterling
Join our new commenting forum
Join thought-provoking conversations, follow other Independent readers and see their replies