Watford vs Bournemouth: Etienne Capoue, the complete midfielder happy even when he's not playing football
The France midfielder is in brilliant form, with four Premier League goals already this season, but he would rather just talk about basketball and LeBron James instead
Jack Pitt-Brooke
Friday 30 September 2016 13:35 Comments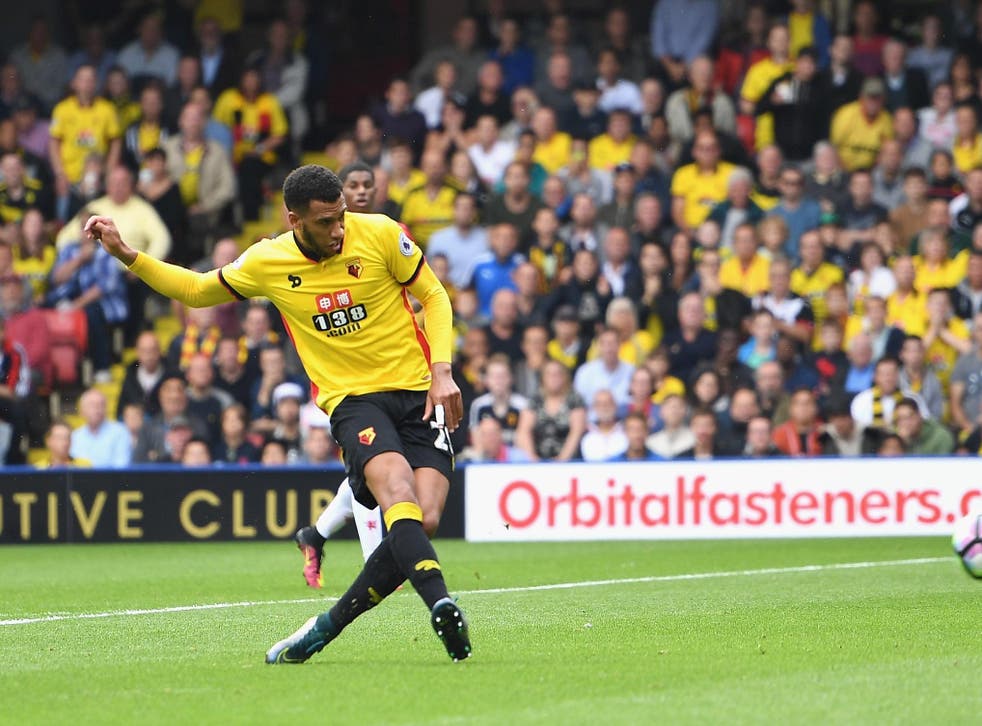 For a man as good at football as he is, Etienne Capoue does not want to talk about it too much. Neither his successes nor his failures leave a deep impression on him. "If it happens," he shrugs, "it is because it should happen. That's it."
Capoue is currently one of the best midfielders in the country. He has scored four Premier League goals already this season for Watford, stepping with instant comfort into a new attacking role designed for him by Walter Mazzarri. He is showing why he was so highly rated in France, why Tottenham Hotspur paid £10m for him in 2013, why even now, playing the football of his life at 28, he still feels like he has another level left to reach.
But while Capoue is certainly committed and professional, he does give the impression that the world of football leaves him slightly cold. He never watches football on television, and is never more engaging than when talking about his true passion, NBA. When he talks about the difficult moments of his career, being frozen out at Tottenham and forgotten by France, it is with such convincing insouciance that I have to believe him. "There is not only football in my life," he says, "so I am happy."
Playing football is what Capoue does for a living, even if he would rather be playing basketball. And his reinvention as an attacking midfielder has been one of the triumphs of Mazzarri's time at Watford so far. In Capoue's first three seasons in England, two at Tottenham, one at Watford, he made 72 appearances and scored just twice. Understandably so, having been sat in front of the back four so much of the time.
But when Mazzarri arrived at Watford this summer, he saw something in Capoue that other coaches had missed. With his long stride, his crisp finish, Capoue can be very dangerous when he is freed up to break forward. So Mazzarri has asked Valon Behrami to do the defensive work while, either side of him, Capoue and Roberto Pereyra can get into the box.
The plan has worked perfectly. Capoue has scored four goals in his six Premier League games so far. It is a wonder why no other coach in England has exploited this side of his game before.
"I have more freedom to attack, because the coach believes in me and gives me confidence," Capoue explains. "I am playing more offensively this season. I am not a holding midfielder. I support the strikers, a lot of balls are passed to me, I often play the ball forward. It's good, I can touch the ball a lot of times, and find space as well. I just try to enjoy it, and to do what the coach wants."
Watford vs Manchester United player ratings

Show all 22
It is no exaggeration to say that there are few midfielders in the league with quite the range of gifts that Capoue has. There are not many players with his build and athleticism who can also pass and control the ball that well. There is a famous clip online of Capoue spinning and dragging the ball through Jesse Lingard's legs, from a game at Vicarage Road last season.
"Mazzarri explained the role to me, but it is me playing," Capoue says. "I want to create chances, I want to defend with my team, I want to attack with my team, I want to pass the ball, I want to score, I want to do everything well." This is not even a full list of what Capoue can do on the pitch. Is he the complete midfielder then? Not quite. "The complete midfielder doesn't play for Watford."
When Capoue was first emerging at Toulouse, earning the attention of almost every big club in Europe, Andre-Pierre Gignac described him as tentaculaire, for his ability to reach anything behind or in front of him. "I can be everywhere, like the animal in the water, un poulpe," Capoue says, reaching for the English word. "In France I was always in the top three in the stats for stealing the ball. That's why he called me…octopus."
Capoue was a first-teamer at Toulouse at the age of 19, along with an 18-year-old Moussa Sissoko. The pair progressed through the French national youth teams. Sissoko was just 20 when given his France debut by Raymond Domenech. Capoue had to wait through the Laurent Blanc era, making his debut at 24, in Didier Deschamps' first game in August 2012.
Everything was going well for Capoue and it was the natural step when he left Toulouse for Spurs in the summer of 2013, one of the many Beatles who replaced Gareth Bale's Elvis Presley. Capoue started well but injured his ankle badly on his second Premier League start. He missed two months and by the time he came back it was the final weeks of the Andre Villas-Boas era. Tim Sherwood came in and preferred Nabil Bentaleb.
When Mauricio Pochettino replaced Sherwood Capoue had another chance. He started Pochettino's first 11 Premier League games before suddenly falling out of favour. Spurs tried to loan him to West Bromwich Albion but Capoue said no. So he found himself in the 'bomb squad', along with Younes Kaboul and Emmanuel Adebayor, barely playing one minute between them in the second half of that season.
Capoue has shown at Watford that he is good enough. He is a more accomplished than Victor Wanyama, who Spurs spent £11m on this summer. So does he feel unfortunate to have been unable to show what he can do at White Hart Lane? "No. Why unlucky? That's life. If it happens, it is because it should happen. That's it. It's not unlucky."
It was four days before his Spurs debut that Capoue made his seventh and final appearance for France. That was more than three years ago and while he is now playing well enough to get back into the squad, Deschamps has not been in touch. Is he hoping for a return for this campaign?
"No, not at all," he shrugs again. "I don't think about the national team. The national coach can pick who he wants. If I am not on the national team, it means I am not on the level of the national team. I am not focused on this. I am just focused on my life and enjoying it day by day."
Football is Capoue's job, then, but it is clearly not his life. While the details of his career do not spark much interest in him, he is never more engaging than when talking about basketball, his favourite sport. He still plays when he can, with Watford's Lithuanian goalkeeper Giedrius Arlauskis. Growing up in Niort in western France, Capoue was a Chicago Bulls fan in the 1990s, the Michael Jordan era. Then he switched to Miami Heat because of Dwyane Wade. Capoue's true hero, though, is LeBron James.
"He's a machine," enthuses Capoue. "He represents all athletes. For me, he is the athlete. He works all the time. He deserves everything he's got. And he's a top player as well. He's not selfish. He plays for his team-mates as well. For me, he's the top player."
When LeBron played for the Heat, Capoue used to fly over to Miami to watch him at the AmericanAirlines Arena. He far prefers it there to seeing NBA being played at the O2. "I've been to NBA in London, but I don't like it," he says. "When you go to Miami, 100 per cent of people are for Miami. When you go to London, the fans are 50/50. The atmosphere is not the same."
Capoue's last trip to Miami was in 2012, in LeBron's last title-winning season there. In 2014, LeBron returned to the Cleveland Cavaliers, his first team. And Capoue took his support with him. So when the Cavs faced the record-breaking Golden State Warriors in this year's final, Capoue was still confident.
"Before the series, for me I knew the Cavs were going to win," Capoue says. "When they were 3-1 down, and they won from there, it was amazing. LeBron closed the mouths of a lot of people. What can you say now against him? Nothing. You have nothing to say against him." Although he brushes off any comparison, Capoue is starting to silence his critics too.
Register for free to continue reading
Registration is a free and easy way to support our truly independent journalism
By registering, you will also enjoy limited access to Premium articles, exclusive newsletters, commenting, and virtual events with our leading journalists
Already have an account? sign in
Join our new commenting forum
Join thought-provoking conversations, follow other Independent readers and see their replies