West Brom vs Arsenal: Aaron Ramsey desperate to be back in the middle for Arsenal title challenge
The Gunners midfielder tells Jack Pitt-Brooke that despite being played out of position he feels good times are ahead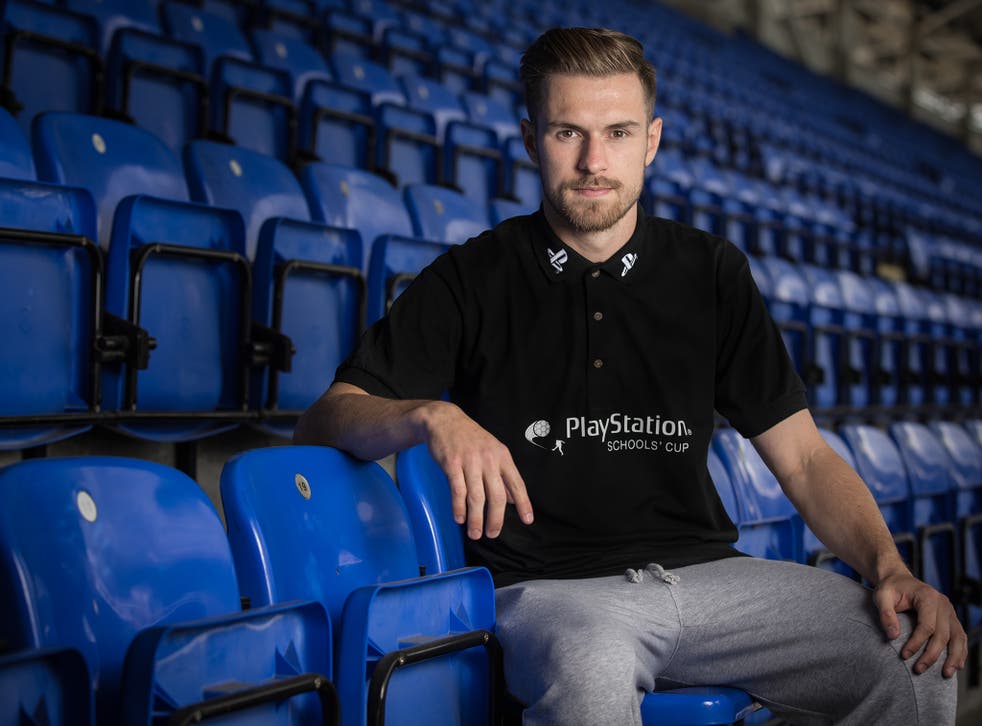 Aaron Ramsey wants to get something off his chest. He is playing well, part of an Arsenal side about to finish third in the Premier League and hoping to retain the FA Cup next week. He has overcome three hamstring injuries this season and has fought his way back to play an important part in a consistent team.
And yet one thing has been frustrating Ramsey: his position. He has mainly been playing on the right wing of a 4-2-3-1 system. Ramsey has been performing well, providing intelligence and dynamism, but it is not where he sees himself long term.
"I'm not hiding away from it, I want to be playing in the middle," revealed Ramsey before the Sunderland game this week, when, with Francis Coquelin rested, he moved back into the centre.
Arsenal exits: Players out of contract or reportedly set to be sold this summer

Show all 9
That switch came after Ramsey had spoken to manager Arsène Wenger about his position. Ramsey would now like a permanent return to the role which won him the club's player of the season award in 2013-14. "I've had chats with the manager about it. But the manager said he wants me do a job out there for the moment and obviously I'll do that for him. But I prefer to play in the middle."
Ramsey's best football for Arsenal, in the first half of last season, was driving forward from the centre of midfield, timing his runs into the box and creating havoc. That was his job, at the midfield base of the 4-2-3-1 system, the heartbeat role currently occupied by Santi Cazorla. Ramsey, a fierce competitor, wants his job back for good.
"Santi is in my position at the moment," Ramsey said. "He is the one who plays alongside Francis Coquelin and tries to get forward. I am trying to get that back."
"That is what I like to do, to get the ball and drive the team forward. I am not a No 10 really, playing with my back to goal. I have to start from a defensive position, looking to drive the team forward, playing little one-twos around players, things like that. That's where I prefer to play."
Of course, Ramsey would rather be on the pitch than on the bench, but he is not, and never has been, a winger. "I am used to getting the ball a lot more in the middle of the park, I like to be involved in everything, starting attacks," he explained. "So out on the wing you are relying on other people to get you in the game. So it is a bit frustrating."
Ramsey brought the issue up with Wenger and appreciates the willingness of the manager to listen to him. It will be clear at home to West Bromwich Albion tomorrow whether he has been permanently persuaded. "He respects everyone's opinions," Ramsey said. "His door is always open, which is a good thing. Yes, he'll have his reasons but he will also respect yours, and value your opinions."
Ramsey knows, though, that Arsenal are on the brink of an even more successful season than the last one, if they can beat Aston Villa at Wembley next Saturday afternoon and retain the cup. Excepting the Champions League defeat to Monaco, the team's form has been excellent this calendar year.
The challenge next season is to continue that good form into August and beyond, to set the pace in the Premier League rather than playing catch-up with Chelsea as they have done this season. If Arsenal can do that, and can cope with the pressure of expectation, they will challenge for the title.
"Hopefully we can concentrate fully on the league and have a really good start to the campaign," said Ramsey, speaking before third place was all but ensured, and a draining Champions League play-off avoided. "That is what we were guilty of this season, we were a bit inconsistent, but we have grown as the season has gone on."
There is a frustration at the patchy form of the autumn, when Arsenal were still adjusting to new signings and struggling with injuries, without which they may well have mounted a stronger challenge to champions Chelsea. "You look back at some of the defeats from the beginning of the season, and some of the points we dropped, and it is frustrating, because we would be right there or thereabouts now if we had got something from those games," said Ramsey. "But it was not to be, and hopefully next season we can have a much better start and put ourselves in contention."
"If we get off to a good start next season I think we'll be in a good place to go on and compete and challenge. That will be our main focus, trying to win the league."
Aaron Ramsey was supporting the PlayStation Schools' Cup Festival. Watch the Festival video highlights at playstationschoolscup.com
Join our new commenting forum
Join thought-provoking conversations, follow other Independent readers and see their replies