West Ham vs Tottenham: Pitch invader takes Christian Eriksen's free-kick...and nearly scores
A fan decided to invade the Upton Parkpitch and timed it so well that he even had a crack at goal before being hauled away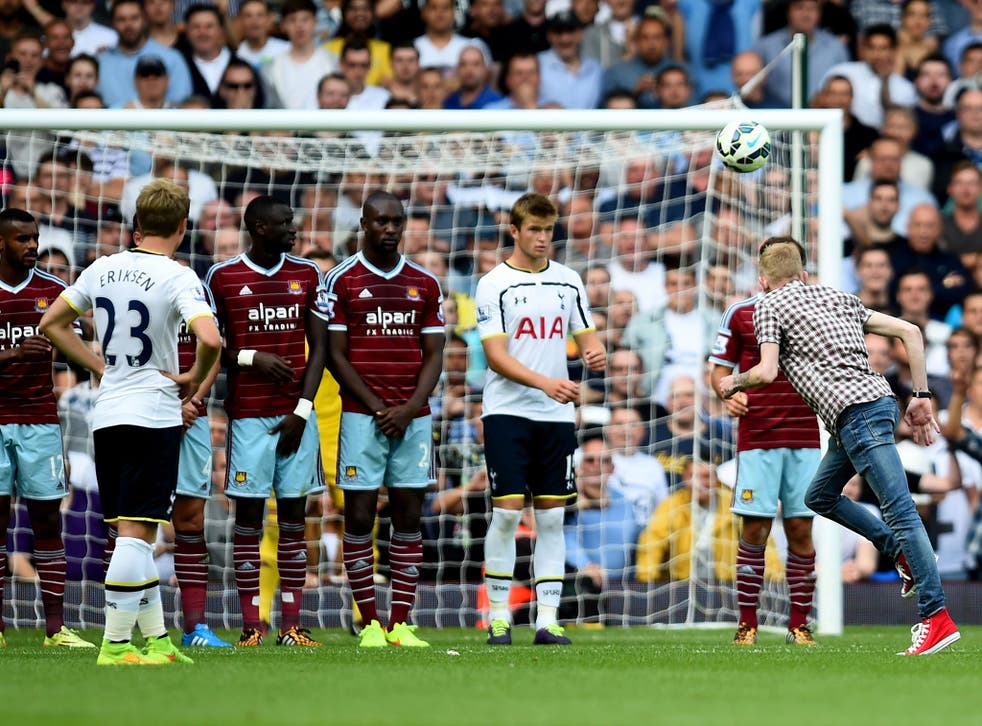 Tottenham were reduced to 10-men early in their opening Premier League match against West Ham after defender Kyle Naughton was issued with a straight red card for a deliberate handball, but that didn't stop one fan from trying to bump up the numbers for the away side.
With West Ham having just seen one of their own sent-off in the form of James Collins picking up a second yellow for a foul on Emmanuel Adebayor, Christian Eriksen was lining up the free-kick to have a shot on goal.
But in a blurry grey flash, a fan appeared from nowhere – being chased by a rather worried steward – and curled an effort towards the goal mid-stride. In fact, he managed to force a save from Hammers goalkeeper Adrian, which is more than Eriksen can claim as his effort went over the bar.
To make it even funnier, Eriksen quickly put his hands on his head in what looked like frustration that the effort didn't beat the goalkeeper – or more likely the fact that th match was held up as a result.
Watch the video below:
The match up until that point had been a dull affair with little to report apart from the dismissals, as both teams looked to stay solid at the back rather than push forward to try and snatch a win.
Register for free to continue reading
Registration is a free and easy way to support our truly independent journalism
By registering, you will also enjoy limited access to Premium articles, exclusive newsletters, commenting, and virtual events with our leading journalists
Already have an account? sign in
Register for free to continue reading
Registration is a free and easy way to support our truly independent journalism
By registering, you will also enjoy limited access to Premium articles, exclusive newsletters, commenting, and virtual events with our leading journalists
Already have an account? sign in
Join our new commenting forum
Join thought-provoking conversations, follow other Independent readers and see their replies