'Why not in England?': Chelsea interim-manager Rafael Benitez eyes switch to a 'top side', possibly in the Premier League
The former Liverpool manager will leave Stamford Bridge at the end of the season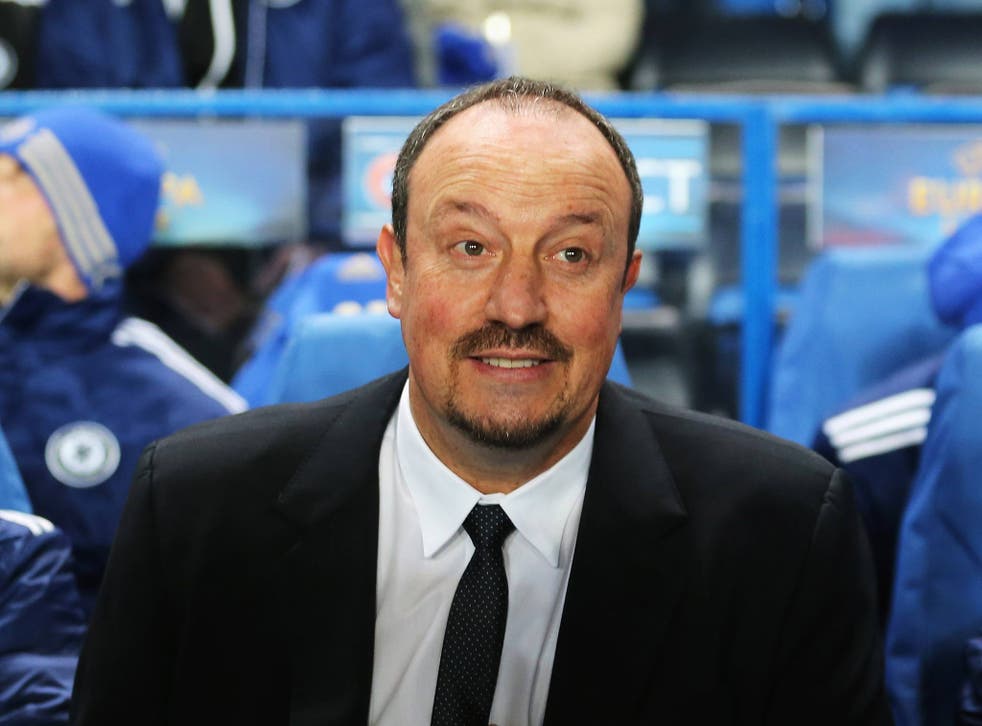 Chelsea interim manager Rafael Benitez hopes to be employed by a leading club next season but first plans to satisfy his thirst for silverware at Stamford Bridge.
The Blues on Monday beat Manchester United to advance to the FA Cup semi-finals and play Rubin Kazan in the first leg of their Europa League quarter-final tomorrow in their third of six games in 16 days.
Benitez's appointment in November until the end of the season was prompted by the Champions League winners' group-stage elimination from the same tournament and a top-four Barclays Premier League place is imperative to return to the competition next term.
The Spaniard, an unpopular appointment due to his prior association with Liverpool, declined to look too far beyond winning the next game, but felt compelled to comment on his own future.
Benitez, who revealed in February he will be leaving at the end of his spell in May, said: "If we can achieve trophies and finish in the top three, fantastic. Everybody will be happy. That is my aim at the moment."
As for his own future, he added: "I like to win, to challenge for trophies. I would like to stay in a top side. A top side, why not in England?"
There has been constant speculation on a permanent Chelsea boss since Roberto Di Matteo's departure and Benitez's temporary appointment, with former boss Jose Mourinho, now at Real Madrid, continually linked.
Benitez's designs on the permanent position could be shaped by the fans' views, although their stance evident in vitriolic chanting from the stands is apparently softening following his plea to back the team after the win at Middlesbrough.
But he remains the subject for repeated criticism, with Ray Wilkins the latest to comment on Benitez's team selection.
Ashley Cole suffered a hamstring injury against Manchester United on Monday and former Chelsea captain, assistant boss and caretaker coach Wilkins believes the left-back would not have done so had he played against Southampton two days earlier.
Benitez dismissed the 'April Fools' Day' comments from Wilkins.
Benitez said: "April 1. You cannot take the comment seriously. It was April 1.
"I have a degree in sports science from Spain. It's the first time ever I've heard something like this. April 1."
Cole and his fellow England defender Gary Cahill (knee) face absences of two to three weeks, meaning the duo are likely to miss the return leg with Rubin Kazan in Moscow and are major doubts for the Wembley FA Cup semi-final with Manchester City a week on Sunday.
Chelsea lost in the Premier League to Southampton last Saturday, loosening their grip on the Champions League qualifying place, after Benitez fielded a much-changed side, resulting in criticism of his team selection.
Seven changes were made against United less than 48 hours later and with Cole out and Demba Ba ineligible, Benitez will make at least two changes and probably more against Rubin Kazan tomorrow.
Captain John Terry and midfielder Frank Lampard - both unused substitutes against United - could start, but Sunderland's Sunday visit in the Premier League may also be on Benitez's mind.
On the eve of the Europa League encounter, a Russian reporter asked Benitez why he picked a weakened team against United.
The Spaniard responded, jovially, but also pointedly, after his team selection on the south coast had been questioned in the British media.
Benitez was more serious when questioned over whether the players understand the necessity for squad rotation, with characters such as Terry keen to play in every game.
"I have to pick a team that can win any game," Benitez said.
"You have to approach the next game like the most important game.
"Sometimes we will pick one team for one game and we will change three, four seven players for the next one. "That is the way to compete and to be capable of winning in every competition.
"When I say every competition I say the league, the Europa League and also the FA Cup. They have to be ready mentally, physically.
"They know how important is it to win every game, how important it is to win trophies and how important it is to finish in the top three."
Rubin Kazan's record in Europe this term is formidable, drawing and beating Benitez's former team Inter Milan in the group stages and eliminating Europa League holders Atletico Madrid courtesy of a 2-0 win in Spain.
Chelsea have won seven in an unbeaten nine-match run at Stamford Bridge and will be seeking a first-leg advantage.
"They can score goals away, they will try to do that," Benitez said.
"It will be tough. It's important to score and to do well."
PA
Join our new commenting forum
Join thought-provoking conversations, follow other Independent readers and see their replies