Yaya Sanogo: Arsenal's surprise package could start in Wembley opener against Manchester City on Sunday
Community Shield takes place on Sunday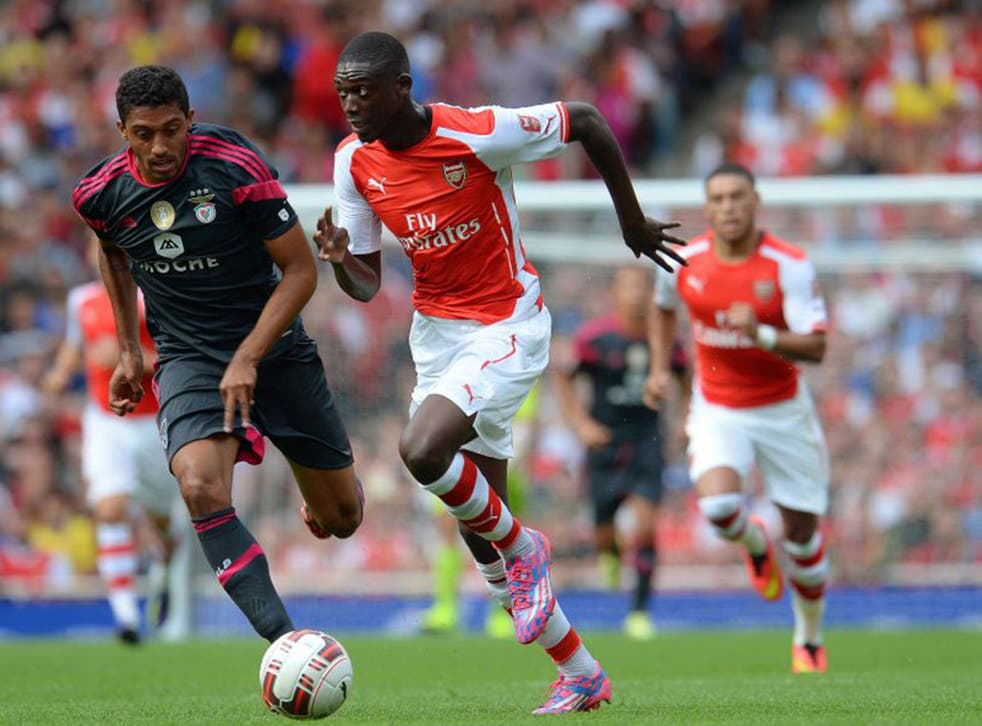 Just 12 weeks on from their giddy, drought-ending day at Wembley, Arsenal are back there on Sunday. With the memories of May's thrilling 3-2 victory over Hull City still fresh in mind, the Gunners take on Premier League title winners Manchester City in the Community Shield.
It is a sign of Arsenal's long years of drift that this will be their first time in the fixture since 2005, which was itself their fourth consecutive appearance.
While Arsène Wenger could well deploy Alexis Sanchez, his £35m arrival from Barcelona, up front on his own, he might be able to spare him the workload.
There is another striker, who has shown good form in pre-season and whom Wenger has not been reluctant to throw into big games in the past. It was Yaya Sanogo who impressed more than any other Arsenal player in the Emirates Cup, scoring four goals against Benfica on Saturday and looking like the imposing, ruthless centre-forward Arsenal signed from Auxerre last summer.
Sanogo, in fact, outperformed his compatriot and effective superior Olivier Giroud over the weekend. Giroud looked some way from full readiness, which Wenger put down to his having only three weeks' holiday, rather than four, before returning.
Wenger insisted, though, that Giroud had returned in reasonable shape. "Sometimes, you come back late and you want to work hard but in the game you are not as sharp," Wenger said. "He has not put weight on and is not out of shape. He has worked very hard this week and not recovered."
Sanogo, though, who did not have the World Cup to occupy him this summer, seems to have come back fighting fit. Wenger admitted he was surprised by Sanogo's success on Saturday, but added that if he can conquer injuries, then his potential is immense.
Arsenal transfer talk: Potential summer targets

Show all 14
"Sanogo was injured for basically two years before he came to us," Wenger said. "Before he got injured, his goalscoring record was quite frightening. For a while, when he came back last season, he could not score. You could see when he scored the first goal, suddenly they came raining.
"He has a big future here. He has something of Emmanuel Adebayor. He is strong, a strong body, similar strengths, but also technical skill."
Despite the issues over Sanogo's fitness, Wenger has clearly never had any issue with his young striker's mentality. He was always willing to use him in big games last season, even with many Arsenal supporters suggesting otherwise. Sanogo started in the FA Cup home games against Liverpool and Everton and the Champions League quarter-final first leg against Bayern Munich.
The FA Cup semi-final against Wigan Athletic, back at Wembley, was one of Sanogo's more difficult afternoons. He started but missed one early header and then another chance when through on goal after a rusty first touch. When Lukas Podolski was substituted instead of him, many fans jeered.
But Sanogo's partnership with Giroud helped to turn that semi-final and the same pairing – after Sanogo replaced Podolski – caused Hull City problems in the final one month later.
If Giroud has not reached full fitness by this Sunday, Sanogo could be back at Wembley, aiming to continue the goalscoring form of last weekend and start his new season in the most emphatic way possible.
Join our new commenting forum
Join thought-provoking conversations, follow other Independent readers and see their replies