Referees are '96-97 per cent' right and Arsenal were wrong to attack me over Everton goal, says Mark Clattenburg
The controversial official, who was named world referee of the year last week, has backed his colleagues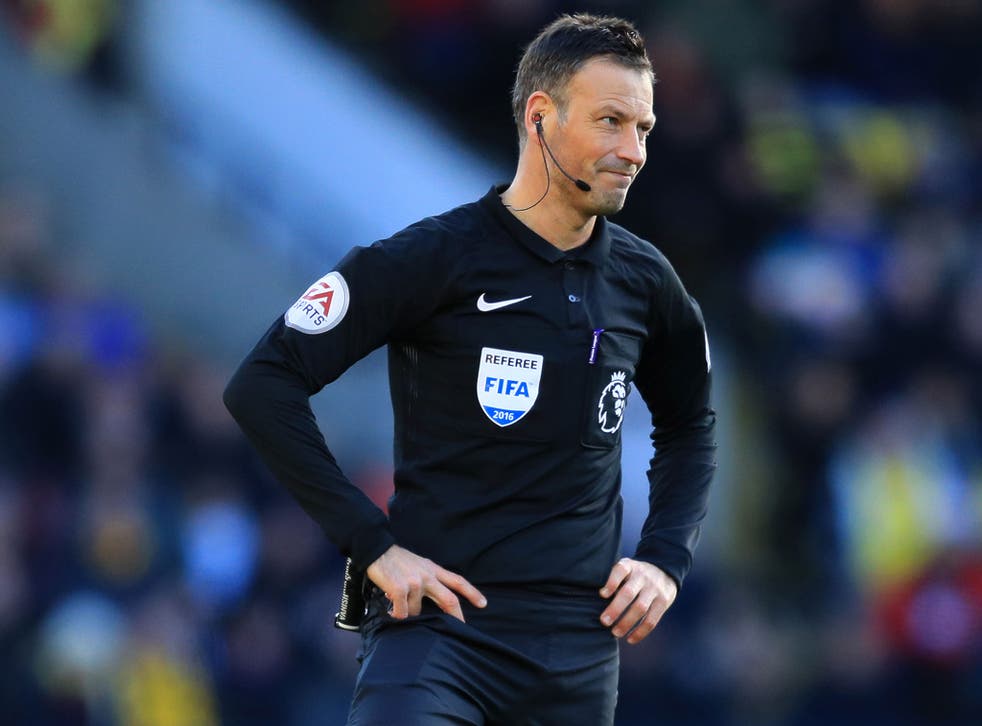 Mark Clattenburg, who officiated in the finals of the Champions League, European Championship and FA Cup in 2016, has said that referees' decision-making has been proven "96-97 per cent" accurate but that the public's perception is skewed by a disproportionate focus on decisions which are wrong.
Though the New Year has started with more trenchant criticism of an official – Mike Dean, for his performance officiating between West and Manchester United this week – Clattenburg described in an interview with the Associated Press the frustration of being blamed –as he sees it - for a goal Arsenal conceded at Everton because of an incorrect decision which came several phases of play beforehand. UEFA statistics showing referees at Euro 2016 to have been 96-97 accurate were a more realistic barometer, he said.
Clattenburg observed in the interview, conducted last week in Dubai where he was named world referee of the year at the Globe Soccer Awards, that the Goodison error in question had provoked no complaints from Arsenal players until a goal went in.
"I did a game Everton-Arsenal – where I have given an incorrect corner," he said. "After reviewing six different angles it looks a corner on the pitch, nobody gives any dissent, but two corners later Arsenal conceded and people give you the negative feedback that you've made a huge error in the game. It's disappointing that I get a split second to see it and then two corners later it's led to a goal and I'm getting blamed for that. I suppose that's part and parcel of refereeing."
Arsenal manager Arsene Wenger felt that the corner from which Ashley Williams scored Everton's winner should not have been awarded and insisted Everton debutant Dominic Calvert-Lewin had the last touch before the ball went out of play. Wenger said post match at Goodison that he was "really disappointed in Mr Clattenburg. He is in a really good position to see it and it is not the first time we are really unlucky with his decisions."
But the 41-year-old Clattenburg disclosed how his attempt to develop a more sophisticated technical understanding of football tactics and systems has helped him improve.
"These successes in 2016 were down to this side of the game where I started to understand what players were trying to do and how they were doing it," he said.
"When I watched [referee] Pierluigi Collina over the years he was always that type of referee – one step ahead. He was deeply into the understanding of football. When referees can understand a little bit of football it will help them on the pitch.
"For the first knockout game [of the 2016 Euros] – Switzerland v Poland – the feedback that came from the analysts was that Poland press high. So I watched clips of them pressing high and when the opposition team had the ball they went hunting in packs, which gives us a referee just a little bit more knowledge that if a team is defending we have to be a little bit more switched on and not positioned on the halfway line.
"What we had to make sure we were doing was if the opposition had the ball, make sure we were aware. It happened in the first minute and Robert Lewandowski nearly scored because Switzerland gave the ball away, Poland pressed and were in. If we weren't aware and Lewandowski had been brought down it would have had a huge decision to make in the first minute. But because we were aware I was only five metres away. Things like that help us as referees – (knowing how teams use) zonal marking, man marking, inswinging, outswinging short [corners]."
Join our new commenting forum
Join thought-provoking conversations, follow other Independent readers and see their replies