Rangers consigned to liquidation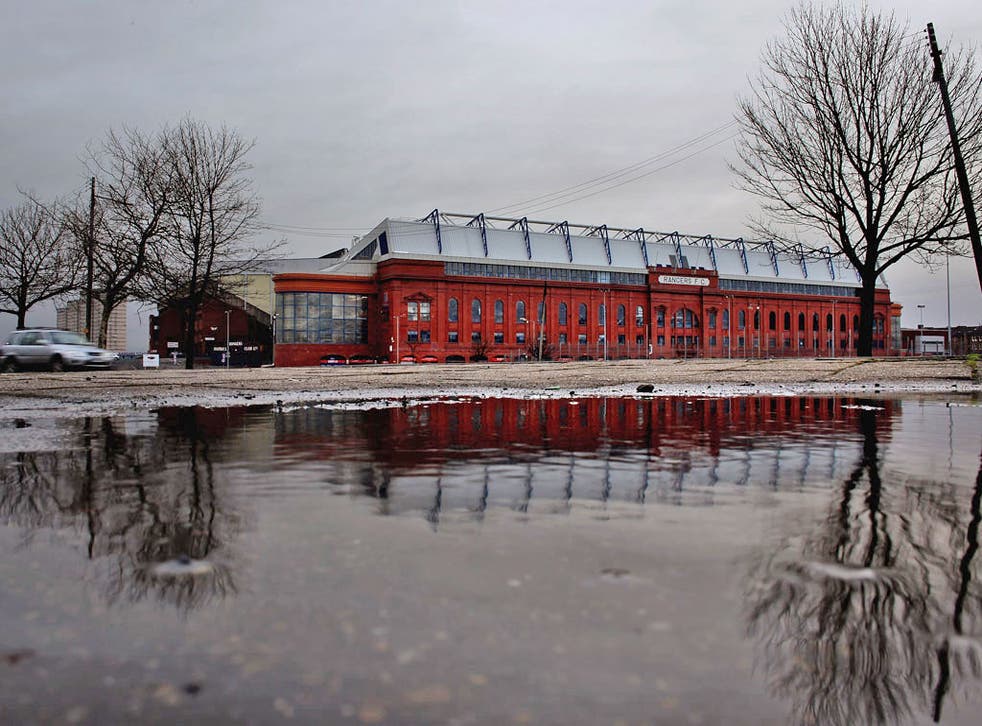 Rangers have been consigned to liquidation after Her Majesty's Revenue and Customs decided to reject an offer from Charles Green's consortium.
The decision means Green's Company Voluntary Arrangement (CVA) will fail to achieve the 75% backing needed from creditors.
Green will now push ahead with plans to buy the club's assets for £5.5million in the coming days with both HMRC and Ticketus, the other major creditors, not expected to challenge the newco purchase deal he has struck with administrators Duff and Phelps.
But there is no guarantee the new entity will be able to play in the Clydesdale Bank Premier League.
SPL clubs would themselves decide on any application to acquire the club's share and could impose sanctions.
Dundee United chairman Stephen Thompson last week doubted whether Rangers would have enough support and some fans have been rallying their clubs to reject any proposal, although commercial interests could outweigh any principled stand, especially with no confirmation that television deals will continue without Rangers.
A 'newco' Rangers would not be allowed to play in Europe for three years and Green faces the prospect of losing players.
HMRC, whom Rangers are listed as owing more than £21million, believe their decision allows them to pursue individuals in the courts.
The tax authority forced Rangers into administration in February over millions of pounds of unpaid tax under Craig Whyte and could also pursue former owner Sir David Murray over a tax case, which could result in a £75million bill.
A statement from the tax authority read: "A liquidation provides the best opportunity to protect taxpayers, by allowing the potential investigation and pursuit of possible claims against those responsible for the company's financial affairs in recent years.
"A CVA would restrict the scope of such action.
"Liquidation will enable a sale of the football assets to be made to a new company, thereby ensuring that football will continue at Ibrox.
"It also means that the new company will be free from claims or litigation in a way which would not be achievable with a CVA.
"Rangers can make a fresh start."
Rangers administrators Duff and Phelps said Green's consortium would move to acquire the club's assets immediately after the CVA is formally rejected at a meeting of creditors on Thursday morning.
"That transaction will be completed within a few days," joint-administrator Paul Clark added.
"The sum payable to creditors will be £5.5million, most of which has already been paid over to us by the Green consortium."
Clark added: "It was with HMRC's approval that a proposal was placed before creditors for consideration.
"However, it is the commercial view that the level offered within the CVA was not enough to merit departure from their normal policy of seeking a detailed investigation via a liquidator.
"However, we have been left in no doubt by HMRC the fundamental reason for the rejection of the CVA proposal is the historical non-compliance with tax liabilities by the former owners and directors of the club."
Green claimed HMRC's decision would result in less revenue for the taxpayer, but it also means his group will have to pay less.
Green said: "Frankly, I do not see what benefit will be achieved by this decision.
"My consortium's offer for a CVA amounted to a total of £8.5million.
"Now that we will have to complete the purchase via the formation of a newco, the purchase price and therefore the amount available to creditors will be £5.5million.
"I can understand HMRC deciding that football clubs which do not pay their taxes need to be punished, but by effectively banning Rangers from Europe for three years all that will happen is that there will be less revenue generated by the club and consequently less money paid over to the taxman.
"Also, I do not believe that by opting to vote against the CVA proposal, HMRC will generate more cash by pursuing those they believe as responsible - but that is a matter for them."
Green added: "The solemn promise I can make to Rangers fans today is that this club will continue as Rangers Football Club and will continue to play at Ibrox Stadium.
"We will be liaising with the football authorities at the earliest opportunity to establish our position regarding the SPL."
Green, who had been talking in recent days about transfer targets and raising up to £20million, could lose players for nothing as PFA Scotland previously stated that no one is obliged to transfer their contract to a newco under employment law.
The club's ability to sign players is also in doubt given uncertainty over a 12-month transfer embargo imposed by the Scottish Football Association.
Although Rangers successfully challenged the ban in court, Green has not ruled out accepting it as the alternative sanctions include suspension or termination of membership. The SFA board would also have to approve a newco application.
Ticketus, who are owed almost half of the club's £55million confirmed debt, had not decided on their approach to the CVA before today's announcement but they plan to pursue Whyte for the shortfall.
The CVA document shows that less than £1million will be shared between unsecured creditors under a newco with most of the money going to administrators' fees and legal costs.
PA
Join our new commenting forum
Join thought-provoking conversations, follow other Independent readers and see their replies