Arsenal has always been Alexandre Lacazette's destiny - he is the A-list striker they and Mesut Ozil sorely need
Lacazette has grafted for everything he's got, an intelligent and tough all-rounder who could be just the man to get the very best out of the Gunners' German star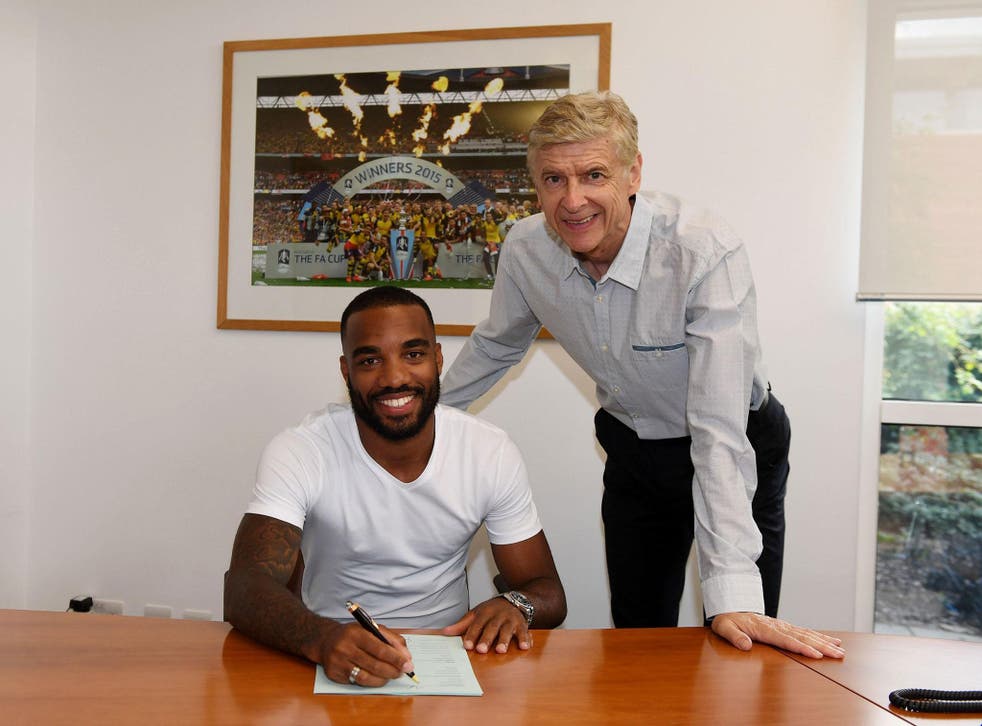 Maybe it's always been his destiny. It was at the Emirates Stadium that Alexandre Lacazette made his first steps with Olympique Lyonnais' senior squad, at the Emirates Cup almost seven years ago.
The then-19-year-old had one heck of a weekend; after heading the winner for France in the European Under-19 Championship final against Spain on the Friday night in Caen, he enjoyed a modest celebration with the squad before getting the Eurostar to London at the crack of dawn on Saturday morning. Lacazette played for Lyon against Celtic just after lunchtime, before making it a hat-trick by turning out against Milan on Sunday.
All this time later, that big weekend still captures the essence of Lacazette in a nutshell. He ticks most of the boxes that Arsenal supporters could want in an A-list centre-forward – an intelligent, tough all-rounder with excellent experience and a sublime finisher – but it is his industry which defines his career path, and which suggests he should adapt to the physical demands of the Premier League in good time.
How could Arsenal line up this season?

Show all 12
Lyon's Tola Vologe academy is renowned for the quality it produces. Lacazette's close friend Samuel Umtiti, for example, was comfortably Barcelona's best signing of a shoddy summer window in 2016. Yet unlike Umtiti or the previous occupant of his number 10 shirt at Lyon, Karim Benzema, Lacazette was no irresistible prodigy. He has grafted every step of the way to get here.
Following that eye-catching start to first-team life in London, he struggled to win the unconditional faith of coach Claude Puel. Back then, Lacazette was a winger, who later under Rémi Garde grew into a player in the mould of previous OL academy graduate Sidney Govou as he started to cement his place in the squad.
As with Govou, he was a player who would put in a shift regardless of the sort of touch he was in, and who could pitch in with important goals – as he did with the winner in a 2012 Champions League last 16 tie against APOEL – without truly threatening to become a regular goalscorer.
That all changed in in late August 2013 when a financially struggling Lyon sold Lisandro López to Al-Gharafa. Lacazette stepped into the iconic Argentinian's centre-forward role, and that marks the spike in his goalscoring numbers. He scored 113 of his 129 goals for Lyon in the four seasons since he moved infield, and never scored less than 22 in any of those campaigns.
Summer transfer window: Likely deals and biggest rumours
Having just turned 26, Lacazette's unusually organic growth – certainly in the context of the modern game – places him a few steps ahead of the vast majority of newcomers to England. He has stayed at Lyon so long for good reason. Having grown up at the club and gradually assumed responsibility, he has been rewarded with status, played in European competition each season and been paid well, with his last contract extension signed in 2015 paying him in excess of €400,000 per month.
Lacazette has always been adamant that he would not move just for the sake of it, but only for a genuine career progression. Arsenal will now reap the benefits of the different roles he learned at Lyon. In 2013, he started as a regular centre-forward in a 4-4-2, playing off a physically imposing partner in Bafetimbi Gomis.
In the following campaign, the formation endured but the role changed, with the trickier Nabil Fekir forming a very different pair with Lacazette. Later still, after Fekir (who has also been strongly linked with The Gunners in the past) was injured, Lacazette played as a solo centre-forward in a 4-3-3, and scored more consistently than ever before.
The key to his success at the Emirates will probably be his relationship with Mesut Özil, and not just in terms of relying on the German's supply line of passes. There is no mystery over how Lacazette and Fekir, a left-footer with a hint of Özil about him, hit it off so well.
Lacazette has been falsely typecast in some quarters as just a penalty box player, but he has the intelligence and one/two-touch game to establish understanding with a technically top-level foil and trim defences apart. If Arsène Wenger can simply make sure Lacazette and Özil are close to each other on the pitch, the magic should come together.
Lacazette's wide palette means he should adapt easily to working with the more direct Danny Welbeck and even, should he stay, his compatriot Olivier Giroud, recalling his days running onto the flicks and hold-ups of Gomis. He has the pace to keep up with speed merchants like Theo Walcott, but the clarity of thought to take a step back and wait for the chance to come. His finishing is only getting better with time, as the numbers prove.
Arsenal summer transfer targets

Show all 6
Before Atlético Madrid failed to get the Court of Arbitration for Sport to overturn their FIFA player registration ban, Lacazette looked to be heading to the Calderón to team up with another good pal, Antoine Griezmann, who played in that 2010 France Under-19 team with him. Given that a coach's main issue with Lacazette is stopping him doing too much and overloading his body, one wonders whether playing for Diego Simeone would have done him much good. Arsenal, it seems, was the move that was just meant to be.
Join our new commenting forum
Join thought-provoking conversations, follow other Independent readers and see their replies