Andy Carroll stalls on £15m move to West Ham in hope Newcastle step in
Unwanted at Liverpool, the England striker would take a pay cut to rejoin his boyhood club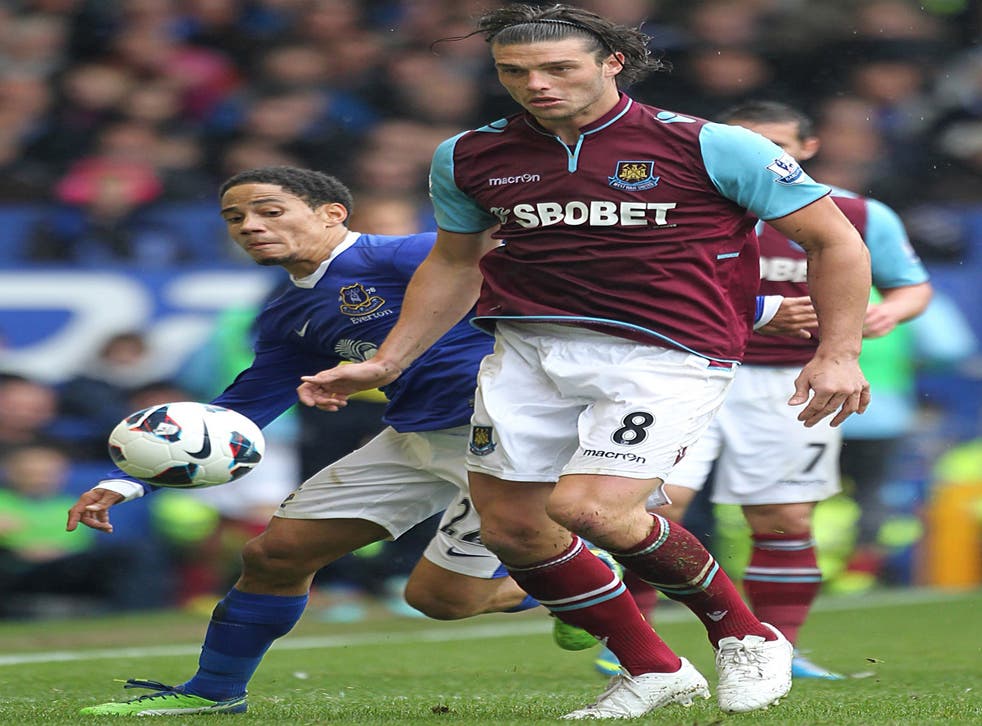 Andy Carroll was tonight stalling on a move to West Ham after a £15m fee was agreed with Liverpool, in the hope that Newcastle United enter the race for his signature.
The England forward has again been told he will not have a future at Anfield, despite having three years left on the contract he signed when he moved from Newcastle for £35m in 2011.
Carroll scored seven goals during his season-long loan spell at Upton Park, and proved an important part of Sam Allardyce's side, who gained a top 10 finish in their first season back in the Premier League.
However, the 24-year-old Geordie is still keen on an emotional return to his hometown club and is believed to be holding tight in case they make a move.
The Newcastle manager, Alan Pardew, admitted recently Carroll is a player he would love to take back to St James' Park and the club are in the market to buy two forwards after a disappointing season that ended with them fifth-bottom of the table.
Newcastle know they hold a strong position, with the player keen to return and they are also aware of Liverpool's desire to get a sale pushed through quickly in order to strengthen their summer spending plans significantly.
Carroll is on around £90,000 a week at Liverpool; that salary is way beyond Newcastle's budget, although not out of West Ham's salary structure. However, the player's desire to return to the North-east is such that he has intimated to friends he would take a pay cut to become a Newcastle player once more next season.
West Ham's bold move has put the onus back on Newcastle, but they will not be forced into a bidding war, despite a desire to sign the player.
Carroll was desperate to be given a chance by the Liverpool manager, Brendan Rodgers, last summer to show he could emerge as the player the Anfield club thought they had signed when they paid their record-breaking £35m fee for an English player in the January transfer window of 2011.
Rodgers, though, would not even speak to him and instead a season-long loan was agreed with West Ham. Carroll started his West Ham career well but was again dogged by injuries before putting together a run of games and ending with seven goals from 23 Premier League games. Allardyce is eager to keep the player at West Ham but the decision is now in Carroll's hands as he waits to see if Newcastle show their hand.
The forward is likely to be unfit for at least another six weeks after picking up a heel injury that will curtail his international progress.
The nine-times capped Carroll was included in Roy Hodgson's England squad for the forthcoming friendlies with the Republic of Ireland and Brazil, but pulled out and will miss another opportunity to stake his claim to be involved in the World Cup qualifiers against Moldova and Ukraine in September.
The form shown by the powerful striker at the end of the season to catch Hodgson's eye was the nearest he has come to replicating the form that persuaded Liverpool to pay so much for his services in the first place.
At the start of the 2011-12 season Carroll had scored nine Premier League goals by November, but he was injured before the shock move to Anfield and never truly found his best form on Merseyside.
There was a desire from Carroll to show his true ability at Anfield but that seems highly unlikely to happen under Rodgers. That the agreement of a fee is now known is a further indication of Liverpool's desire to offload the player.
Meanwhile, the former England striker Carlton Cole looks set to leave West Ham after saying his goodbyes to fans on Twitter.
"Life is filled with ups & downs today is a down but i'll be back! Carlton Cole/CFC as i have been called has left the building #UNDERCHUFFED," tweeted the 29-year-old, who began his career at Chelsea before moving to Upton Park in 2006.
West Ham also confirmed the signing of the Romanian captain and left-back Razvan Rat on a one-year deal. The 31-year-old has spent the past decade with Shakhtar Donetsk, winning seven Ukrainian Premier League titles and making 248 appearances.
"I'm hugely happy that we've got a player of his experience and his character," said Allardyce. "He's been playing Champions League football this year and at the highest level for many years. Shakhtar had offered him a very good contract, but his ambition was to come and try his abilities and skills in England."
Join our new commenting forum
Join thought-provoking conversations, follow other Independent readers and see their replies