Arsenal have 'too many strikers' claims Arsene Wenger, despite admitting Lukas Podolski is 'not a real centre-forward'
The injury to Olivier Giroud has led to calls for Wenger to enter the transfer market again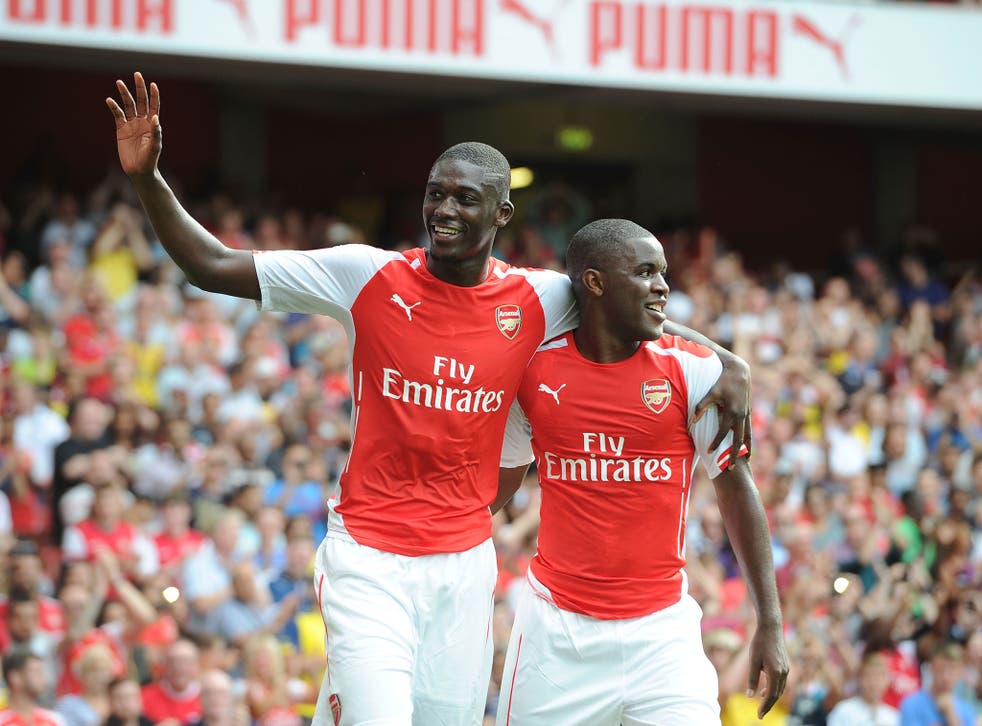 Arsene Wenger is in no rush to sign a striker, despite going to Leicester City tomorrow with just Alexis Sanchez and Yaya Sanogo as specialist senior No 9s.
Olivier Giroud is out for the rest of 2014, and Arsenal have just three more days to add a new centre-forward. Wenger would not rule out a purchase at Friday's press conference, but said the club already "have too many strikers", and that buying another one would block the development of Sanogo and teenager Chuba Akpom.
"If you always buy, you can never give a chance to a player," said Wenger, proud of his record of promoting youngsters rather than buying. "Take the example of Calum Chambers, he played centre-back because I gave him the chance to play centre-back. If I had bought four centre-backs, I would never have played him, he would sit on the bench and play in the youth team."
This means that, with Giroud out, Wenger is more likely to play Sanogo and Akpom. The 18-year-old Londoner will now stay at the club rather than go out on loan, after serious interest from Dutch clubs Feyenoord and FC Twente this week. Akpom scored a hat-trick for Arsenal Under-21s against West Bromwich Albion on Thursday night.
"Every time you have an injured player, nobody asks do you give a chance to Chuba Akpom, for example, who scored last night. No, it is 'buy a player'. Nobody wants to give an opportunity to everybody. My job is to be careful about that, and think 'no, we have a player who can do it.'"
Pointing to the example of 1997-98, Wenger said that his faith in 18-year-old Nicolas Anelka helped to win Arsenal the double, and that the transfer market therefore did not provide the answer to everything. "I remember in 1998, Ian Wright was injured. I played Anelka and people asked in the press conference 'but when do you buy a striker?' We won the championship, so all these people forgot they asked me this question. That was a case with a young boy who had the talent."
Wenger would not go as far as to say that Sanogo is the new Anelka, nor would he categorically promise that Arsenal would not sign a striker. "We buy when we have to strengthen the squad." In the unlikely event that Arsenal do sign a striker, though, another would leave. "If we buy somebody, somebody will have to go. We have too many strikers."
What this means is that Alexis Sanchez and Sanogo are the two plausible options to lead the line on Sunday afternoon. Sanchez has done well in that role for the last two games but Wenger will be keen to manage his workload, and Sanogo is due another start soon.
How Arsenal could replace Olivier Giroud

Show all 10
Lukas Podolski, another who will no longer be leaving the club this month, could well be involved but it will more likely be from the left. "He is not a real centre-forward," said Wenger. "He is a striker on the flank or behind the striker, but he is not the target man. He has a role to play, but he likes to come to the ball, he is not the guy who likes to go behind. I see Sanogo and Sanchez as players who are really good at going behind, not Podolski."
Podolski has not played a minute of competitive football since returning from the World Cup, but fellow weltmeister Mesut Ozil has started two games, and Wenger backed him to find his best form again soon.
"People are very harsh with Ozil," Wenger said. "When you watch the game again after, the next day, you see what a player he is. Everything he does is intelligent, the timing of everything he does is absolutely perfect, like a guy who plays music."
Register for free to continue reading
Registration is a free and easy way to support our truly independent journalism
By registering, you will also enjoy limited access to Premium articles, exclusive newsletters, commenting, and virtual events with our leading journalists
Already have an account? sign in
Register for free to continue reading
Registration is a free and easy way to support our truly independent journalism
By registering, you will also enjoy limited access to Premium articles, exclusive newsletters, commenting, and virtual events with our leading journalists
Already have an account? sign in
Join our new commenting forum
Join thought-provoking conversations, follow other Independent readers and see their replies