Alexis Sanchez 'deeply loves' Arsenal says Arsene Wenger as he ponders starting contract rebel against Liverpool
The striker is in the last year of his current deal and has as of yet shown no interest in signing a new one amid heavy interest from Man City, but Wenger has no concerns over his commitment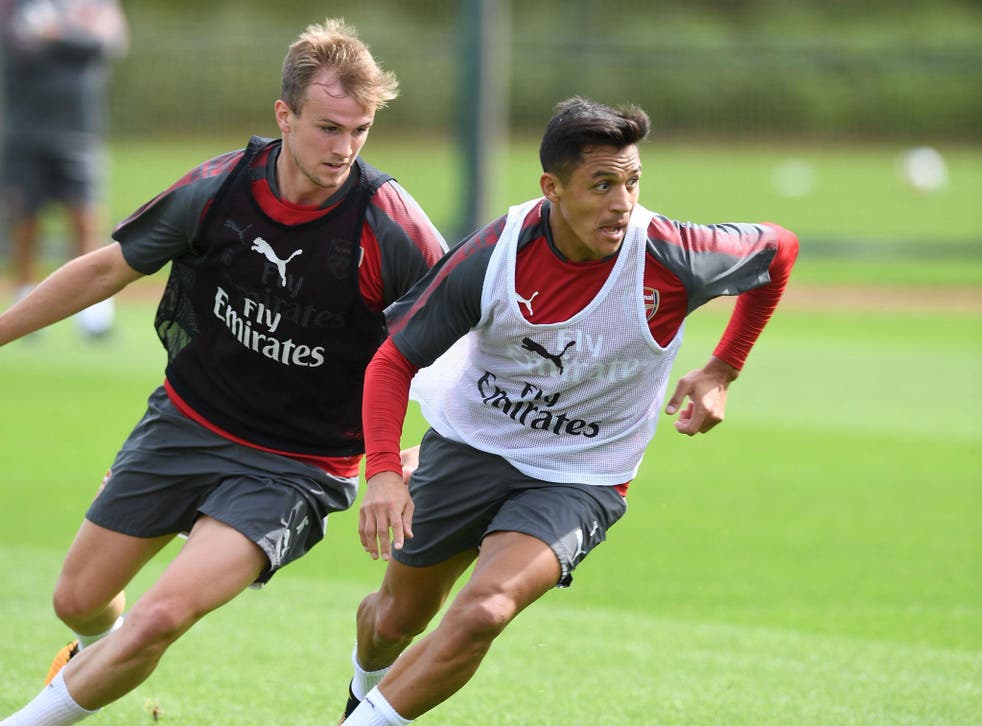 Arsene Wenger says Alexis Sanchez "deeply loves" playing for Arsenal, and hasn't ruled out the Chilean signing a new contract, as he mulls over whether to play him at Liverpool on Sunday.
The striker is in the last year of his current deal and has as of yet shown no interest in signing a new one amid heavy interest from Manchester City, but Wenger has no concerns over his commitment. The Arsenal manager has actually been impressed with how he has knuckled down, and feels the situation can actually be of benefit to both player and club in terms of performance.
Sanchez hasn't played any football since the Confederations Cup final with Chile in July, giving Wenger a decision over whether to start him against Liverpool, but he has been impressed with how the 28-year-old has knuckled down of late despite the manager refusing to giving in to his wish to leave the club.
Stoke vs Arsenal player ratings

Show all 22
"I think what is good is our mutual interest is that he does well for us," Wenger said. "His interest is to do well. On top of that I deeply feel that he loves to be here and he loves the club and he arrives at a stage of 28, 29 and looks at the quality of his contract but I think he deeply loves to be here. Look, in a professional job I always think that you have to make sure with your commitment that the guy who pays you gets what he is paying you for.
"Alexis is in that mode and I think he will be until the last day he is here, he will give his best."
That is also why Wenger hasn't dismissed the possibility of Sanchez signing a new contract if Arsenal start the season well.
"You cannot rule anything out, of course you are under threat as well. For me you have a sport decision, and the sport decision is easy – you keep him until the last day of his contract.
"Then you have a compromise to find if you can afford to do it because you lose a lot of money and at the end of the day my decision, which is purely sporting, is easy to make – I want him to stay, after that there is of course a lot of money involved as well and the club needs to make a financial sacrifice."
The fixture is given an added edge since it was this game last season when Wenger first dropped Sanchez for acting up, at a time that also saw a dressing-room confrontation with Laurent Koscielny, and he is another player returning for Arsenal this weekend after a suspension that covered the FA Cup final win over Chelsea and then the first two games of this campaign. Wenger said that it had got to the French centre-half, after a rash challenge on the last day of the season against Everton got him a red card.
"It's been very hard, because I didn't even consider him for friendly games, you know, because I had to play some defenders, I think what hurt him a lot was to miss the cup final.
"He had a reaction in the final game of the season against Everton that was unlucky, but sometimes… he's a very quiet guy and sometimes he can get rushed, you know, because he realises, he thinks always he has the speed and the pace to win the tackle, in this case he didn't.
"I think we lost the game on Saturday [against Stoke City] because defensively we gave a cheap goal away, and it's good to have him back."
Register for free to continue reading
Registration is a free and easy way to support our truly independent journalism
By registering, you will also enjoy limited access to Premium articles, exclusive newsletters, commenting, and virtual events with our leading journalists
Already have an account? sign in
Register for free to continue reading
Registration is a free and easy way to support our truly independent journalism
By registering, you will also enjoy limited access to Premium articles, exclusive newsletters, commenting, and virtual events with our leading journalists
Already have an account? sign in
Join our new commenting forum
Join thought-provoking conversations, follow other Independent readers and see their replies