Arsenal to return with improved bid for Liverpool striker Luis Suarez - but hopes of signing Gonzalo Higuain fade
Moves for Marouane Fellaini and Julio Cesar also set to fail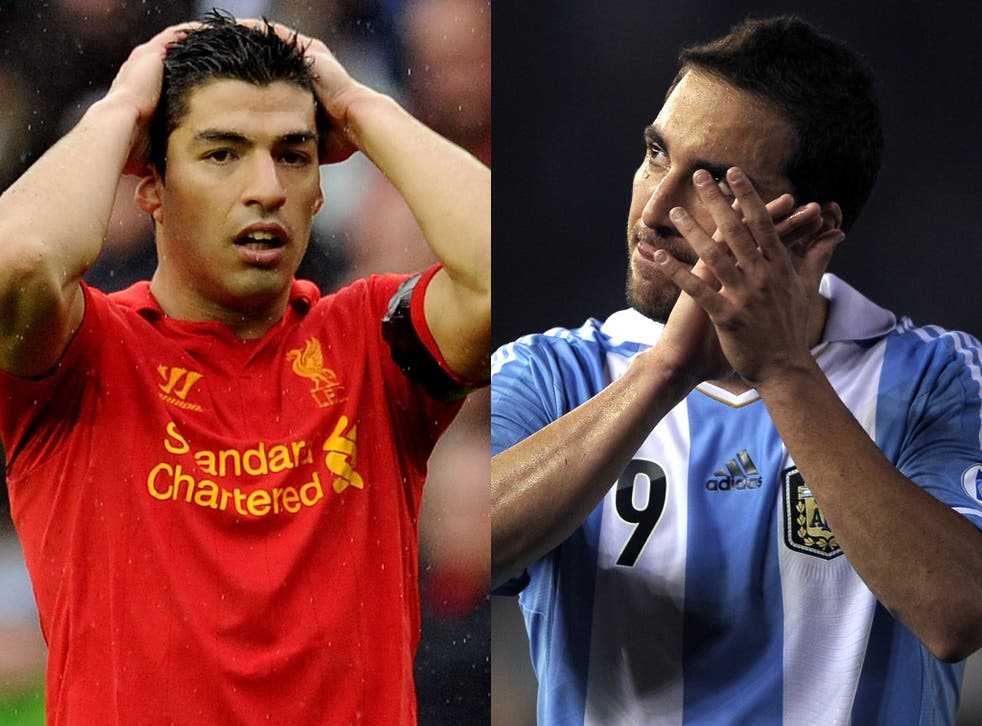 Arsenal will return to Liverpool with an improved bid for Luis Suarez according the the Evening Standard.
The Gunners are increasingly confident that the Uruguay international can be prised away from Anfield, although their initial bid of £30m, which was turned down immediately, will have to be greatly improved upon.
The increased interest in Suarez comes amid their faltering pursuit of Gonzalo Higuain.
At one stage it was thought the Real Madrid striker was on the verge of a move to the Emirates, with the player's father and agent stating that negotiations were at an "advanced stage".
However, Real Madrid's stance on selling the Argentina international has changed. While they had seemingly been prepared to let the striker leave, sources in Spain indicate that the 25-year-old may have a future at the Bernabeu after all and it will take a huge offer to change their minds.
Arsenal were confident they would agree a £23m deal for the Argentina striker last week, but Madrid president Florentino Perez claims no offer has been received. It is also understood the Spanish giants' valuation of him is much higher than £23m and he will report for pre-season training on Monday.
Madrid were favourites to sign Suarez, who revealed he wanted to leave Liverpool earlier this summer having grown fed up with the English media.
But it is believed the Spanish club are not prepared to pay the £40m fee they think it will take to acquire him from Liverpool.
That is significant for Arsenal because while Madrid may now keep Higuain, it means manager Arsene Wenger will have less competition for Suarez.
The striker himself hinted in an interview earlier this week that he may be prepared to stay in English football after all.
He said: "[English] clubs still value players for what they can do on the field. That makes me think I can come back and do well there. It's good that the English clubs still want me."
Meanwhile, Everton midfielder Fellaini fears his dream switch to Arsenal will not happen. Fellaini has a £23.5m release clause in his contract that expires on August 15.
The Belgium international remains a target for Wenger, but he thinks Arsenal want to sign two strikers before making a bid for him. Wenger has around £70m to spend and will make a move for Fellaini only if he has money left.
Zenit St Petersburg also want him, but the 25-year-old does not want to play in the Russian League.
Chelsea and Manchester City have shown interest, but sources close to the player suggest their interest has now cooled. Fellaini would be happy to play under new Everton boss Roberto Martinez.
Arsenal's search for another goalkeeper to compete with Wojciech Szczesny will continue because Julio Cesar is in talks with Napoli. Arsenal seemed favourites to sign Cesar, who was put on the transfer list by Queens Park Rangers after they were relegated.
The Brazil international said he wanted to stay in London, but it appears they have failed to agree terms and instead Cesar is negotiating with Napoli over a season-long loan with a view to a permanent move next year.
Related articles...
GALLERY - Arsenal arrive in Jakarta for tour
Wenger refuses to discuss new bid for Suarez
Paul Merson: Arsenal would be a 'massive force' if they sign Higuain and Suarez
Arsenal 'could trigger clause' to bring back former captain Fabregas from Barcelona
Oxlade-Chamberlain says a fit Wilshere is like a new signing for Arsenal
Join our new commenting forum
Join thought-provoking conversations, follow other Independent readers and see their replies