Arsene Wenger thrilled to land 'top class' Lukas Podolski for Arsenal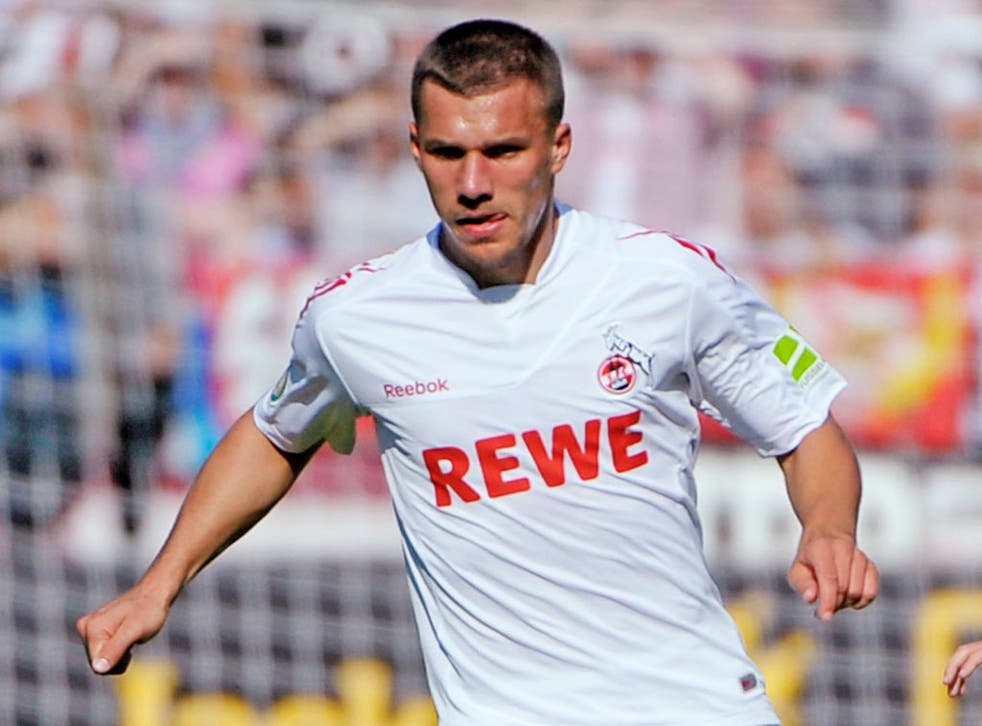 Arsenal yesterday confirmed their first signing of the summer, German forward Lukas Podolski from Cologne. The 26-year-old striker will be in place at the Emirates for next season, with Arsenal paying around £11m for him.
"We are delighted to secure the deal for Lukas Podolski and see him as an important part of our future," the Arsenal manager, Arsène Wenger, said last night. "He is a top-class player, a very good finisher and a proven performer at club and international level."
"He is a very strong player and will provide us with good attacking options. We are happy to have made this signing early and we're looking forward to watching Lukas contribute at the European Championship over the summer, a level where he has already made 95 caps at the age of 26 – a phenomenal record [which] just shows his quality as a player."
Podolski was delighted at the chance to play in England. Unless there is some dramatic collapse over the final games, he should play Champions League football again next year too.
"I'm so happy to be joining Arsenal Football Club and to play in the Premier League," said Podolski, who discussed a possible move with his Germany team-mate Per Mertesacker. "Arsenal is one of the top clubs in Europe with a huge history. There are many top-quality players at Arsenal and the style of football which the team plays is fantastic. I'm proud to become an Arsenal player and am looking forward to playing my first match at Emirates Stadium and doing my best for all the Arsenal fans."
The purchase of Podolski suggests a willingness at Arsenal to do their business early, before the distractions of the European Championship. Last summer Arsenal did not sign Mikel Arteta, Per Mertesacker, Yossi Benayoun, Andre Santos or Park Ju-young until the final days of the transfer window, and the team did not settle until a few months into the season.
Podolski is able to play up front or on the left of a front three. He could be a very effective partner to Robin van Persie next season, playing on the left of a front three, which is his role for Germany. He would be a superior alternative to Van Persie than either Park or Marouane Chamakh, certainly. But there are understandable fears from some Arsenal fans that Podolski may be replacing their captain and the recently crowned PFA and FWA player of the season, who has just one year left on his contract and is subject to interest from Manchester City and Juventus.
Podolski started his career at Cologne, where he emerged through the youth system into the first team. He joined Bayern Munich in 2006 and after three years in Bavaria, during which he won the German title, he returned to Cologne, where he is the best player and a hero to the fans. Even though Cologne are in the relegation zone, Podolski is the fourth top scorer in the Bundesliga, and is enjoying his best season, with 18 goals from 28 games.
It is for his achievements with the national side, though, that Podolski is most famous. He was excellent in the 2006 World Cup, in which he was named Best Young Player. Two years later, Podolski was the second-top scorer in Euro 2008, and he had a good World Cup in 2010 too.
For Arsenal's final two games of the season, at home against Norwich City on Saturday and then away at West Bromwich Albion on 13 May, they will be without French midfielder Abou Diaby, who suffered a thigh strain during a substitute appearance in Saturday's 1-1 draw at Stoke City. Diaby has made only five substitute appearances all season but he is now a doubt to make the France squad for Euro 2012.
Join our new commenting forum
Join thought-provoking conversations, follow other Independent readers and see their replies