Arturo Vidal to Manchester United: Shinji Kagawa or Javier Hernandez could be offered to Juventus to make breakthrough
Concerns over the fitness of the Chile international are making Manchester United wary of a straight cash deal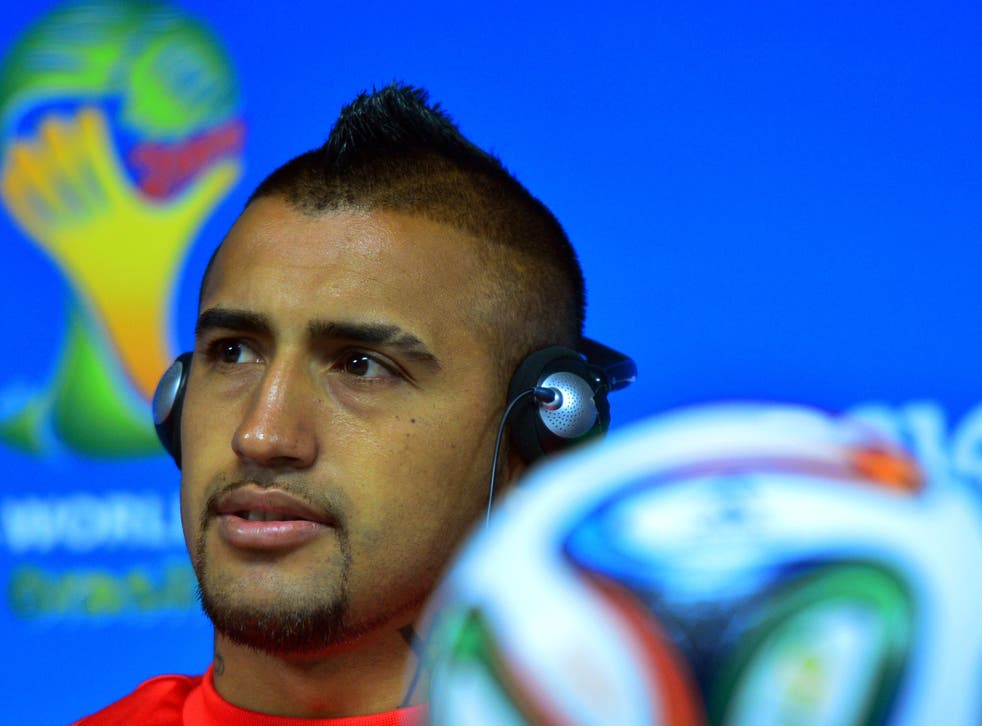 Manchester United may attempt to use a makeweight in any deal to sign Arturo Vidal from Juventus, with their concerns about the player's fitness likely to make a straight cash deal difficult to reach.
Shinji Kagawa, whom manager Louis van Gaal pointedly declared at the weekend had been incapable of operating in a new designated central position, could possibly be used to secure a breakthrough, with the €40m (£32m) the Turin are side are likely to want seemingly unrealistic.
With AC Milan's Nigel de Jong not on United's wish list, Vidal appears to be their only option. The Ajax player Daley Blind – another possible 11th-hour target – can also operate in midfield, although his agent, Rob Jansen, said on Tuesday that Manchester United had not yet made a bid. Javier Hernandez could be an alternative bargaining chip for United – who will present £59.7m Angel Di Maria as their new No 7 on Friday – though Kagawa may be more appealing to the Italians.
But at the back of United minds will be the wretched experience – for both them and the player – that the 2007 signing of Owen Hargreaves from Bayern Munich proved to be. Hargreaves was plagued by knee trouble and played only 39 games for United in four seasons. Sir Alex Ferguson later labelled him his "worst" signing.
United are likely to argue that Juventus used Vidal for their own ends as part of their busy conclusion to last season – when they won Serie A and were Europa League semi-finalists – at a time when the meniscus trouble he was experiencing demanded medical intervention and rest. Only when Benfica had eliminated the Italians from the Europa League did the 27-year-old undergo surgery on his knee, and only then so he could be ready for Chile's World Cup campaign.
Juventus are looking for a substantial profit on the player, having paid Bayer Leverkusen only €10m (£7.9m) for him three years ago but have already missed out once by setting too high a price. Real Madrid's interest led to a meeting before the World Cup between Vidal's Argentinian agent Fernando Felicevich, Real president Florentino Perez and manager Carlo Ancelotti but the €60m (£47.8) asking price proved too high. Real instead bought Toni Kroos –a player three years younger than Vidal and half the price – €30m (£23.8m).
The sense that United might be interested developed a month ago. Beppe Marotta, Juventus chief executive, has categorically declared that Juve's former United midfielder Paul Pogba is not for sale but he has not made the same point about Vidal.
The view from Juventus is that the meniscus is not such a complicated issue as ligament damage but United view the player's physical position with concern. United are acutely aware that Vidal has not started a Serie A game for the Turin side since the 2-0 defeat at Napoli on 30 March – and that he was subsequently asked to played four times, late last season, before the knee was operated on.
Di Maria will join up with his new United team-mates at training on Wednesday and the club hope to formalise his work permit and registration by noon on Friday if he is to figure against Burnley on Saturday. A work permit, however, has yet to be arranged for his compatriot Marcos Rojo.
Real Madrid are close to agreeing a deal for United's young Uruguayan right-back Guillermo Varela. The 21-year-old only joined United a year ago from Penarol but will move to Real's B team Castilla to play under Zinedine Zidane. The deal is likely to be a loan with a view to a permanent £3m transfer.
Join our new commenting forum
Join thought-provoking conversations, follow other Independent readers and see their replies