Cesc Fabregas transfer latest: Where could the midfielder move to if he leaves Barcelona - Arsenal, Chelsea, Liverpool?
Fabregas has been linked with a return to the Premier League but there are a number of club's rumoured to be interested in his services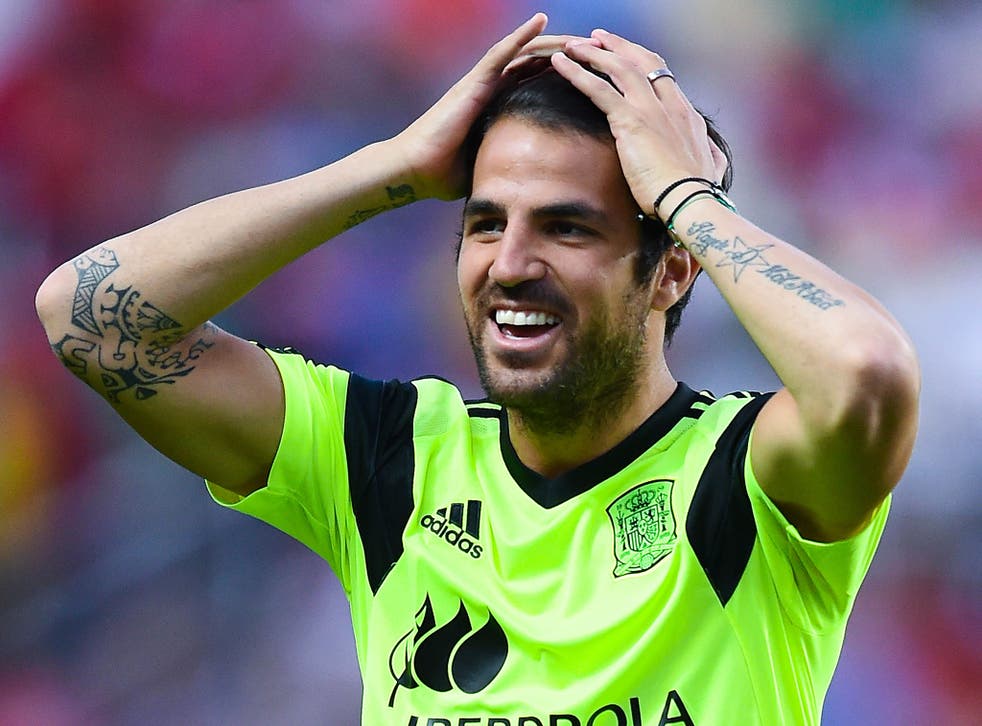 Cesc Fabregas looks to be on his way out of Barcelona if reports this week are anything to go by, with new manager Luis Enrique set to rejuvenate the squad he has inherited from Gerardo Martino after their trophyless season.
The former Arsenal captain has been rumoured to be available for £30m, but somewhat surprisingly it appears he will not be chased by the Gunners even though they hold a buy-back clause in his contract that allows them to match any accepted bid.
So where could Fabregas, 27, end up at the end of the summer given that he is believed to prefer a return to the Premier League?
Arsenal
A return to the Emirates would have been a favourable option given that Fabregas is still held in such high esteem by the Gunners faithful. But it appears that Arsene Wenger will refrain from making any attempt to sign his former skipper as he feels the current creative talent available to him in Mesut Özil, Aaron Ramsey, Santi Cazorla and Jack Wilshere is more than enough, and will instead focus on strengthening his squad in other positions such as at right-back and striker. A move back to London would also have suited Fabregas and his family, having lived there previously.
Chelsea
The fact that moving to London appeals to Fabregas and his family could see things sway in Chelsea's favour, and with Blues stalwart Frank Lampard confirming his Stamford Bridge exit on Monday they are in need of strengthening in the middle. Jose Mourinho has lamented his shortage of consistent strikers last season, but Fabregas would offer a number of goals from the midfield.
One problem would be Mourinho's preference to start a slightly defensive line-up in the bigger games, and with Nemanja Matic impressing since joining in January, that leaves just one central midfield position for Ramires and Fabregas to battle for. The Spaniard could of course play higher up the pitch in the attacking midfield trio, although he is again by no means a given in being an automatic choice ahead of Oscar, Eden Hazard or Willian. Mourinho is understand to be keener on other targets than Fabregas.
Transfer analysis: The players set for major moves this summer

Show all 21
Liverpool
The Premier League runners-up have the added bonus this season of offering Champions League football, and in turn can expect to draw players with a larger reputation to Anfield this summer. It was reported over the weekend that Liverpool led the way in the battle for Fabregas, but their interest in England star Adam Lallana could prove decisive in any move for the Spain international. With £25m currently tied up in an offer for Lallana, shelling out another £30m for another midfielder would be highly unlikely given that the current options of Steven Gerrard, Jordan Henderson, Philippe Coutinho and Raheem Sterling performed so impressively last season.
But with Liverpool's move for Lallana said to be a "final take it or leave it" offer, and with Southampton stalling on any deal until they appoint a new manager, the Reds could quickly structure a deal to bring in the World Cup winner from Barcelona.
Manchester City
The Premier League champions pulled out of the running for Fabregas in the past few days according to various reports, but they could quickly reignite their interest in him if Yaya Toure decides his unhappy birthday is reason enough for him to leave the club. Should Manuel Pellegrini lose arguably his greatest talent in the squad – he's certainly the most influential midfielder City have – the Chilean could look to add Fabregas to his already talent-laden squad. The prospect of seeing Fabregas link up with his Spanish team-mate David Silva each week in the Premier League is one to relish, though as things stand it's probably the most distant outcome. Toure could yet change that.
Manchester United
David Moyes and Ed Woodward missed out on Fabregas last summer having offered £25m in an effort to sign him, and despite Moyes getting the sack before the end of the season, United still have a dearth of creative talent in their midfield. The £27.5m signing of Marouane Fellaini hasn't worked out while both Michael Carrick and Tom Cleverley have failed to spark over the course of the season Much like seeing Fabregas alongside Silva at rivals City, he would be able to link up with United's January signing Juan Mata, although both prefer to play through the middle and could end up getting in each other's way.
That United haven't followed up their interest as of yet suggests that they will not press on with an move for the Barcelona midfielder, although once incoming manager Louis van Gaal begins his work at Old Trafford full-time and without the distractions of a World Cup campaign, he could move for Fabregas – especially if he has the reported £150m-£200m transfer budget to work with.
Paris St-Germain
Fabregas has hinted that he would like a return to the Premier League, but at 27 he could still stop off for a couple of years in France on the way. Ligue 1 doesn't offer the same competitiveness as the Premier League, yet the allure of the Champions League would appeal to Fabregas given that PSG reached the quarter-finals last time out and will be looking to push on further next season. Having been hit with similar restrictions to Manchester City with Financial Fair Play restrictions from Uefa, and a £48m move for David Luiz expected to go through sooner rather than later, the Parisians may have to sell before they can buy.
Juventus
A hugely surprising move for Fabregas would be to head to Italy and the Serie A champions, but reports this morning claim that their central midfielder Arturo Vidal could be on his way to Real Madrid in a swap deal for striker Alvaro Morata. That would leave a gap in the Italian's midfield that they could look to plug with Fabregas, and with talented Frenchman Paul Pogba already in Turin, Juve would certainly have an entertaining midfield to boast.
Join our new commenting forum
Join thought-provoking conversations, follow other Independent readers and see their replies