David Beckham to give £4m PSG salary to children's charity
Former England captain joins super-rich Paris club on five-month deal - but could earn from merchandising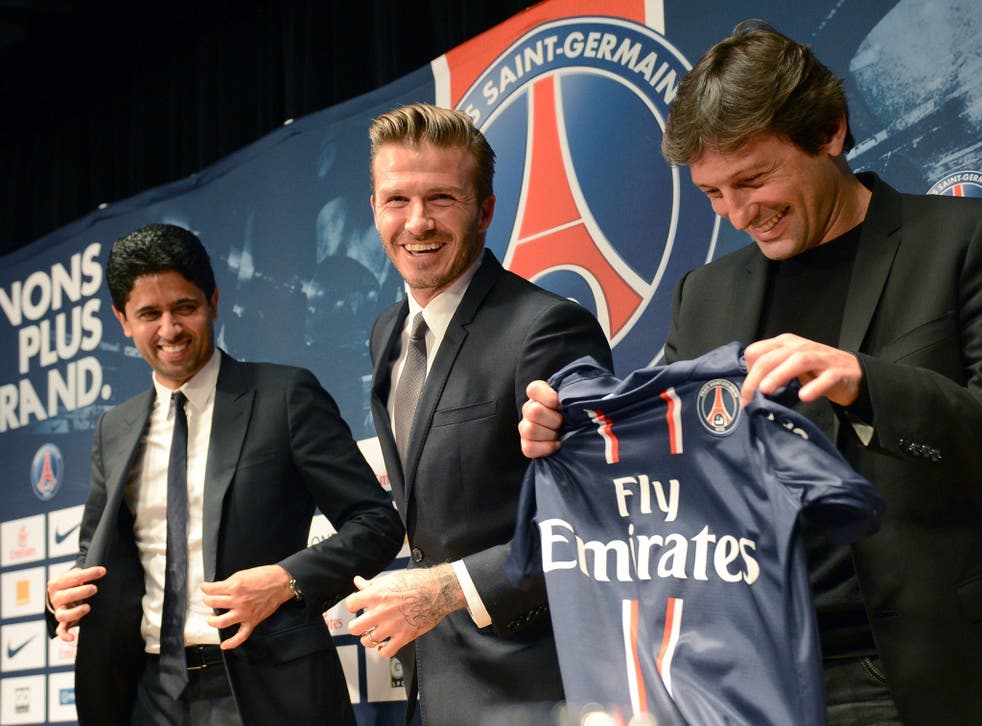 David Beckham's €10m-a-year (£8.5m) salary for his new club Paris Saint-Germain will be given to a children's charity here in the French capital, the player has announced.
After being presented like a rock or film star to a crowded press conference at the Parc des Princes, Beckham, 37, parried questions suggesting that he was now a highly paid icon rather than a footballer. "It's always for me about playing football," he said. "But one of the reasons why I agreed to come to Paris is that I won't receive any salary. It will all go to a local children's charity."
Cynics might suggest that this is a neat way of avoiding the punitive new taxes on the super-rich which are to be introduced in France later this year. Beckham – greeted even at the press conference with cries of "Daveed, Daveed" and "Bravo!" – insisted that he had chosen PSG because he wanted to be part of the Qatar-funded plans to make the club "one of the greatest in the world".
Although Beckham signed only a five-month contract, he said that he had "discussed" the possibility of staying at the club in some sporting or promotional capacity when his playing career ends. No mention was made of what Beckham might earn from image and merchandising rights. His wages, which he will not claim, are understood to be around €800,000 a month.
After training with Arsenal in recent days, Beckham said that he hoped to make his debut in Ligue 1 "in the next few weeks" – but not this weekend or next. With only 15 league games remaining this season, Beckham's career with PSG – his fifth professional club – may amount to only a handful of matches.
Asked what he thought that he could bring to PSG on the field, Beckham said: "I have won 13 or 14 championships. I have played with some of the greatest clubs and greatest players in the world. I am still fit. I can run around and play just like I did when I was a 21-year-old. I haven't lost any pace because, to be quite honest, I was never a player who had much pace."
Beckham said that his wife and family would remain in London so that their three children could remain in their present schools.
Wearing a grey suit and grey tie, a big grin and a small beard, Beckham was asked if he could remember any French from his school days in Leytonstone. "Bonjour," he said. Asked why he had refused all offers from Premier League clubs, Beckham said: "I'm very lucky. I am 37 years old. I got a lot of offers [since his contract with LA Galaxy ended last month]. I got more offers than I ever had. At my age!
"I chose Paris because I can see what they are trying to do. This is an exciting city. It always has been. Now there is a club here which is going to be one of the top clubs in the world in the next 10 to 15 years. I don't say that I'm still going to be playing myself in 10 years' time."
He said there was never any question of his going back on his pledge when he left Manchester United that he would never play for another English club. "I had a wonderful time and lots of success at United," he said. "It's the team I support. I couldn't play for another club in England."
Beckham's arrival at PSG – with the club second in Ligue 1 and qualified for the knockout phase of the Champions League – received mixed reactions here. Some fans were delighted at the reversal of the usual one-way traffic in football talent across the Channel.
Others said that they thought Beckham was here for commercial and publicity reasons – for Qatari purposes as much for the promotion of PSG. "The fans will take a lot of persuading about Beckham," said Jean-Luc, proprietor of a sports bar in the shadow of the Parc des Princes, last night. "This is a PR deal, not a football deal. He will sell a lot of shirts but how many goals will he score?"
Join our new commenting forum
Join thought-provoking conversations, follow other Independent readers and see their replies