Liverpool urged to sell Luis Suarez by former midfielder Jan Molby
The striker has said he wants to leave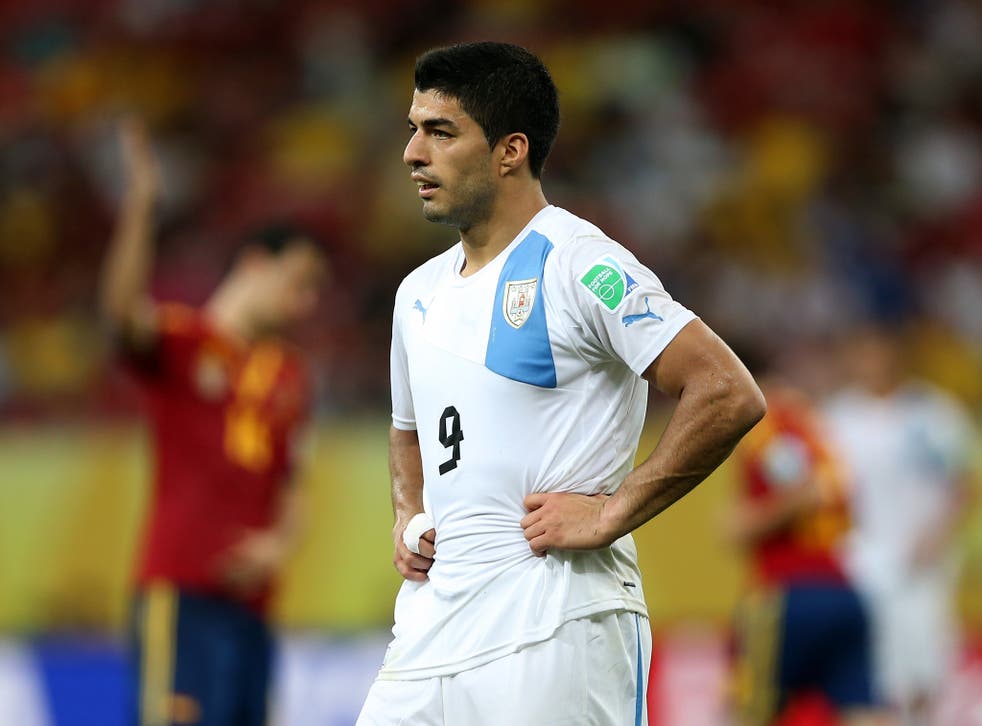 Former Liverpool midfielder Jan Molby believes the club have to sell striker Luis Suarez as keeping an unhappy player is not helpful.
The Uruguay international is still on leave after international duty at the Confederations Cup but while he was in Brazil he made a number of references to disliking the way he has been treated by the British media while admitting it would be difficult to turn down a move to Real Madrid.
However, there have been no offers for the 26-year-old and no word from him or his representatives on whether he expressly wishes to leave Anfield.
Suarez, who has three years left on a contract signed last summer, is scheduled to return for the Australia and Thailand legs of the Reds' pre-season tour and the club do not want the speculation to provide further distraction throughout the transfer window.
But Molby believes if Suarez is as unhappy with aspects of British life as he claims to be then the Reds would be wise to sell him on.
"The last thing you want is an unhappy player and Liverpool know that," Molby told BBC Radio Merseyside.
"They've been busy in the market (manager Brendan Rodgers has made four signings already) and it appears they're almost readying themselves for life without Suarez.
"I think he's made it pretty clear that he would like to try something new, including playing at a club that's in the Champions League.
"If that's how he feels, the club has to do the business."
There has also been speculation about goalkeeper Jose Reina, also still on holiday after the Confederations Cup, and a return to Barcelona.
The arrival of Sunderland's Simon Mignolet has raised further questions about the Spain international's future and Molby expects both Reina and Suarez will leave before the end of August.
"I'd be surprised if both of them were here on September 1," he added.
"Could you imagine Mignolet wanting to come to Liverpool and not play?
"He has his own ambitions and one of them is to be part of a very exciting Belgian national team.
"In the first three or four years Pepe (Reina) was here he was as good as the club's ever had and as good as there was anywhere in the world.
"He hasn't quite been the same in the last couple of years but I think he's a great goalkeeper.
"Possibly the time has come for him to move on and if there's an opportunity for him back in Spain, so be it."
While speculation continues about Liverpool's senior players, captain Steven Gerrard believes their rising stars have to shake off their promising youngsters tag and prove they are good enough to compete for a regular first-team place.
Seven academy graduates were given opportunities last season and Gerrard thinks it is time some start to take more responsibility.
"You only get described as a young lad for a certain amount of time and then it's time to become a man and perform on a consistent basis," he told LFC TV.
"There is great talent at the club at a young age; the manager has been trying to get a young group of players together that can perform well for him.
"It's a big season for a lot of players - you look at (Raheem) Sterling and (Jordan) Henderson.
"Of course it's a big season for every player we've got, but I think the supporters will be looking for the young lads to step up now, try to push people out of the way and become regulars in the team.
"I'm certainly looking forward to seeing what happens with those young players."
PA
Join our new commenting forum
Join thought-provoking conversations, follow other Independent readers and see their replies