Pep Guardiola hoping to get it right this time round as Manchester City close in on Ederson
City are close to signing Ederson from Benfica for £33m and are confident that the 23-year-old is the perfect goalkeeper to fit Guardiola's unique system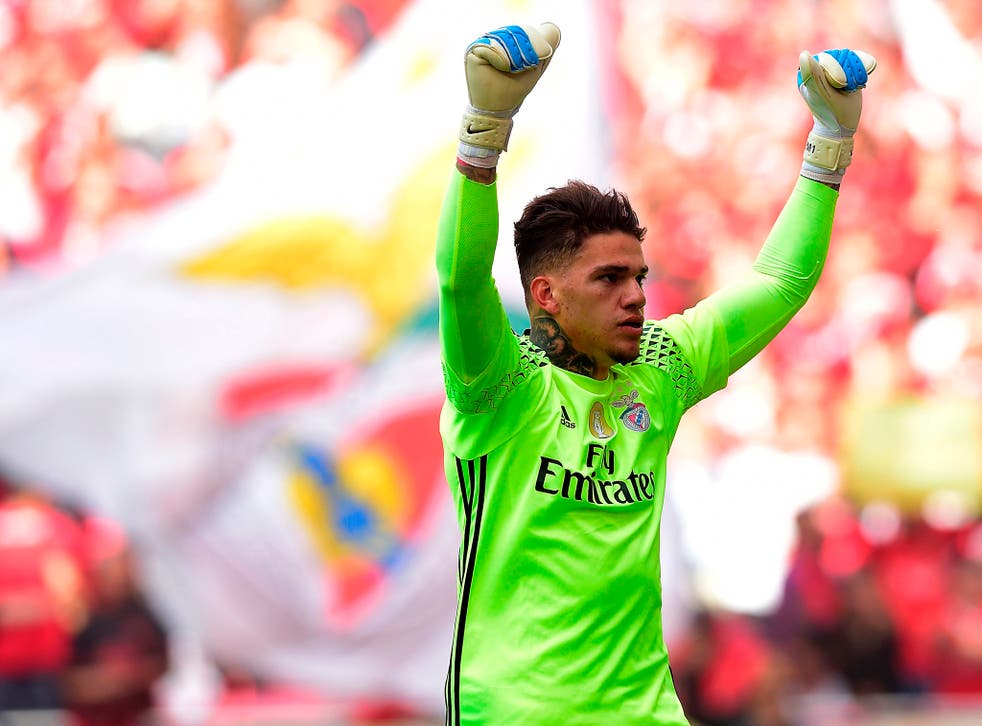 Manchester City tried to buy the right goalkeeper for Pep Guardiola's system last summer when they paid Barcelona £17m for Claudio Bravo. It did not work which is why City are having to go back into the market this summer too, and are close to signing Ederson from Benfica for £33m.
It is a huge fee for a goalkeeper, but one that underlines just how important it is to Guardiola and City that this summer they get this move right. Guardiola football requires a goalkeeper who can start moves from the back, pass the ball briskly and safely cover the huge expanse of space in front of him.
That is the area where Bravo has struggled so much. Guardiola wants his defence to play as high up the pitch as possible, so that they dominate the game. This can leave his teams vulnerable on the break which means he needs his keeper to be quick off his line to defend one-on-ones, just as Victor Valdes and Manuel Neuer always were. But Bravo repeatedly struggled to do this and it was Willian's goal past him on the break at the Etihad Stadium last December that transformed the title race.
But City are confident that in Ederson they have the perfect fit. Guardiola has been a long-term admirer of him and they even considered a move for him last summer. He certainly ticks all the boxes that City are looking for. Ederson is rated by scouts as being one of the very best goalkeepers with his feet in the world, over short and long distances, making him the ideal man for City.
The other big advantage that Ederson has over Bravo is age. He is only 23, remarkably young for an elite goalkeeper. The expectation in Portugal is that within a few years he will be one of the very best in the world, behind David de Gea and Jan Oblak. The fact that Jose Mourinho saw Ederson as an alternative to Oblak should De Gea go to Real Madrid underlines his reputation within the game.
If Juventus' decision to spend €53m on a 23-year-old Gianluigi Buffon raised some eyebrows, 16 years on he is about to lead Juventus into another Champions League final. He has won eight Serie A titles with Juventus as well has having had another two scrubbed off. If City can get a fraction of Buffon's consistency, quality and longevity out of Ederson then it will be a very wise investment.
As with Bernardo Silva, City have moved quickly to tie up a player whom United admired from afar. It is testament to how quickly City want to move on from the disappointments of last season, when they finished third, that they have tied up one top target and are now close to sealing another.
This week they will move onto full-backs, their next priority, and suddenly the 2017-18 team will start to take shape. Having got their decision on a goalkeeper wrong last year, though, this time City need to get it right.

Join our new commenting forum
Join thought-provoking conversations, follow other Independent readers and see their replies