Manchester City prepared to offload Edin Dzeko to fund new signings
£27m striker attracting interest from Germany as Mancini looks to overhaul forward line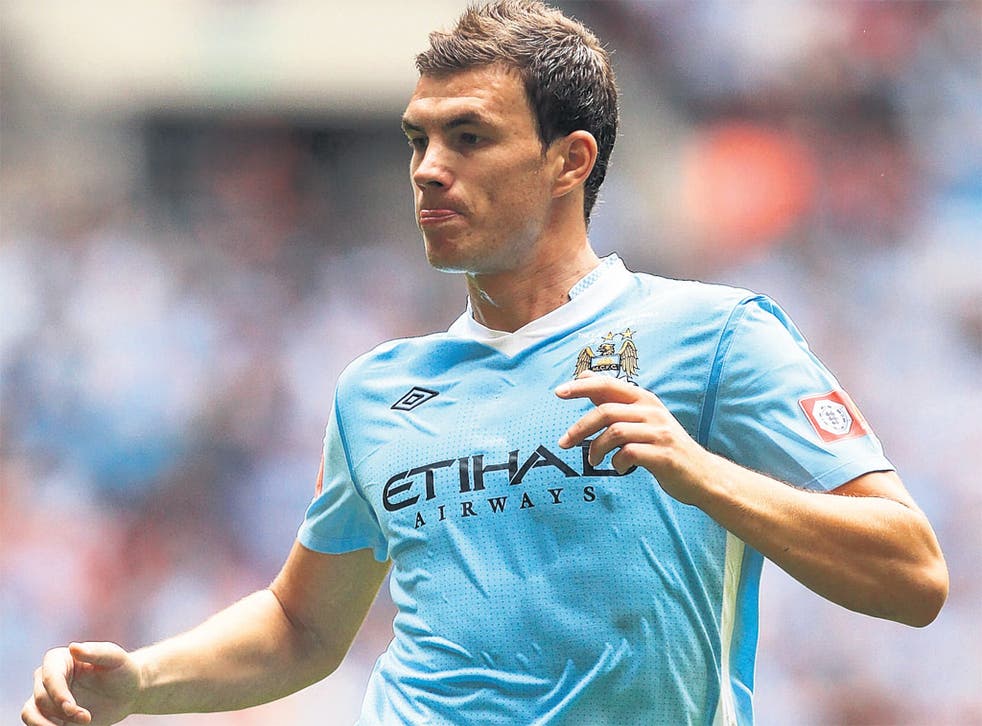 Manchester City's Edin Dzeko sees the Bundesliga as his escape route from an ultimately unhappy 18 months in England and is likely to make a move to Bayern Munich this summer if an offer comes in.
Dzeko arrived in England in January last year with a reputation buoyed by his high scoring rate – 66 goals in 111 appearances for Wolfsburg. But privately City acknowledge that he is a player who needs to be loved – something which is not in manager Roberto Mancini's repertoire – and despite starting the season in electrifying form with six goals in his first three Premier League games, his lack of consistency means the Italian is ready to move him on to help fund new signings this summer.
Though there has been no direct contact from the Allianz Arena, where Dzeko was involved in the notorious touchline controversy which initiated the Carlos Tevez saga last September, a move is quite possible. The feeling at City is that Bayern are the only German club capable of matching the 26-year-old's £100,000 wages.
The strength of Bayern's front line – and in particular the presence of Mario Gomez – could be impediments for Dzeko, who wants to feature more often. But Borussia Dortmund may provide another escape route if Dzeko is willing to take a reduction in wages. Dortmund, who defeated Bayern last week to go eight points clear of them at the top of the Bundesliga, have identified Dzeko their No 1 target as a potential replacement for Robert Lewandowski, the Polish striker who has scored 21 in 37 games this season and is expected to leave this summer.
There are suggestions from the Lewandowski camp that City might actually be interested in the 23-year-old Pole, who has been as prolific for Dortmund as he was previously at Lech Poznan. Though Mancini's priorities lie elsewhere, in the form of Lille's Eden Hazard and Napoli's Edinson Cavani – who performed so well in helping eliminate City from the Champions League in the autumn – Lewandowski certainly appears to fit the City system more than Dzeko. He operates well off a main striker.
Dzeko, for whom City paid out £27m, has been a different type of player and one who has suffered the same problem as Liverpool's £35m Andy Carroll since he signed: an absence of crosses. Mancini does not generally operate with wingers sending high balls into the box, which generally prevented City playing to his strengths.
The summer may prove to be a complex one in the striker department, with City needing to offload Emmanuel Adebayor and Roque Santa Cruz as they complete the overhaul of players bought at the beginning of the club's development under Mark Hughes. If they can manage that, they may have enough to move for Cavani and Arsenal's Robin van Persie. The future of Mario Balotelli is also unclear and despite the player's public assurances that he will be at the club next season, City know they can never bank on his next move. The position with Balotelli is that a transfer will be considered if the right offer comes in, rather than the club actively seeking to ship him out.
City will want to recoup much, if not all, of their outlay on Dzeko. These are financially far more straitened times at the club, despite superficial appearances to the contrary. The club may also be seeking to move out defender Stefan Savic – possibly on loan, possibly for cash if the initial interest coming from Italy hardens up. It appears David Pizarro's loan will not be extended.
Hit and mostly miss: City strikers
Edin Dzeko's likely exit is just the latest example of City's failure to find an effective and reliable strike force. Of the forwards brought to the club since Sheikh Mansour's takeover in 2008, only Sergio Aguero and Carlos Tevez can claim to provide value for money.
Waste of money
Robinho £32.5m from Real Madrid. Games: 53, goals: 16. Wages: £160,000. Sold to Milan for £22m
Emmanuel Adebayor £25m from Arsenal. Games: 45, goals: 19. Wages: £175,000 (£70,000 currently paid by Tottenham). On loan at Spurs.
Roque Santa Cruz £17.5m from Blackburn. Games: 24, goals: 4. Wages: £90,000 (an unknown amount currently paid by Real Betis). On loan in Spain
Craig Bellamy £14m from West Ham. Games: 51, goals: 15. Wages: £90,000. Free transfer to Liverpool.
Jury's out
Mario Balotelli £24m from Internazionale. Games: 59, goals: 27. Wages: £120,000. Still at the club.
Worth the cost
Sergio Aguero £38m from Atletico Madrid. Games: 43, goals: 28. Wages: £200,000. Still at the club.
Carlos Tevez £47m from Manchester United. Games: 97, goals: 57. Wages: £200,000. Still at the club.
On his way?
Edin Dzeko £27m from Wolfsburg. Games: 62, goals: 24. Wages: £100,000. Still at City, but for how long?
Join our new commenting forum
Join thought-provoking conversations, follow other Independent readers and see their replies