Antoine Griezmann's situation has changed once again but Manchester United deal remains some way off
United's hope of signing the Atletico Madrid forward began to fade until Diego Simeone cast doubt on his future in the Spanish capital - but he could yet remain there with a different club
Miguel Delaney
Chief Football Writer
Saturday 25 March 2017 17:45 Comments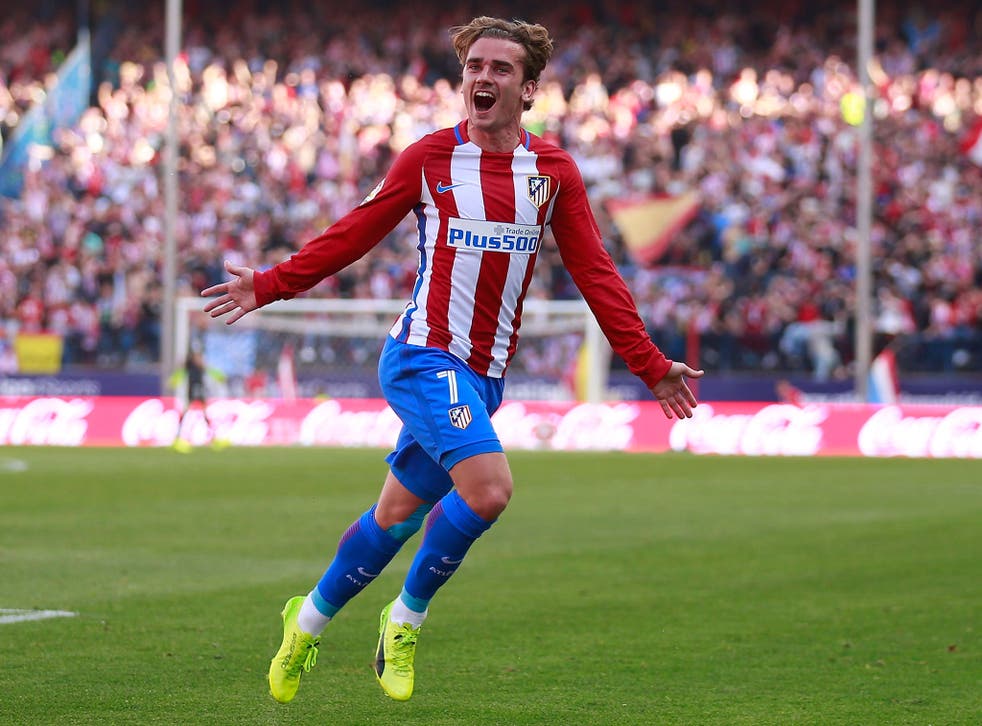 A few weeks ago, Jose Mourinho was talking privately about the prospect of signing a player he greatly wants in Antoine Griezmann - and expressing pessimism at the idea. The Manchester United manager felt at the time that the deal is far too complicated, for a variety of reasons even beyond the buy-out clause.
Some key personnel at Old Trafford believe the Atletico Madrid star wants to eventually go to Real Madrid above anything else, even if that is likely to be even more complicated. Other figures at the club have felt that Griezmann's brother is making things even more difficult, because of how vocal he is. Theo Griezmann has not been shy about expressing his own support for United
The reality is that this is something that is going to keep being talked about until there is decisive moment either way, and that looks some way off. You only have to look at what's already changed.
As recently as mid-January, figures at United were very confident of getting a deal done, because they had agreed the principal numbers of any potential deal. That started to change as contact cooled and, by the end of February, Mourinho and other Old Trafford officials were speaking about it with that pessimism. Atletico by contrast were fully confident he would stay. United sources even said that Griezmann had been "deprioritised" as a target, such was the difficulty of getting it done. They began to discuss other possible primary targets, until this week the situation changed again.
In a surprisingly candid interview, Diego Simeone publicly revealed Griezmann told him he would stay so long as Simeone remained manager of Atletico ahead of their move to a new stadium, but the Argentine gave no such assurances.
"Griezmann said to me: 'if you stay, I'll stay,'" Simeone said. "But from here forward nobody knows what is going to happen. I would never force him to say."
Manchester United power rankings: Who's in form and who must improve?

Show all 10
So, Griezmann says he is now known to be considering his future again. While that does not mean he is definitely leaving, he is keeping his options open. It does not mean United are the automatic choice either. Those close to the club say that although, those principal details are still agreed, a "done deal" is some way off. There would still be an awful lot of negotiation to do, and decisions to make.
It is said Griezmann isn't overly enthused about the Premier League in general, and that does not leave many realistic options. If what United fear is true and he wants to go to Real Madrid, meanwhile, there are also barriers to that. The European champions currently have a pact with Atletico not to sign each other's players. Some close to the situation have pointed out that it is a presidential election year at the Bernabeu, and that usually involves a difficult-to-pull-off landmark signing from Florentino Perez, but he is going to get back in and Real's main priority this summer is a goalkeeper. Barcelona would also obviously be attractive but there is no sign of their front three being broken up, and they are unlikely to buy so big this summer.
There is also the fact that the Old Trafford club have been struggling for buyable alternative options of the status and quality they'd like. Robert Lewandowski's name came up in meetings, but he is probably even more difficult to get than Griezmann. United also have serious interest in Kylian Mbappe, but so does most of Europe. They may eventually go in for Romelu Lukaku, but Mourinho doesn't currently consider the Everton striker close to a primary target, and certainly not worth the £70m they would likely have to pay.
That may well see United fully go back in for Griezmann, now that the door is open again, but he has not exactly closed it on Atletico.
It is likely to keep swinging for some time.
Register for free to continue reading
Registration is a free and easy way to support our truly independent journalism
By registering, you will also enjoy limited access to Premium articles, exclusive newsletters, commenting, and virtual events with our leading journalists
Already have an account? sign in
Join our new commenting forum
Join thought-provoking conversations, follow other Independent readers and see their replies