Manchester United transfer news: Marouane Fellaini and Shinji Kagawa exits to be sanctioned by Louis van Gaal
Anderson, Nani and Javier Hernandez could also depart as Louis van Gaal looks to address a perceived imbalance in his squad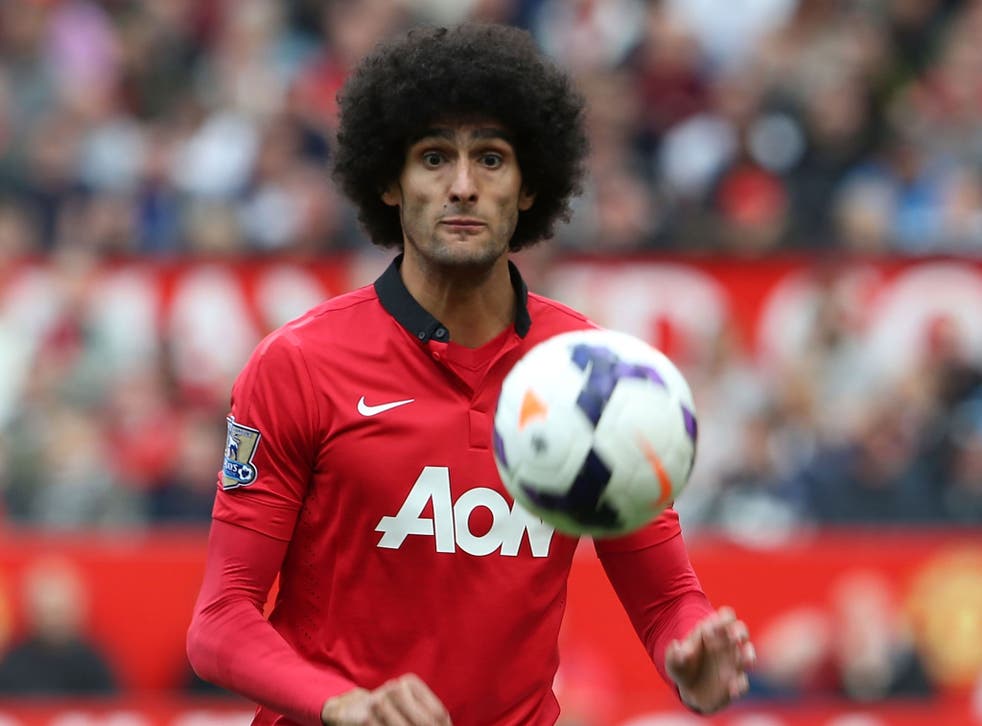 Manchester United are willing to sell Marouane Fellani to Napoli, after indications from new manager Louis van Gaal that last summer's £27.5m signing will not feature in his plans.
Van Gaal may also be ready to allow Shinji Kagawa to leave, with Borussia Dortmund ready to take back a player who made his name there before leaving for Old Trafford, where he has not flourished.
A Fellaini move to Napoli will be contingent on United accepting a loan deal for the player, though they are very keen for a sale to recoup the huge outlay on their fourth most expensive signing. The player would also need to take a considerable cut in the £100,000-a-week salary United agreed when his arrival seemed to salvage something from a desperate transfer window, last summer. Napoli, who are currently looking to move players on to raise funds, are not awash with cash, which is why they want a loan.
Fellaini, who returned to training at Carrington on Monday with his Belgian World Cup teammate Adnan Januzaj, is thought to be receptive to the idea of a move. The Italian side's pitch to him will be that they can offer him the chance to rebuild his career, as well as the prospect of Champions League football. Napoli, managed by Rafael Benitez, think that his physicality would be useful to them in Serie A. There has been informal communication between United and the Italians but discussions are at an early stage.
Though Van Gaal has said he will give players at least four weeks to demonstrate what they can do, the future of 25-year-old Kagawa also appears to be in the balance, with the club looking to reduce the size of their squad and the Dutchman of the view that there is an "imbalance" in it, with too many No 10s – the Japanese player's preferred role. Kagawa has not made an immediate impact in the first two tour games, with the third coming against Inter Milan at FedEx Field, the home of the Washington Redskins, in Maryland on Tuesday evening.
Manchester United: Potential summer transfer targets

Show all 10
Anderson is certainly also a player United want to clear out, though it is not clear who would buy him. Nani wants to leave, too, but no-one is banging United's door down to take him, either. Javier Hernandez is another thought to be ready to re-start his career somewhere else, having failed to live up to the promise of his first season.
Fellaini was clearly stung by the criticism he faced last season, declaring before Belgium exited the World Cup at the hands of Argentina in the quarter final: "I don't need to prove [myself]. I played football for eight years as a professional so I don't need to prove (anything). I always believed in myself."
United's discussion next month of their 2015 pre-season tour plans with Van Gaal will be flavoured by the fact that the club has been invited back to the United States to stage lucrative friendlies in New York, Dallas and Chicago next summer.
Van Gaal has been frustrated with the demands placed on his players in terms of travelling times and distances and was infuriated to face a near two-hour coach journey from Los Angeles to train and play at the Pasadena Rose Bowl. But United's habit of staging successive trips on the same continent points to another US tour next year. Van Gaal is likely to insist, at the very least, that hotels and training bases are nearer to stadiums, and that high altitude and intense afternoon heat are avoided. Dallas is a location which would need to be handled very carefully.
Former United full back Denis Irwin has said that fans must accept that Luke Shaw will make mistakes. "His crossing is fantastic, as is his link-up play going forward," Irwin said. "But when you are a young lad defending, you make mistakes. It is part and parcel of learning. We have to accept that, because he is young, he will be making one or two mistakes. But going forward, he will be a huge asset, particularly with his pace."
Irwin does not believe expectations on Shaw will daunt him. "Maybe [they are there]," he said. "But sometimes when you are young, you just get on with things and don't feel the pressure too much," he said. "You play without fear. It is only when you get older that you start thinking about the game more.
Join our new commenting forum
Join thought-provoking conversations, follow other Independent readers and see their replies