With Barcelona waiting, how Alberto Moreno could be the key to Philippe Coutinho's Liverpool future or lack of it
It does not take a great deal for footballers to become unsettled, especially if their support structures are taken away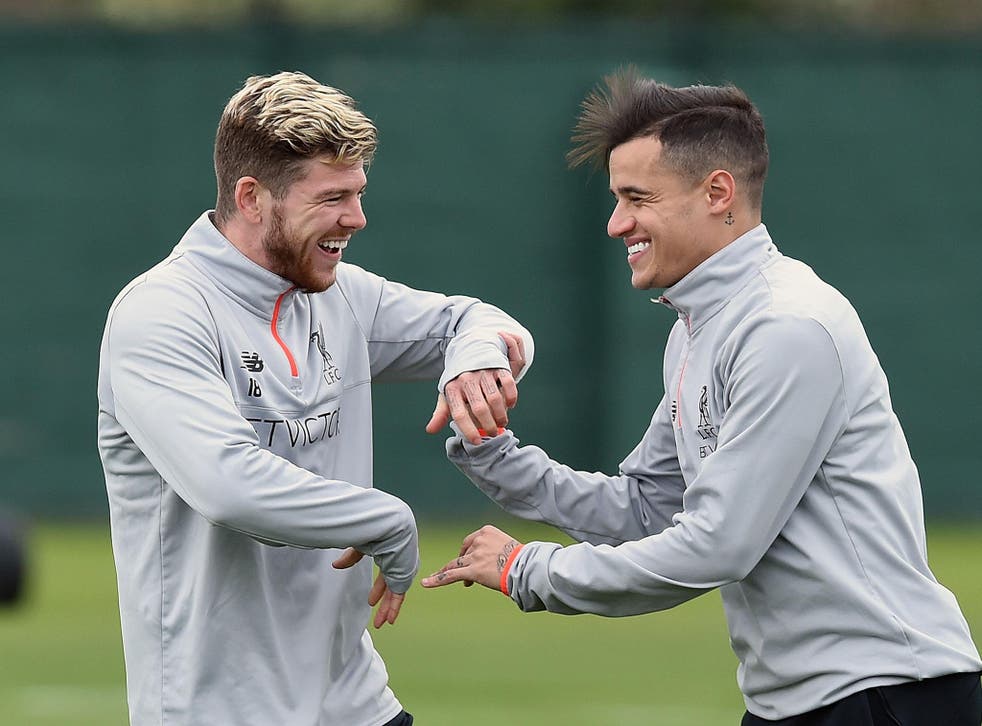 In the south end of Liverpool where Calderstones Park blurs into Woolton, a contingent of South American footballers have formed the sort of tight union that tends to happen between expatriates when they are far away from home. Birthdays, Halloweens, Christmases and christenings are reliably spent together, usually over a barbeque. Alberto Moreno, the Spaniard, is an important addition to the pack; his role as comedian well established.
It is a dynamic the decision makers at Liverpool should be considering, after Jürgen Klopp was compelled to say, "we are not a selling club," following Barcelona's £72million bid for Philippe Coutinho.
It seems an unusual subplot but perhaps it will be Liverpool's recruitment of Hull's Andrew Robertson that prompts Coutinho to really think seriously about what to do next because the impending arrival of a new left back brings into focus the future of Moreno, indeed, who is available to purchase from Liverpool for £15million.
How could Liverpool line up next season?

Show all 12
Though there have not been any buyers willing to go near meeting that figure so far, Liverpool might encounter a very modern problem – and genuinely, a social one – should Moreno find a new club. It does not take a great deal for footballers to become unsettled, especially if their support structures are taken away. Moreno's friendship with Coutinho is very close.
This was illustrated last Sunday when a 25-man Liverpool squad boarded a Malaysia Airlines flight to Hong Kong. Coutinho and Moreno chose to sit next to each other at the back of the plane, with Coutinho's countryman Roberto Firmino positioned in the middle aisle beside Simon Mignolet.
It is not the first time the pair have travelled together this summer. When Firmino was married in Rio de Janerio last month, Coutinho and his wife Aine along with Moreno and his girlfriend Lilia Grandilla, together with their young daughters, flew to Brazil for the ceremony. Coutinho, who was born in Rio, acted a tour guide and amongst the many photographs taken was one of the families in front of the famous Christ the Redeemer statue.
Firmino is said to be considering moving to Formby, some 20 miles away from his current home near Coutinho and the others, though the 'others' does not include Lucas Leiva anymore – who was sold this week to Lazio.
Though Lucas was older and had friendships with players from other areas of the globe – and other areas of the city, his presence in Liverpool's south end will be missed by those who knew him the most, particularly Coutinho who has spoken before about the midfielder's important role during his own settling in period on Merseyside after signing from Inter Milan in 2013.
Nestled amongst the farewells on an official goodbye video to Lucas was an admittance from Moreno that he'd suggested to him that a fresh start in Italy was a good idea having spent a decade at Anfield. Moreno's message acts as a reminder that players talk between themselves, while inviting the question: what will he and Coutinho be discussing in the hotel rooms of Hong Kong?
Register for free to continue reading
Registration is a free and easy way to support our truly independent journalism
By registering, you will also enjoy limited access to Premium articles, exclusive newsletters, commenting, and virtual events with our leading journalists
Already have an account? sign in
Register for free to continue reading
Registration is a free and easy way to support our truly independent journalism
By registering, you will also enjoy limited access to Premium articles, exclusive newsletters, commenting, and virtual events with our leading journalists
Already have an account? sign in
Join our new commenting forum
Join thought-provoking conversations, follow other Independent readers and see their replies