Reaction to Robin van Persie's completed £24m transfer from Arsenal to Manchester United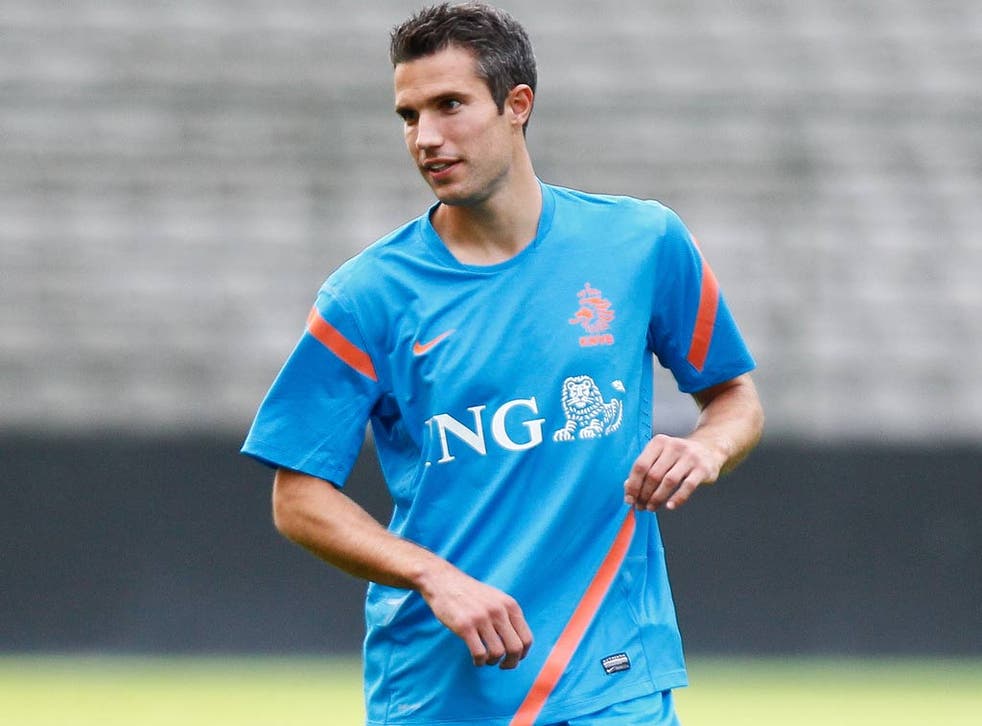 Robin van Persie today completed his £24m move from Arsenal to Manchester United.
Here, we take a look at the reaction to his transfer...
Robin van Persie
"I am looking forward to following in the footsteps of so many great strikers, bringing my experience and playing my part to help the team compete for the biggest trophies in the game. I can't wait to get started."
Alex Ferguson (Manchester United manager)
"They (Wayne Rooney and Robin van Persie) are two fantastic players and it will be great to have both of them.
"It gives us more strength and more combinations up front.
"In 1999 I had Dwight Yorke, Andy Cole, Teddy Sheringham and Ole Gunnar Solskjaer, the four best strikers in Europe.
"We are going towards that now with Javier Hernandez, Wayne Rooney, Robin, Danny Welbeck and Shinji Kagawa.
"It is a fantastic collection of players and hopefully I pick the right combinations
"It is great to have a player of Robin van Persie's qualities to come into the squad. I am very pleased."
Arsene Wenger (Arsenal manager)
"Time heals all things and of course at the moment people are hurt, which I understand, but what is important for us is to focus on the season in front of us."
Rio Ferdinand (Manchester United defender)
"He scored 35 goals, he was their player of the year, their Captain, and for us to take him and bring him here is fantastic news and I'm sure our fans are jumping for joy.
"There are players who play in his position, who are now going to be thinking I need to up my game now to make sure I'm in the Manager's thoughts and get in the team…we need to challenge people".
Gary Neville (former Manchester United captain, current England assistant manager and pundit for Sky Sports)
Via Twitter: Good result [England 2 Italy 1], thought we played some good stuff and RVP signs for United. Roll on Sunday/MNF!
Michael Owen (former Manchester United striker)
Via Twitter: Rooney, Van Persie, Berbatov, Wellbeck, Hernandez. Do strike forces get any stronger?
RVP is some buy for United. Not sure a striker was their top priority but when someone like that becomes available you just have to get him!
Thomas Vermaelen (Arsenal defender)
"He was fantastic for us in the last year, scored lots of goals and I am disappointed he is going, but we have to focus on the next season with Arsenal."
Piers Morgan (former newspaper editor, Arsenal fan)
Via Twitter: "Funny, I really thought @Persie_Official was different. But he turned out to be just another mercenary, heartless, selfish little s**t."
"What a sickening betrayal of Wenger too - the man who stood so loyally behind @Persie_Official through years of injury. #VanPursestrings"
AP McCoy (Jockey, Arsenal fan)
Via Twitter: "Gutted van Persie is going 2 utd good player but if he doesn't want 2 play for arsenal then it was best 2 get rid of him R.I.P RVP."
Gary Pallister (former Manchester United defender)
"The move for Robin van Persie shows not only can United still compete with Manchester City's vast wealth, but they can attract players away from City because of everything the club and the manager stands for."
Steve Bruce (former Manchester United defender)
"Van Persie played on his own last season. He played virtually as a lone striker, if he did that at Old Trafford it would allow Wayne Rooney to drift off him and take up that position he takes up in the hole. It could be fantastic and not something any defence will want to cope with."
Tom Cleverley (Manchester United midfielder)
"He is a world-class player, a goalscorer and he is proven in the Premier League so all those three things will help us.
"Rooney and Van Persie were the two top goalscorers in the League last year and hopefully they can score as many this year. Don't forget the other three — Welbeck, Chicha and Berbatov are all great players too."
Michael Carrick (Manchester United midfielder)
"It is a great boost going into the new season. He is a world-class player and we have always been about bringing in players of that ability.
"Can it make the difference between second and first? There wasn't much difference so, hopefully, we can go that step further. But the club have always had strength in depth and it is about the squad and not the 11 on the pitch."
Join our new commenting forum
Join thought-provoking conversations, follow other Independent readers and see their replies