Transfer news: It is in Arsene Wenger's 'nature' to complain says Jose Mourinho, as he confirms Juan Mata switch to Manchester United
Mata is expected to complete a £37m move later today - something that has aggrieved the Arsenal manager
Sam Wallace
Friday 24 January 2014 15:20 Comments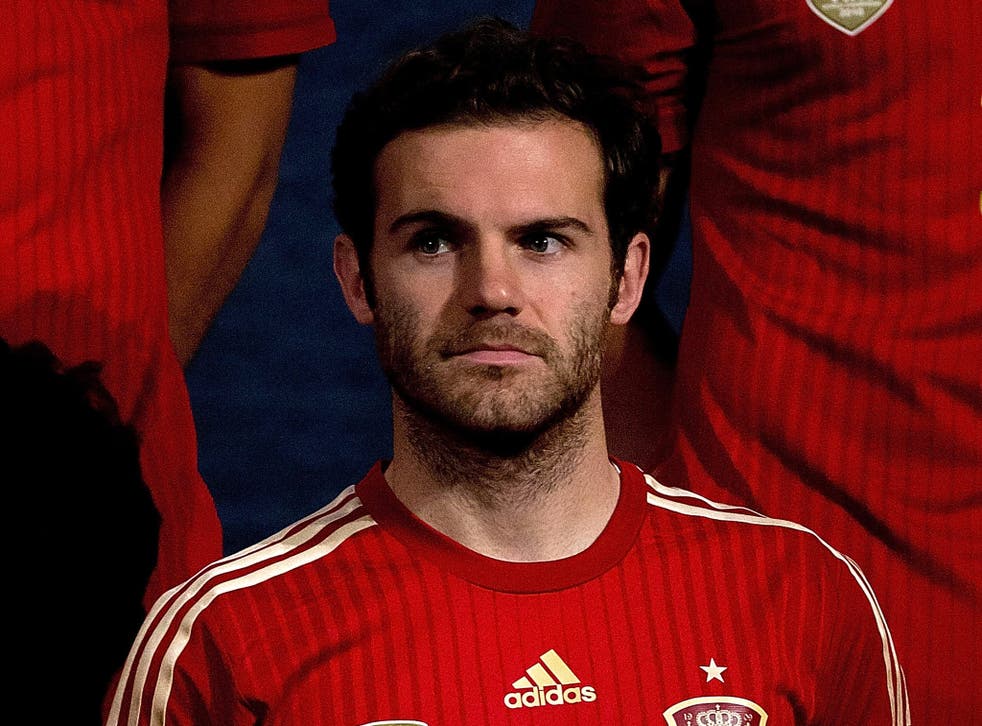 Jose Mourinho said today that it was in Arsene Wenger's "nature" to complain, following the Arsenal manager's comments about Chelsea'' sale of Juan Mata to Manchester United.
It followed a detailed explanation by the Chelsea manager of the club's reasons for selling Mata, with the club having granted permission to the Spaniard to have a medical at United. Wenger said yesterday that Chelsea had benefited from the sale of Mata in terms of the title race having already played them twice, while Arsenal and Manchester City must still play them at Old Trafford.
Mourinho said: "From the owner to the last man, [we] wish him [Mata] very well. Wenger complaining is normal because he always does. It's something that we know. When a player plays for a club on 20 August and, two weeks later, on 5 September, plays against the same club with a different shirt, this is normal. This is the market. We don't do the market, we don't do the rules. We have just to do according to the rules.
"If Wenger sells [Mesut] Ozil to Man United in this moment, I will be very happy because he's selling a very important player. I'm not concerned with other things. So, normally, he should be very happy that Chelsea sold a player like Juan Mata. But I think it's also a bit of his nature. We have to accept the way he is."
Speaking for the first time since United's acquisition of Mata, Mourinho said that the club's decision to sell had been taken collegiately with due consideration given to the player's unhappiness at not being in the side and the premium price. Above all, however, Mourinho said that it was done with respect to Mata who has not featured since he was substituted against Southampton on New Year's Day.
Mourinho said: "The player deserves respect, he deserves to be happy and to play where he wants to play, and because the offer is what we consider the right offer for the quality of the player we allow him to negotiate with them. We didn't close the door.
"It's a good offer. I don't want to specify [to the] million, but it's a good offer, respectful to us, respectful to the value of the player. That allows us to try to bring another player, because we need another player. And still have a fantastic profit on the investment Chelsea made in the past with Juan [he was bought for £23.5m]. We did two deals, Juan and Kevin de Bruyne, and put ourselves in a very good position in relation to financial fair play."
Mourinho said that Mohamed Salah's transfer was close and that the Basel player would have a medical in Switzerland because of the likely delay in arranging a visa for the Egyptian to come to the United Kingdom. He also said that the club believed that Salah had not been ant-Semitic in his avoidance of handshakes with the Maccabi Tel Aviv players this season.
Mourinho said: "We analysed the situation, spoke with the player and his people. The situation put in front of him at 20 years old was not an easy situation to resolve [where he was under pressure from elements in the Egyptian community not to shake hands]. He tried to do it where he was trying to find some balance - not enough for us, obviously, but no problems with this club.
"We know which owner we have and the variety of players we have, so this is a fantastic club to support a young boy at 20 to grow up and be strong. We are confident (he will come), but it only goes forward with agreement of the player."
Mourinho said that Michael Essien would be allowed to leave in this transfer window if the right offer came in. He said that Fernando Torres is likely to miss three to four weeks with his knee ligament injury.
Related stories...
Who else might United try to sign this month?
Manchester United - January transfer targets

Show all 21
Register for free to continue reading
Registration is a free and easy way to support our truly independent journalism
By registering, you will also enjoy limited access to Premium articles, exclusive newsletters, commenting, and virtual events with our leading journalists
Already have an account? sign in
Join our new commenting forum
Join thought-provoking conversations, follow other Independent readers and see their replies