Manchester City transfer news: Wembley despair left James Milner looking for future away from Manchester City
Premier League rivals Arsenal and Liverpool are among the midfielder's possible suitors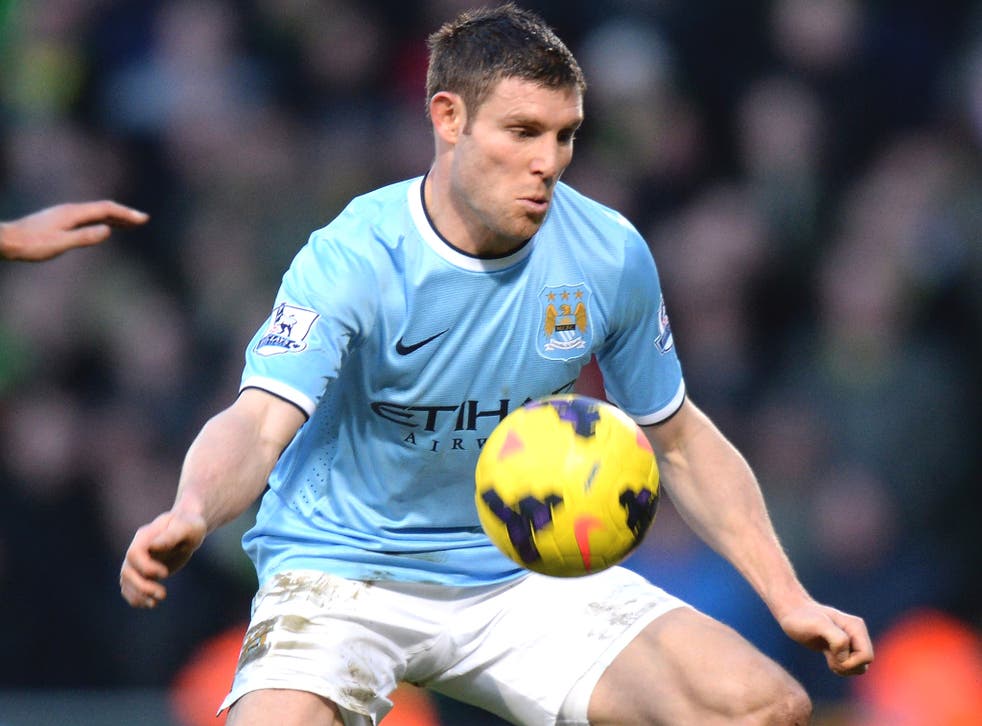 Manuel Pellegrini's decision to give James Milner no game time in the Capital One Cup final at Wembley has contributed substantially to the player concluding that his future lies away from Manchester City.
City, who are struggling to hold together the squad which won the Premier League title 11 days ago, face a losing battle in altering Milner's view that they are only interested in Spanish players. The 28-year-old was particularly was despondent having not emerged from the Wembley bench against Sunderland in March.
Milner's frustration with life at the Etihad is also understood to stem from the fact that even his huge contribution as a 50 minute substitute in City's vital game at Anfield last month has not altered his second tier status in manager Manuel Pellegrini's eyes. Milner justifiably felt that he made City look like a different team in his wide role at Anfield on April 13.
The Englishman, signed from Aston Villa four years ago, has made only 71 Premier League for City in that time. He knows that few clubs will be able to match his City salary but that may still not deter him from leaving, with Arsenal and Liverpool among possible suitors. Though Milner craves a central role, City are understood to be ready to retain Javi Garcia, as well as buy Porto's Fernando, leaving scant prospect of a place in the middle for the England international – despite his excellent contributions last season.
Yaya Touré's bizarre veiled threat to leave for Barcelona – made through his agent Dimitri Seluk, who said City had failed to mark his birthday – will be more difficult to put into effect than the Ivorian might hope. Barça would relish regaining the player they sold four years ago but they simply could not afford the 31-year-old. This summer the club is committed to bringing the wage bill down after laying out £57m on Neymar last year and sealing a new contract with Lionel Messi this week which is worth around £16.3m a year. Players are more likely to be moved out of the Nou Camp than brought in – while Touré commands a weekly salary of £220,000.
The midfielder could find a home at Paris Saint-Germain or Monaco, but City are relaxed about the situation and ready to let the storm about his birthday pass. However, Touré's criticism is likely to lead the director of football, Txiki Begiristain, to seek a meeting with him next month in Brazil, where the Spaniard will be located during the World Cup.
Retaining Milner will be more difficult. The Englishman has rejected a four-year deal after starting only 21 games in all competitions last season.
Milner also justifiably felt that he made City look a different team after arriving from the bench in a wide role at Anfield on 13 April. However, that does not appear to have changed his place in the pecking order.
His scepticism about a future at the Etihad will only be compounded by the fact that City believe they will be allowed to reduce the number of home-grown players they field in next season's Champions League from the statutory eight to a mere five. Uefa's imposition on City of a reduced 21-man squad – as punishment for failing the Financial Fair Play tests– was thought to have created a greater need for Englishmen, with eight home-grown players and 13 foreigners seemingly required to make up the squad. Yet The Independent understands City believe they can cut a deal with Uefa to reduce their home-grown component, pro rata.
In what would be a hugely controversial twist to the FFP saga, City are convinced they will be allowed a 16-5 split, though it is unclear whether they have yet attempted to agree that with Uefa. The European governing body said it was "not in a position to make any further comment" on the issue.
City accept that Jack Rodwell has not played enough first-team football since his £12m move from Everton two years ago and that a loan deal for him is now needed. Rodwell does not expect Everton to be willing to buy him back. But a loan is possible, with the Everton manager, Roberto Martinez, ready to develop a specific midfield role for the 23-year-old and kick-start his development.
Though City are also preparing to let other English players like Joleon Lescott, Micah Richards, Scott Sinclair and Gareth Barry leave this summer, it is possible that the Spanish defensive midfielder Javi Garcia will stay. Garcia may stay because the club like the versatility which allows them to deploy him in central defence.
A £10m offer for Milner from Arsenal may come this week, though City's shortage of Englishmen may mean Milner having to run down his contract and leave on a free transfer next summer.
Join our new commenting forum
Join thought-provoking conversations, follow other Independent readers and see their replies