Transfer news: Luis Suarez ready to let Premier League intervene and settle Liverpool and Arsenal stand-off over £40m bid
The striker believes Liverpool are contractually obligated to accept the current bid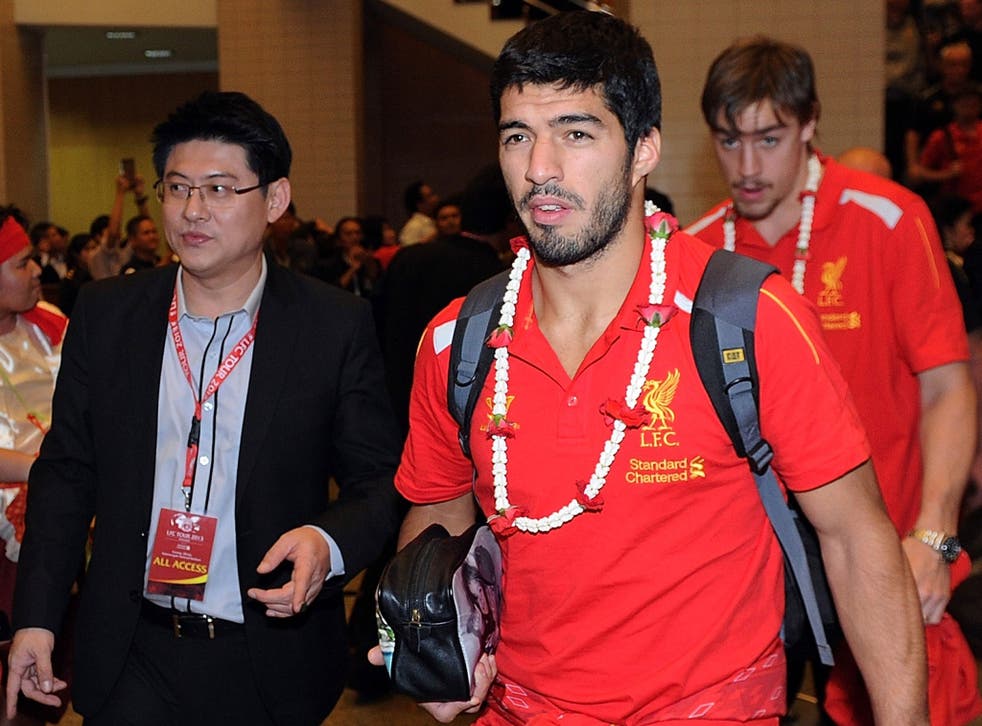 Luis Suarez would be happy for the Premier League to step in and settle his contract-clause dispute with Liverpool such is the conviction of the player and his agent, Pere Guardiola, that they are in the right.
The League may offer to mediate in the row between Liverpool and Arsenal, and the player's camp are understood to welcome independent arbitration stressing that both verbal and written assurances were given in the renegotiation of the Uruguayan striker's contract last summer.
Guardiola maintains that it is Liverpool who have changed their position on allowing Suarez to leave for a bid of over £40m. Arsenal are confident that the Merseyside club will ultimately allow them to speak to Suarez and believe they are currently stalling in the hope that other clubs enter the race.
Liverpool would prefer to sell to someone outside the Premier League and have been frustrated by Real Madrid's apparent lack of interest. Real have told their young strikers Jese Rodriguez and Alvaro Morata that no more forwards will be bought this summer, leaving their path clear to the first team.
Real showed an interest in Suarez earlier in the summer and believe personal terms with the forward would be quickly agreed. But they were also made aware of the buy-out clause and baulked at the £40m price tag. The Real president, Florentino Perez, would prefer to concentrate on raising the necessary funds to sign Gareth Bale this summer or next year.
Bale fits the profile of an ideal Perez signing with the sort of commercial appeal that Suarez does not have. Madrid would take 50 per cent of Bale's image rights, an operation that would not be as lucrative in Suarez's case.
Missing out definitively on the Tottenham forward this summer and any continuation of Wednesday's lack-lustre pre-season form could yet see Real reconsider on Suarez. The Spanish side were unimpressive in their second pre-season friendly against Lyons, scrambling to a 2-2 draw and if their form does not pick up, attitudes towards Suarez could change.
Zinedine Zidane, new coach Carlo Ancelotti's assistant but already having a major say in the way the team plays and the players they look to sign, wants the club to put its trust not just in the youngsters but in French forward Karim Benzema.
However, Benzema failed to score in the 6-0 win over Bournemouth at the weekend and was poor against Lyons in a new-look front three, playing to the left of Cristiano Ronaldo.
Asked about Arsenal's bid for Suarez, Chelsea manager, Jose Mourinho, said tonight after his team's 8-1 win over Indonesia All-Stars in Jakarta: "I have no idea of the situation and no idea of the contractual situation of Luis Suarez but if Arsenal has economic potential to buy and the manager decides he is the perfect buy for them, it is normal to make a big offer. I have no idea how it will go."
On Merseyside, former Liverpool striker John Aldridge joined the chorus of fans accusing Suarez of a "massive lack of loyalty" by his desire to leave the club. Aldridge said Suarez owed a debt of gratitude to the club for sticking by him after his racism and biting controversies.
He said: "There's a massive lack of loyalty there and especially the way Liverpool have stuck by Luis. Not everything's all about money.
"It's different with Luis Suarez because of the positions he's put Liverpool in over the last couple of years and they've stuck by him. The fans have been loyal, the manager's been loyal, his comrades have been loyal, and the hierarchy have been loyal. They've done everything in their power to back him up and he's basically put a custard pie in everyone's face."
Pere Guardiola: Who is he?
The younger brother of Bayern Munich coach, Pep Guardiola, will play a large part in where Luis Suarez plays next season. Not dissimilar in appearance to the former Barcelona coach, Pere has looked after Suarez since his Ajax days.
From Barcelona, where his Media Base Sports company is located, he also manages among others Andres Iniesta, Thiago Alcantara and young Arsenal midfielder Jon Miquel Toral Harper. He worked alongside current Barcelona president, Sandro Rosell, as a Nike executive. Many Barça fans believe had his brother Pep not been coach at the time, Suarez may have gone to the Nou Camp instead of to Liverpool in 2011.
Join our new commenting forum
Join thought-provoking conversations, follow other Independent readers and see their replies