Transfer news: Manchester United see fresh bid of £38m for Leighton Baines and Marouane Fellaini rejected by Everton
Transfer saga set to go to the wire with left-back Baines eager to move to Old Trafford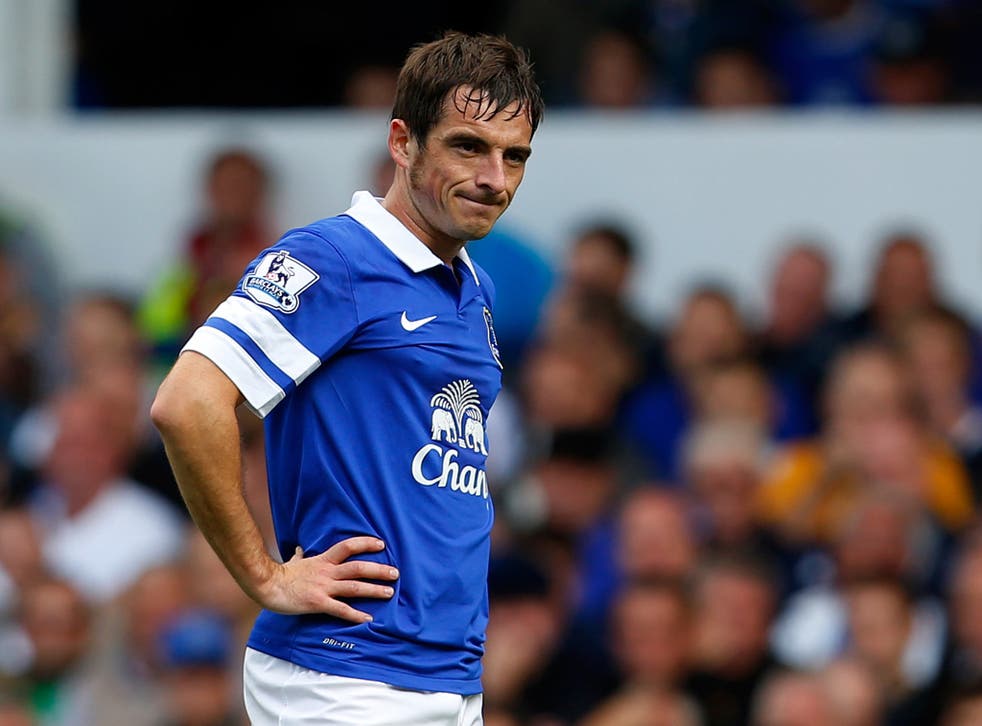 Everton have rejected a second joint bid from Manchester United for Marouane Fellaini and Leighton Baines, the fourth in total for the full-back, valued at a total of around £38m with the transfer stand-off now set to go into the last weekend of the window.
Baines, 28, has asked the club to negotiate a deal with United in meetings with the manager, Roberto Martinez, and another with the chairman, Bill Kenwright, that have taken place over the summer, as revealed by The Independent yesterday. Baines wants the transfer to go ahead and Everton are well aware of his state of mind on the subject.
On Thursday, Martinez denied in his morning press conference that Baines has asked him or the club to do a deal with United, but refused to elaborate on the issue any further. An Everton spokesman said that the club's official position was no different to that of their manager.
The United offer for Baines is the latest in a series of bids for the player over the summer of £9m and £12m and then the offer worth up to £30m for both the England international and Fellaini, which Everton described as "derisory and insulting", on 19 August. United – who were drawn alongside Shakhtar Donetsk, Bayer Leverkusen and Real Sociedad in the Champions League group stage yesterday – are still hopeful that they will sign the two players before Monday's 11pm transfer window deadline, although there can be no guarantees.
Martinez has to decide now whether he would be prepared to sanction the sale of arguably both the club's leading players in return for greater funds to spend at the end of the transfer window. There are obvious pressures from supporters over the implications of selling Baines and Fellaini, but it would free up money for the new Everton manager to buy his own players, including James McCarthy from Wigan, and remodel the team in his own style.
Baines turns 29 in December and has two years left on his existing deal. The club recognise that he is not in a frame of mind to sign a new contract and that this summer represents the ideal time to cash in on the England international. So far, Martinez has only spent a significant fee on Arouna Koné – the striker cost £6m, which is negligible compared to the spending at other Premier League clubs. The defender Antolin Alcaraz was a free transfer and goalkeeper Joel Robles signed for a nominal transfer fee from Atletico Madrid.
It is estimated that McCarthy would cost Everton as much as £15m, with extra payments depending on appearances and goals and maybe even international caps a possibility. He is very highly regarded and could be seen as a replacement for Fellaini. Baines would be the more difficult of the two players to replace.
Meanwhile, a Real Madrid vice-president has admitted that unspecified problems have delayed the signing of Tottenham Hotspur's Gareth Bale, although he predicted the deal would be agreed before the transfer window closes.
"There are problems but I believe that ultimately there won't be any," Fernando Fernandez Tapias told reporters in the city of A Coruña, where Real played a friendly against Deportivo on Thursday. "We thought he would be here but for the moment he is not a Madrid player, although possibly he will be."
Asked if Real's bid for the Wales winger would be successful, he said: "I believe so but I couldn't swear to it or sign off on it completely. Let's wait and see because it's dragging on."
Bale's move to the nine-times European champions, which will create a new world record fee of around £90m, appeared a formality on Wednesday when Spurs' manager, Andre Villas-Boas, said he expected it to be completed before the window closes. However, this is the first time a Real official has acknowledged difficulties in sealing the deal to buy the 24-year-old.
Join our new commenting forum
Join thought-provoking conversations, follow other Independent readers and see their replies