Who were winners and losers in the transfer window?
Relief for Arsenal fans that Wenger has got his chequebook out, more big spending by Stoke but gathering gloom for Evertonians. Glenn Moore examines Wednesday's fallout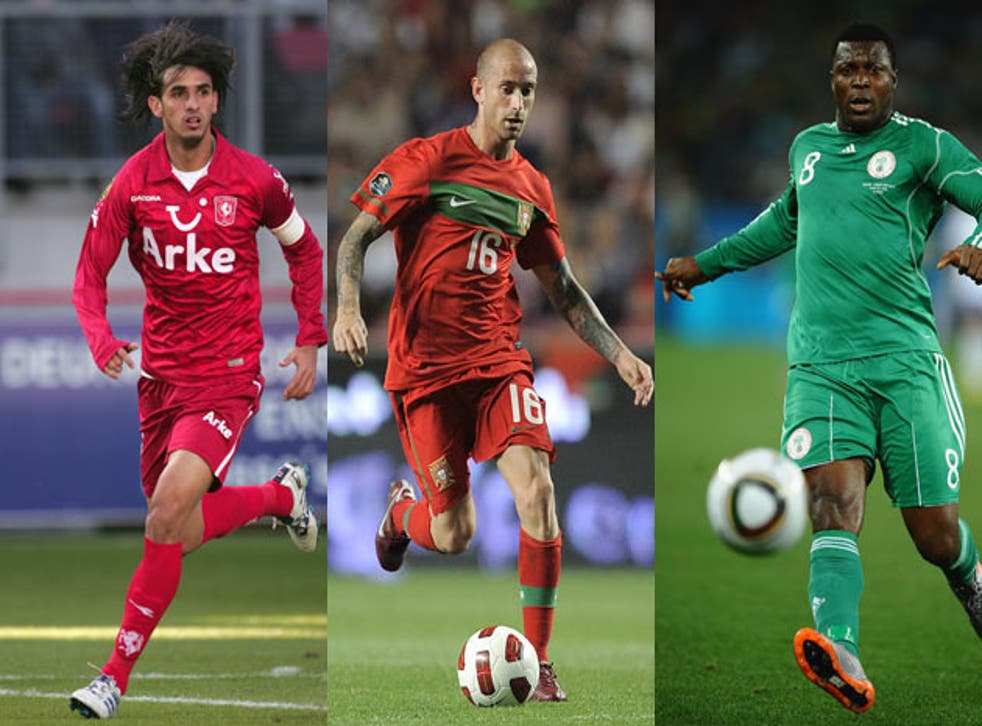 The madness of the transfer window: Neil Warnock was at Loftus Road on Wednesday night, desperately trying to complete deals as the clock ticked down, when he saw on Sky Sports News Jason Puncheon entering the ground. "What's he doing here?" thought the Queen's Park Rangers manager.
Warnock had given up on getting the Southampton striker, a long-time target, and was concentrating on landing Anton Ferdinand who was stuck in traffic following an accident (to someone else) as he tried to make his way from his medical to Shepherd's Bush, west London. Elsewhere at the club, however, staff and executives had kept the Puncheon deal alive. In the end, to Warnock's relief, he landed both to complete a frantic six days in which QPR signed seven players.
"It is the worst transfer window week I've ever had," he said yesterday. "I normally try and get things done early, but needs must. I'm absolutely delighted – the only player we missed out on was Craig Bellamy, we couldn't compete with Liverpool – but I'm exhausted."
Warnock is not alone. The months, days and nights of negotiating, with players, their agents, their wives, the chairmen, the bank manager, have finally come to a halt and for a brief weekend the Premier League's managers can draw breath and grab some sleep as Fabio Capello steps into the firing line with England. But then the reckoning will begin.
In eight months' time those managers will know whether that deadline-day signing of a fifth-choice centre-forward, or twice-rejected left-back, was a moment of lucky inspiration, or another step along the road to unemployment.
The 20 Premier League clubs spent £485m this summer, a third up on last summer, nearly £100m in the last 24 hours of the window. For managers such as Arsène Wenger at Arsenal, Stoke's Tony Pulis and Warnock what happened this week has probably altered for the better the direction their season will take.
Each was left juggling telephones as they sought to bring several deals to fruition, but will have finished the night reasonably content. For David Moyes at Everton and Newcastle's Alan Pardew, however, deadline day brought mainly frustration while Harry Redknapp, Andre Villas-Boas, Steve Bruce and Steve Kean had mixed feelings with Spurs, Chelsea, Sunderland and Blackburn respectively when the window finally closed.
And the other top-flight managers? The smart shoppers, notably Sir Alex Ferguson but also Mick McCarthy at Wolves and Norwich's Paul Lambert among others, acted early and avoided the late frenzy while several others had only to make relatively minor squad adjustments.
The effect of all this activity was to take the 2011 spend to a record £710m, according to Deloitte. Dan Jones, partner in the Sports Business Group at Deloitte, said: "Football is not immune to what is going on in the wider economy, but it is pretty resistant to it."
Some changes in spending are apparent as Uefa's Financial Fair Play rules loom. There has been greater investment in native talent, with Premier League clubs laying out £165m on English players (up from £50m last summer) and an increase in loan deals. "With FFP, if you are trying to balance your books you don't want higher wages for players who are not playing," Jones pointed out. "Therefore you will move them on."
Another accounting company, Grant Thornton, noted Premier League clubs' spending in the home market rose from 28 per cent to 58 per cent of their total outlay. While this may have been related to sterling's weakness against the euro, Premier League rules requiring at least eight "home-grown" players in the 25-man squads was said to be the main factor. This contributed to greater investment in young talent, with £130m spent on players under the age of 21, double last year's total. As a result, money filtering down into the Championship trebled to £72m. As far as most managers and fans were concerned, however, when their club's deadline day activity was assessed the team sheet mattered much more than the balance sheet.
Busy but happy: Arsenal, QPR & Stoke City
Arsenal's early-season crisis forced Wenger to break most of his self-imposed transfer rules as he brought in five players in the last few days of the transfer window. All, admittedly, were foreign, but Mikel Arteta (29) and Yossi Benayoun (31) are geriatrics by Wenger's standards while Per Mertesacker is taller and slower than most recent acquisitions. Nevertheless, Arsenal now look much better equipped to handle the season, if not much stronger than last season. It does beg the question why Wenger did not act earlier?
Warnock had no choice. Until Tony Fernandes bought QPR a fortnight ago he had no money to spend. He has subsequently strengthened both team and squad, bringing in some genuine quality in Joey Barton and Shaun Wright-Phillips. Pulis had been working on targets such as the Tottenham pair of Peter Crouch and Wilson Palacios for several days, but managed to secure them only in the final hours. Stoke's £22m splash on Wednesday (Pulis was also able to grab Cameron Jerome from Birmingham) may surprise some but thanks to the backing of chairman Peter Coates, who owns both the club and Bet365, they have spent a net £85m in the last four years. This year's outlay reinforces the message that they regard themselves as in the top flight to stay and should equip them to combine European and domestic campaigns.
Mixed feelings: Spurs, Chelsea, Sunderland & Blackburn
Redknapp signed Scott Parker and held on to Luka Modric but missed out on Bolton's Gary Cahill and Bellamy, and has had to trim his squad. Villas-Boas discovered that Chelsea's owner, Roman Abramovich, is no longer prepared to bankroll any fee with both Modric and the Porto full-back Alvaro Pereira proving out of reach.
Steve Bruce was forced to settle for Nicklas Bendtner after missing out on several players, including Crouch, Parker and Barton. Kean had to pay 50 per cent more for Scott Dann than Wolves paid for Dann's erstwhile defensive partner at Birmingham, Roger Johnson. He has kept Chris Samba, Junior Hoilett and Steven Nzonzi, but Everton were finally able to unload Yakubu on him.
Left bereft: Everton & Newcastle
Newcastle, as Barton noted on Twitter, have sold himself, Andy Carroll, Jose Enrique and Kevin Nolan. They have signed several low-profile foreign players new to the Premier League. If they are all as inspired a signing as Cheick Tioté – and Davide Santon comes with a promising reputation – that will not be a problem. If.
As for Everton, Moyes was apparently "very disappointed" at losing Arteta, and no wonder because the timing left him with no chance to find a replacement. But the club's bank may not have allowed him to buy one anyway, and the Spaniard's departure will provide opportunities for Jack Rodwell and Ross Barkley to develop.
Smart shopping
Raul Meireles Liverpool – Chelsea, £12m
Not a like-for-like replacement for Luka Modric, but the Portuguese can see a pass. Clever and versatile, the 28-year-old threatens the places of Frank Lampard and Ramires because at £12m he is expensive cover.
Scott Parker West Ham – Tottenham, £5.5m
At 30 his resale value is limited, but to get a proven Premier League performer, and current England international, capable of tackling, passing and shooting, for less than £6m is a snip.
Peter Crouch Tottenham – Stoke, £10m
A lot of money for a 30-year-old but Tony Pulis knows what he is getting: a reliable trier with a goalscoring knack who fits into his game-plan. Makes a statement about Stoke's ambition, too, albeit one that incurs long-ball jibes.
Taking a gamble
Bryan Ruiz FC Twente – Fulham, £12m
Fresh from the Dutch league. Martin Jol should know that market, but Eredivisie goals do not always translate. For every Luis Suarez there is a Mateja Kezman, and Costa Rican Ruiz does not possess Suarez's World Cup pedigree.
Craig Bellamy Manchester City – Liverpool, free
No doubting Bellamy's quality, but how often is he going to start given Kenny Dalglish's plethora of attacking riches? And if he does not, how will the 32-year-old settle for being a 20-minute substitute week after week?
Anton Ferdinand Sunderland - QPR, £4m
Given the timing of Tony Fernandes' takeover Neil Warnock had to gamble in the market, but it might pay off with Ferdinand who, at 26, needs to realise his potential. Warnock's player-centred approach might help him do so.
Panic buys
Ayegbeni Yakubu Everton – Blackburn, £2m
Ronaldinho, Beckham, Raul...Yakubu. Blackburn already look a bit desperate and the arrival of "The Yak", after 10 Premier League goals in three seasons, does nothing to dispel that impression. Expect him to start well, then fade.
Yossi Benayoun Chelsea – Arsenal, loan
A deal which might just come off because the Israeli is a talented, versatile player with plenty of English experience whose style should suit Arsenal. But at 31 he is clearly a last-ditch replacement for Samir Nasri.
Denis Stracqualursi Tigres – Everton, loan
Top-scorer in Argentina, but Mauro Boselli arrived at Wigan a year ago with the same billing. He failed to score a league goal and is now back in Argentina on loan. At least, unlike Wigan's £6.5m outlay, Everton have not had to pay a fee.
Join our new commenting forum
Join thought-provoking conversations, follow other Independent readers and see their replies