William Carvalho to Manchester United: Midfielder on the cards for Louis van Gaal after Arturo Vidal doubts grow
United concerned about Vidal's long-standing knee problem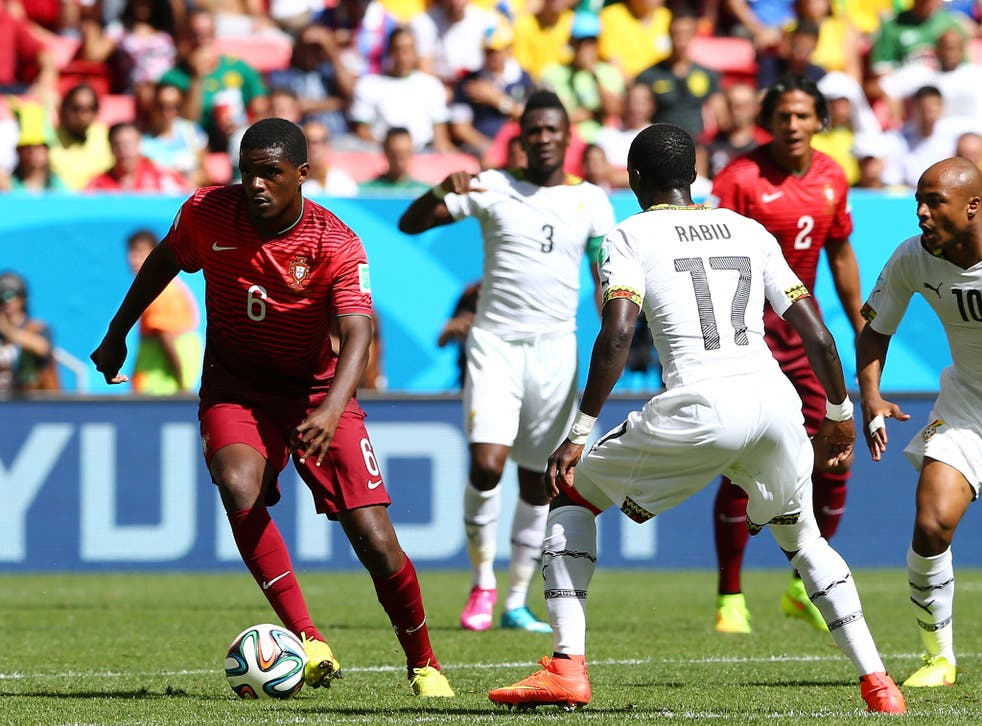 Manchester United are ready to rival Arsenal's interest in the Sporting Lisbon defensive midfielder William Carvalho, as they desperately seek to halt the slide into the abyss which has continued under Louis van Gaal.
The club's interest in the 22-year-old Portuguese pre-dated Van Gaal's arrival as manager, though Arsenal have emerged as the front runners with two bids which are understood to have been turned down.
But the player's agent, Jorge Mendes, in Manchester this week to secure the £59.7m deal for Real Madrid's Angel Di Maria, has helped United to establish that the price for Carvalho has dropped to as low as €30m (£24.8m) – comfortably less than the buy-out clause of €45m.
With United concerned about a long-standing knee problem in their prime target, Juventus's Arturo Vidal, and Sporting seeking to raise cash, Carvalho could provide the alternative. United have dismissed the idea of signing Milan's £8m Nigel de Jong, though Van Gaal may apply pressure to secure his services if all else fails.
United anticipate recouping cash to offset the cost of yet another purchase, with more than half-a-dozen bids received both for Danny Welbeck and Tom Cleverley, and two bids for Shinji Kagawa, though none for Anderson – top of the list to sell.
Despite a difficult start under Van Gaal, Cleverley is thought to be ready to wait and leave next summer on a free transfer. His signing-on bonus elsewhere would certainly be more substantial then.
Carvalho's name was alongside Toni Kroos and Luke Shaw among United's pre-Van Gaal targets. But the club are cautious about doing business with Sporting, who made their recent signing of Marcos Rojo so fractious. United had to pay £16m to Sporting, plus offer Luis Nani, a big chunk of Nani's wages and ensure that more than one third-party entity was satisfied before the deal could be completed.
They are thought to have made an informal approach through third parties to establish that a €30m Carvalho offer would be something to negotiate around, ahead of any possible bid. Sporting are thought to be ready to settle for €25m and €5m bonuses. The Portuguese club have denied that United have tabled a bid.
Carvalho is a younger and fitter alternative to the 27-year-old Vidal and a necessary back-up option, amid the substantial uncertainties surrounding any moves for the Chilean. Juventus are expected to want to negotiate around a figure of €40m (£32m) but United would argue that is a high price for a player who was hastily operated on for a persistent knee injury in May to get him ready for the World Cup.
He has not started a league game since the 2-0 defeat at Napoli on 30 March – and was subsequently asked to play four times, late last season, before the knee was operated on. United are likely to need a reduced price, a game-related incentivised deal and possibly the inclusion of some of the players they wish to lose in any deal.
United will formally present Di Maria at Old Trafford's Europa Suite at 3pm on Thursday, in what they hope will be a way of erasing the sense of dismay about Van Gaal's poor start as United manager.
It would be ridiculously premature to assume that he is not the man to lead them. His abysmal first three months after arriving at Bayern Munich in 2009 – with defeats in the first four games, no settled line-up until 10 games in and even a 3-3-3-1 system in a game at Hamburg – saw him accused of trying to impose too many tactical restraints and treating the players like children.
By mid-autumn, sporting director Christian Nerlinger stated: "Win your four games before Christmas or be sacked." Van Gaal's side won the Bundesliga and reached the Champions League final. Van Gaal repeatedly states that it will take two or three months for players to adjust to his unusual technical requirements.
Join our new commenting forum
Join thought-provoking conversations, follow other Independent readers and see their replies