Adam Gemili interview: 'No abs Adam' plans to muscle in on Usain Bolt's turf
Tragedy touched 21-year-old athlete in a year when he turned promise into medals. Life is short, he tells Matt Majendie, and now he wants to be the sixth Briton to run a sub-10sec 100m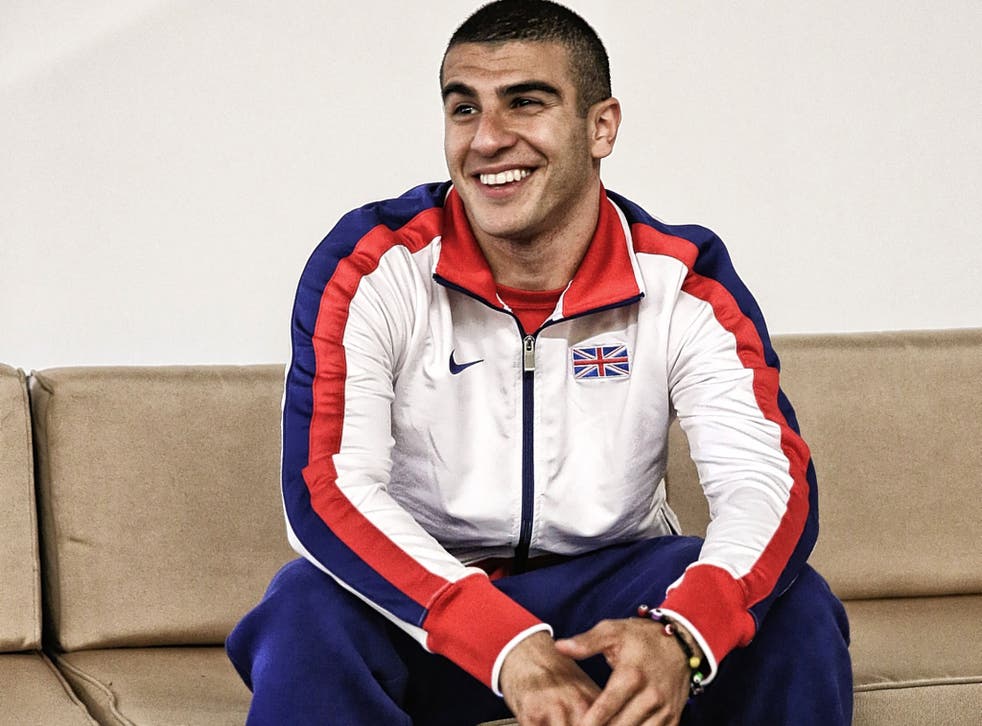 Few could accuse Adam Gemili of taking athletics for granted. It is there on his beaming face every time he lines up for a race – be it the heat of the national championships at a rainy Birmingham or on the world's biggest stage. But the 21-year-old has pledged not to take a single moment for granted in tribute to a team-mate from his Chelsea footballing days, who died in tragic circumstances last month.
It was in the early hours of the first Saturday of November that Joe Reay was hit by a taxi and died at the scene. He was just 20.
Gemili had been planning a reunion with his former footballing friends from his Chelsea academy days in the new year, among them Reay, but he admitted that the meeting would be heavily laced with sadness following the tragedy.
The British sprinter, who attended the funeral with his mother Sacha, said: "We were team-mates at Chelsea when I was there – he was a very good guy. He was a very good friend as well, but I hadn't seen him for a few years. It's just so sad he's gone.
"It makes you appreciate life a lot more, to take everything as it comes. Life can be over so quickly and you only have one life."
Gemili has already made his mark with his. In 2012, he was the 18-year-old footballer-turned-athlete who was picked for the Olympics. Last year, he was Britain's second sub-20-second 200m man, going toe to toe with Usain Bolt at the World Championships. This year came the first major medals: 100m silver at the Commonwealth Games followed by European gold in the 200m.
"Crazy" is how he summarises events on the track during the year in which he proved himself as a championship performer. Ranked outside the top eight on times before Glasgow, he ended up second behind Jamaica's Kemar Bailey-Cole and defied No 1 ranked Christophe Lemaitre of France in his European 200m final to win gold.
Of Glasgow, he said: "I got myself in the mix with a lot of guys who'd run sub-10, and then there was the relay. We got the baton with big, bad Bolt on the last leg. He's one of a kind and it's tough to beat him but we gave it our best shot and got another silver."
Bolt has been among the public admirers of Gemili, continually talking up his credentials on the world stage.
So how will 2015 define the Briton? Gemili's acid test of how far he has progressed will come against Bolt et al at the World Championships in Beijing in August. He has no plans to double up in the sprint events but, equally, he has not decided whether to focus on the 100m or 200m.
To highlight the gap that he needs to bridge to compete with Bolt, Gemili's personal best for both events is about half a second slower than that of the world's fastest man.
The Kent athlete believes that last season Britain's sprinters – male and female – began to close the gap on the dominant Jamaicans and Americans, more rapidly and more across the board than ever before.
To mix it personally, Britain's sub-20-second man knows he needs to join the elite British quintet of sub-10 100m runners. Is that in the offing for next year?
"I believe I've been near to sub-10 for a while and I've had the opportunity to do it, but I've not executed it as I should have," he says. "It's a goal but whether it happens this season is another thing.
"I'm still trying to learn the event, the same with the 200m. Now I know what I'm doing. Back then [in his first senior year of 2012] I didn't know what I was doing. I'm now more established and I know what I need to do to run quickly. I'm not as naive."
Gemili clearly has the talent to double up in the sprints at major championships, although the thought process of his coach, Steve Fudge, who also guides Britain's current fastest man on the track, James Dasaolu, is that there is no rush.
For one thing, he has his hands full, off the running track as well as on it. His is a far from restful existence as he juggles the third year of a degree, upcoming exams and a dissertation in biomechanics – fitting for an athlete still trying to perfect his most streamlined running style.
Life has become a case of spinning plates as he flits between his university campus in East London, the family's Kent home and training bases in Loughborough and Lea Valley. "It's quite full-on and I don't get much downtime but I've got a lot of people around me," he says.
Has he dared to look ahead to life after university, a time when he can focus solely on the day job? There are plans to take up Japanese again – a language he studied at school and one he is keen to master, partly with the Tokyo Olympics in mind in 2020, when he will arguably be at his sprinting peak.
Rio, though, is the shorter-term goal for an athlete jokingly referred to by his training group as "No abs Adam". Improving himself physically is on his to-do list. "I've got abs strength but I like my food as well. I'm trying to get two abs a season, so by Rio I ought to have a six-pack!"
His on-track progress has been impressive but he knows there may be a time when he hits a brick wall with injury or loss of form.
"Coming into the Olympics, people said, 'You'll never have a better year than this' but then last year I made the World Championships and ran sub-20. Then this year I got my first major medals in competition. I know it's not going to be as successful every year but I just have to be as consistent as I can be.
To date, he has been a star on the rise. Going into 2015 that shows no signs of waning.
Join our new commenting forum
Join thought-provoking conversations, follow other Independent readers and see their replies